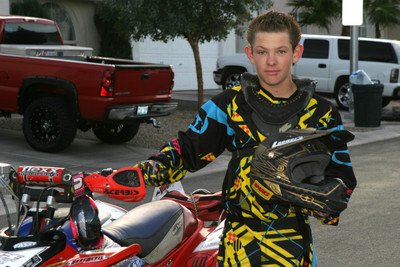 For Cody Mitchell, racing is more than just a hobby; it's his past, his present and what he hopes to make his future.
Since Mitchell, a 16-year-old junior at Liberty High School, was 2 years old, he's been riding four-wheeler all-terrain vehicles, or ATVs — more commonly known as quads.
Riding was something the whole family did, and Mitchell loved it from the get-go.
"I still have (his first) quad," says Scott Mitchell, Cody's father. "That way, if he has a child, he can teach (his child) to ride on it."
By January 2003, Mitchell was old enough to evolve into racing, applying his family pastime to a sport he truly enjoys.
"My real plan was for him to play football, but he doesn't like that," Scott Mitchell says.
Cody Mitchell races three times a month and practices on race weekends with extra riding. The races are sponsored by various leagues scattered across the country, and he participates at the "expert" or "professional/amateur" level.
"I want to make a career out of (racing)," he says. He hopes to be good enough to get a factory sponsor and make a good living from racing. Currently he's sponsored by Daredevil Energy drinks, Moores Ace Racing, Utopia Goggles, Vans, No Fear, Blingstar, NGR, Threads, Colorado River Chevrolet and Fasst Co., which helps finance his racing.
In November he raced more than 300 of the total 1,300 miles in the Baja 1,000, one of the longest and most dangerous quad races in North America, which reaches from Ensenada to Cabo San Lucas, Mexico.
Riding can be dangerous. In August, a 19-year-old crashed and died during the Best in the Desert race in rural Nevada, and a 17-year-old was killed at a race in Pismo Beach, Calif., in October. That aspect can be a little stressful for parents.
"In the desert races, he's out of sight; you can't talk to him," Scott Mitchell says. "You're just waiting. It's nerve-wracking."
Cody Mitchell still rides for recreation as well, and also rides a utility terrain vehicle, or UTV. The UTV has a shape similar to a golf cart but rides more like a quad. Though he also races them, the UTV is mainly for having fun around his campsites. Mitchell says riding the UTV allows him to be more aggressive, because if he rolls it, he's less likely to break his leg.
Mitchell says his racing skills have in general been a long progression of steady improvement as time has gone by. But when asked about his favorite part of racing, he doesn't hesitate.
"Winning!" he says.
R-Jeneration