CSN, Engineering for Kids join forces to build tech skills
January 2, 2016 - 12:36 pm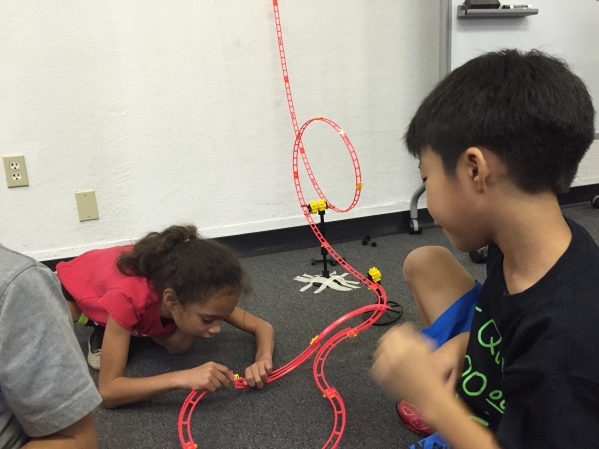 Engineering for Kids is seeking a way to make technology and science exciting for youngsters.
In partnership with the College of Southern Nevada, the organization is hosting courses to promote science, technology, engineering and math for children ages 9 to 14.
"Our society is creating more jobs in engineering and technology," says Leo Silva, the owner of Engineering for Kids in Las Vegas. "We should be training our students to be prepared for those jobs after college."
According to Engineering for Kids, during the past 10 years, the number of STEM jobs grew three times faster than jobs outside those skills.
The U.S. Department of Labor has projected that more than 1.2 million job openings will be in STEM fields by 2018.
Silva says preparing those students doesn't have to start when they are in college, or even high school, which is why the program focuses on elementary- and middle-school aged students.
Through CSN's Community and Personal Enrichment program, it is offering courses such as robotics engineering and video game design. Applications opened Dec. 1.
Robotics and engineering runs Feb. 16 through March 29 and video game design runs March 3 to April 14. Classes cost $160.
Lillian Babcock, the interim coordinator of Community and Personal Enrichment Programs, says anyone can apply, parents just have to sign students in.
"The only thing we require is that students are well-behaved and interested in learning," she says.
Classes are taught by volunteers — mostly retired engineering professionals — who work with Engineering for Kids.
Engineering for Kids started in Virginia about five years ago by high school engineering teacher Dori Roberts. During her time as a teacher, she started an after-school program to help students grow in their STEM knowledge outside of the classroom.
When she wanted to get her own children — who were 6 and 8 years old at the time — involved in STEM programming, Roberts realized there was a need to fill this void for younger students.
"There was nothing available for younger children," Silva says. "So she started her own program."
Wanting to grow the program, Roberts decided to franchise Engineering for Kids three years ago. Since then, more than 140 franchised locations have been added in the U.S. and internationally.
Silva brought the franchise to Southern Nevada in 2015. This past fall was the first time it offered programming for students.
"Right now, we don't have a permanent location," Silva says. "So we are partnering with CSN to help get the word out as we grow."
Babcock says the college provides extended education courses for adults looking to diversify or improve skill sets in order to be more attractive candidates for jobs that require more tech knowledge.
She adds it only makes sense to add something geared toward children to get them started earlier.
This semester, students in robotics engineering are expected to learn the basics of designing, programming and controlling a robot, while students in video game design get to design their own racing game in the Kodu Game Lab.
What makes the classes different, Silva says, is instead of simply memorizing facts, students get hands-on experience and are expected to take part in problem solving.
"Usually (high school classes) are focused on having students memorize facts so they get good test scores," he notes. "(These courses) help students learn problem solving and how to analyze and fix problems using critical thinking."
Babcock says classes are open to as many as 20 students, but she thinks class size might grow.
"We have had wait lists for classes," she says. "We want to see them grow without diluting the content."
Aside from working with CSN, Engineering for Kids is also partnering with a few schools and community centers to provide opportunities for local children.
"We are adding five more schools this spring," Silva says.
Silva hopes to eventually have a brick and mortar location to provide more opportunities for students.
He says the national office, as well as the local franchise, is looking into ways to do outreach to attract more girls. Historically, engineering programs across the country have produced fewer female and minority graduates.
"We are trying to create a way to get girls more involved," he says.
Locally, Silva is setting up a scholarship that would be awarded to a student in foster care.
Contact reporter Michael Lyle at mlyle@reviewjournal.com or 702-387-5201. Follow him on Twitter: @mjlyle