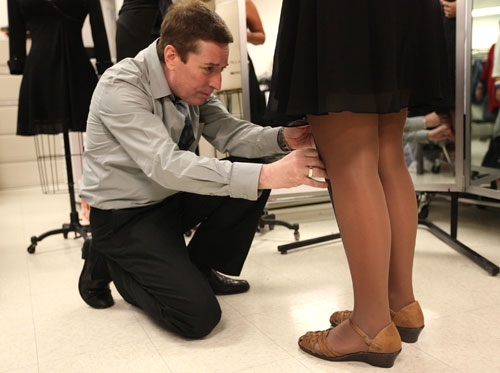 Introductions at professional conferences are always tough for Jackie Murphy.
As engaging and personable as he is — and he is — Murphy knows the second he says, "I'm in uniforms," he'll lose his audience.
A typical response: "Uniforms?" Or, "Huh?" And frequently, "That's a full-time job?"
Yes, it is a full-time job. And, this surprises a lot of people, says Murphy, the executive director of uniforms for MGM Grand, but there's more to it than ordering polo shirts and name tags from catalogs.
Since the hotel opened in 1993, Murphy and his staff of 17 have been responsible for running a uniform distribution facility 24 hours daily at the MGM. From bellman and valet to lifeguard and guest-room attendant, they're in charge of outfitting nearly every employee of the hotel. And they're also charged with maintaining and storing those uniforms, too.
"My responsibility is that when employees come in, they look their best," Murphy says. "Every day you get up, you think about what you're going to wear to work. I have to think about what 8,000 people are going to wear."
That requires a unique philosophy that Murphy, 55, has developed in his years as a uniform guy. First, dispense with the word "uniform." To Murphy, it's "career apparel."
"I'm trying to take the word uniform out of the hotel vocabulary," Murphy says. "I want (employees) to love what they're wearing so they engage with their guests."
Uniforms are an effective way for a hotel to communicate with guests, says Ronnie Yeh, a professor of hospitality, food service and hotel management at California State University, Long Beach. Yeh did his thesis on hotel uniforms. They help to establish a hotel's brand identity and affect the way an employee perceives his or her job.
Originally from Boston, Murphy started his costume career in high school making exotic burlesque outfits. In 1978, he took a costume-making job with MGM Grand Reno. About 11 years later, he moved south to work in the costume department of "Jubilee!" at Bally's. He was hired in 1992 to open MGM Grand on the Strip.
In the beginning, Murphy had to meet employees' clothing needs by using those mail order catalogs. Then one day, he said: "We know how to do this. Why don't we make our own clothes?" They were already making uniforms for the hotel's culinary workers under an MGM Grand label. And Murphy was an experienced costume designer.
He started in 2005 with neckties, hiring a small company in Shanghai to put his designs together. Neckties led to sportswear, which led to belts and then uniforms, dresses and formalwear. The private label is too new to reap the full financial benefits of it, Murphy says. He has designed about 20 different uniform styles in the past six years. But he hopes that savings will eventually be significant. Currently, the hotel's annual uniform budget is in the high six figures. And Murphy would like other MGM resorts to use his label to outfit their employees. These designs aren't for retail, he adds. MGM Grand is the sole customer.
His first rule of career apparel: Never design a uniform that an employee will be embarrassed to wear at a bus stop.
Recently, Murphy designed a new cocktail servers' uniform that debuted at the end of July. It's a simple but elegant black dress, much like those worn by servers when the hotel opened.
"The amazing thing about Jackie Murphy making this dress is that we got to have a say in it," says cocktail server Charmaine White, 47. She's been working at MGM since opening day. "I've never heard of that before. Management cared enough to ask us about what we felt and to make sure we were wearing something that felt comfortable to us."
Uniform styles change every two to five years based on recent fashions and the hotel's look. For instance, if a cafe gets new carpet and paint, the workers' uniforms are overhauled, Murphy says.
Months of planning and research go into a new uniform. First, Murphy puts together a task force of employees to gather information on what they would like to wear. Murphy must then turn that feedback into something functional yet stylish.
Two employees, a man and woman, test his designs by wearing them on the job. Their feedback is used to make any adjustments. The garments also are washed multiple times to see how long they last.
When a new uniform is added to the mix, a label is affixed and scanned into a database. Facts about the garment are entered, including the style, color, size, cost, date acquired and the employee who wears it.
This information enables them to track the life of a uniform, Murphy says, which helps the department forecast its needs. For instance, a doorman's topcoat probably has a life of four years. A lifeguard's swimsuit may last two months.
After uniforms are designed, they have to be assigned and maintained, too. Murphy oversees all of that through the distribution room. With 17 electronic doors, it operates like a "sophisticated vending machine." Behind each door is a conveyor that holds garment bags full of uniforms. Employees swipe their identification cards in a door and, after about 30 seconds, it opens to reveal their assigned garment bag. The employee changes into his or her uniform then returns the garment bag to the same conveyor. The bag does double duty as an employee locker.
More than 90,000 garments are always in rotation, and the uniform distribution room handles more than 150,000 transactions a month.
When something needs to be laundered or taken to the dry cleaners, employees deposit their garments into laundry chutes in the distribution area. It takes on average one to two days for an item to be cleaned. Approximately 4,000 to 5,000 garments are sent to the cleaners, while an additional 4,000 to 5,000 items are returned every day. MGM contracts with three dry cleaners in town, Murphy says.
"It's a great cost savings," says White, who used to work in the sports book at the Sands. "I wore my own clothes there and my cleaning bill was outrageous back then."
Contact reporter Sonya Padgett at spadgett@reviewjournal.com or 702-380-4564.