'Deus Ex: Human Revolution' a bionic good time
September 4, 2011 - 1:01 am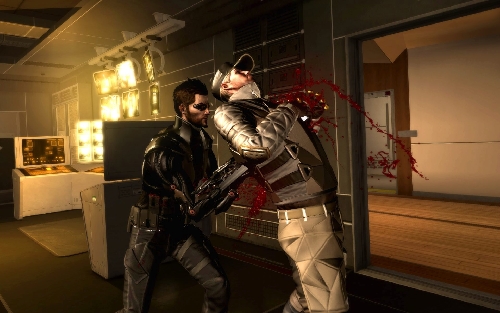 That sound you hear is a collective sigh of relief from video gamers across America. At last, we have the best action-adventure of the summer in "Deus Ex: Human Revolution."
This is as close to a perfect game as you can get. It's a cinematic feast, an enormously long spectacular full of interactive choices to make with characters; detective work; sneaking around bad guys' lairs; and shooting villains.
The setting: It's 2027, and America has become a high-tech dystopia of corrupt corporations and lousy government.
In this sci-fi future, if you lose a leg, you get a robotic replacement leg. If you want better vision, you can buy bionic eyes. And so forth.
You portray Adam Jensen, a former SWAT commander in Detroit who gets blown up and undergoes surgeries to become super bionic, from head to arms, torso and feet.
Jensen then becomes a security spy for a possibly nefarious company that markets bionic augmentation surgeries to regular people, in the same way that plastic surgeons pitch boob jobs.
It's just incredible how many different types of great games "Human Revolution" contains.
First of all, it's a role-playing game. As Adam, you walk up to many people in Detroit, Shanghai and other locales and chat, a la "Mass Effect 2."
Some conversations are inane. But many are vital to your detective work in solving missions and side missions. You need to pick smart dialogue choices during conversations to unlock clues.
Everywhere you journey — office buildings, apartments, alleyways — doors and computers are electronically locked. So you play computer-hacking minigames (very fun) to unlock them.
As for the real action, you make your way past villains' henchmen or gang members to proceed through spy missions.
It's up to you to either shoot bad guys to death from behind corners; or merely sneak past them; or sneak up on them and put sleepy chokeholds on them; or incapacitate them with stun guns.
In other words, spy missions are your choice to sleuth-or-shoot, in the vein of "Metal Gear Solid."
For each element — the role-playing cinematics, the computer hacking, the shooting sequences — you slowly earn currency to upgrade your bionic powers.
These bionic upgrades are awesome. They allow you to be invisible for bursts of time; be an expert computer hacker; see through walls; be a more persuasive talker; and on and on.
Everything is nearly flawlessly executed, quite entertaining and addictive in its game play.
It's so huge, there are whole downtowns to explore, plus hotels, nightclubs and factories. There are so many characters and plots, the game holds more than 200,000 spoken words of dialogue (some of which is confusing dialogue, as are some instructions, but whatever). It's a tough game to beat.
The other day, a friend theorized iPhone games will kill Xbox 360 and PS 3. He's crazy. iPhone games seem like cave drawings compared to masterworks such as "Human Revolution." This is simply gaming at its most impressive.
("Deus Ex: Human Revolution" by Square Enix retails for $60 for Xbox 360 and PS 3; $50 for PC — Plays amazing. Looks amazing. Challenging. Rated "M" for blood, drug reference, intense violence, sexual themes, strong language, use of alcohol. Four stars out of four.)
Contact Doug Elfman at delfman@reviewjournal.com. He blogs at reviewjournal.com/elfman.
New in Stores
"Madden NFL 12" (EA) comes with the expectation it could be the best "Madden" yet. This summer already saw the release of EA's "NCAA Football 12," which is phenomenal. And usually, "Madden" is a few touches better than EA's college game of the same year.
"Madden" will include virtual likenesses of all the players in the real NFL, and those virtual football stars will move, perform and get hurt just like their real counterparts.
Instead of messing with the game play mechanics of last year's "Madden" too much, EA has decided to amp up visuals and tweak performances to seem more realistic.
So there are 100 new tackling animations; new animations of team introductions before the game, right down to the twitchy anxiety of players during the coin toss; and new gleeful animations of cheerleaders and mascots.
You also can create a playbook from scratch. Or if you're a casual gamer who gets confused by the complexities of football, you can merely let the game pick plays for you. And there are new defensive coverages Since John Madden is retired as an announcer, the talkers are Chris Collinsworth and Gus Johnson. Although, Madden still has a hand in the game. He's been saying in interviews that if a player gets a concussion in one quarter, he will sit out the whole game.
The game retails for $60 for Xbox 360 and PS 3; $50 for Wii; $40 for PSP and PS 2. It's rated "E."
— By DOUG ELFMAN