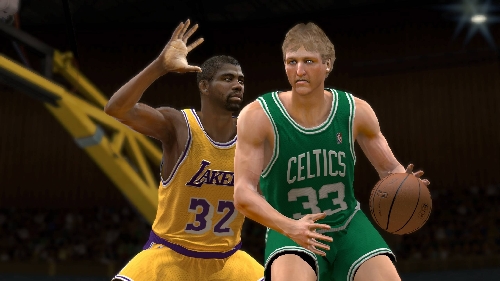 I wish I could tell you to play "NBA 2K12" to make up for the fact there's no basketball to watch on TV, due to the NBA lockout.
But "NBA 2K12" is an often angering experience, despite how incredible the visual style looks.
It does play fun in several ways. It's thrilling when I'm dribbling the ball down the court, driving the lane, and backing down an opponent with the ball.
But the game's wonky difficulty level is ramped up so high, it will not let me slickly pass the ball or block opponents' passes.
And the players don't move smoothly enough. This is most noticeable during fast breaks. It's common for me to be running toward the basket, but when I turn my feet toward the rim, the game halts my forward progress.
During one outing, the game made me turn the ball over twice in a row in the fourth quarter. Why? Not a single opposing player even touched me on either turnover. My guy just stopped and rolled the ball on the ground, as if he had run into an invisible wall.
Hey, how about the game where I pressed shoot, but New Orleans' Chris Paul just stood there for a full second, then a Golden State Warrior grabbed the ball and ran for a game-winning score?
But that's nothing compared to all the blocked shots the computer-controlled team makes against me near the rim.
Even when I play as LeBron James, I often find myself shooting near the basket with almost no defenders nearby, yet opponents miraculously come in and block my shots.
The game also resorts to my least-favorite yuck. I'll be winning a game by double digits when the opposing team quickly scores four three-point shots in a row, despite the fact I'm double-teaming the shooter.
Many times, game announcers say I couldn't be playing better and that I'm "absolutely lighting it up."
In those moments, I'm winning by only four points, because the artificial intelligence of the computer-controlled team has notched ridiculous buckets and steals.
Oh yes: the steals. Opposing team's defensive hands are fast glue. But when I'm on defense and I press the button to steal the ball, my hands flop like a loser's, and this throws my body out of position.
To make up for all this nonsense, I have taken the humiliating choice of changing difficulty settings to "Rookie" and "Casual." Now I win games by 20 points (such as: 71-48, New Orleans over Miami). Yet it's still a chore to pass, shoot near the basket, fumble balls weirdly, and trip over my feet during fast breaks.
Dear makers of basketball games: Please don't create an experience that makes me angry every three minutes. Thanks.
("NBA 2K12" by 2K Sports retails for $60 for Xbox 360 and PS 3 — Plays less than fun most of the time. Looks terrific. Unbelievably difficult. Rated "E." One and one-half out of four stars.)
Contact Doug Elfman at delfman@reviewjournal.com. He blogs at reviewjournal.com/elfman.