Digital multiplex opens in Henderson
October 8, 2007 - 9:00 pm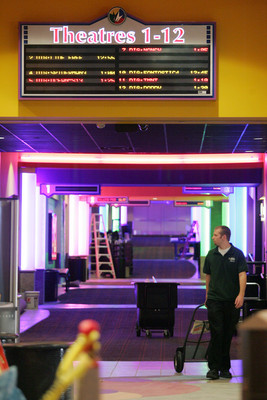 Where does the world's largest theater chain open its first multiplex featuring all-digital projection? In Henderson, of course.
Regal Cinemas' 12-screen Fiesta Henderson, located inside the Station Casinos resort, is the circuit's 10th Southern Nevada location — and the fifth inside a Station property.
But it's the first of Regal's more than 500 locations (in 39 states) to boast digital projection in every auditorium. Which means that, rather than watching film running through a projector, audiences will see movies delivered in crisp digital form.
As a result, "the print should look just as good on day 31 as it does on day one," explains Robbie Arrington, Regal Cinemas' marketing manager. "No dust, no hairs, no scratches … no splices, no breaks."
Regal "has been testing digital projection in dozens of theaters across the country for years," Arrington says — including locally at its Colonnade and Red Rock theaters, which have one digital screen each.
But the circuit wanted to wait to open an all-digital complex until the "technology is to the point where it's not going to be outdated in the next few years," he explains. "Everything from here on out is planning to go digital."
That includes the theaters in Regal's Southern Nevada future.
The circuit's next local project is a joint venture with IMAX Corp.: a giant-screen auditorium scheduled to open at its Red Rock multiplex before year's end. A new 16-plex is planned for Aliante Station, now under construction in North Las Vegas, while Durango Station, in southwest Las Vegas, will feature a 17-screen theater.
Although Fiesta Henderson ranks as Regal's first all-digital multiplex, it's hardly Southern Nevada's. That status belongs to Galaxy Theatres' 14-screen Cannery in North Las Vegas, which opened in May 2006.
The Cinemark circuit has single digital screens at its multiplexes inside the Santa Fe and South Point casinos. Brenden Theatres at the Palms has digital capability in one theater.
And Dallas-based Rave Motion Pictures will have 18 digital screens — seven with 3-D capability — at its new Town Square Las Vegas, which is scheduled to open Nov. 16 on Las Vegas Boulevard South, at the junction of Interstate 15 and the Las Vegas Beltway.
At the new Fiesta Henderson, three auditoriums also feature 35mm film projection, because "some independent films may not have a digital version," Arrington notes.
Because the casino is located in a "free" booking zone, with no competing theaters nearby, the multiplex "will play most major films," he says. Internet ticketing is available at www.fandango.com; self-serve ticket kiosks at the theater will enable moviegoers to bypass the box office.
Like almost all area multiplexes, Regal's Fiesta Henderson boasts digital sound in addition to 2,600 stadium seats in its 12 auditoriums, with each row of seats elevated for an unobstructed view. High-back rocker seats feature cupholder armrests patrons can raise to create cuddle-worthy seats for two.
Design-wise, the new theater's set-up recalls the one at the Red Rock, Arrington says, with "a smooth flow from the casino." Starbucks Coffee, Fatburger, Subway and Villa Pizza anchor an adjacent food court; there's also a nearby 24-game arcade.
GRAND OPENING
Three days of bargain-priced preview screenings begin today at the 12-screen Fiesta Henderson.
Preview events today through Wednesday feature $2 admission, along with $2 popcorn and sodas.
Today's "Movies Unleashed" program (sponsored by the Review-Journal) benefits the Nevada SPCA Animal Shelter; movies include "Pirates of the Caribbean: At World's End," "Fantastic Four: Rise of the Silver Surfer," "Live Free or Die Hard," "Daddy Day Camp," "Invincible," "Meet the Robinsons," "Mr. Bean's Holiday," "Nancy Drew" and "TMNT."
Tuesday's "Family Day at Regal" spotlights "Evan Almighty," "Firehouse Dog" and "Shrek the Third."
And Wednesday's "Channel 3 Day at the Movies," which benefits the Lili Claire Foundation, features "Ocean's Thirteen," "Transformers," and "Spider-Man 3."
Friday through Sunday, the first 100 ticket buyers each day will receive free T-shirts; free popcorn and soda will be included with each paid admission Friday through Oct. 18.
— REVIEW-JOURNAL