Dogs charm their way into new lives during Animal Foundation's Best in Show event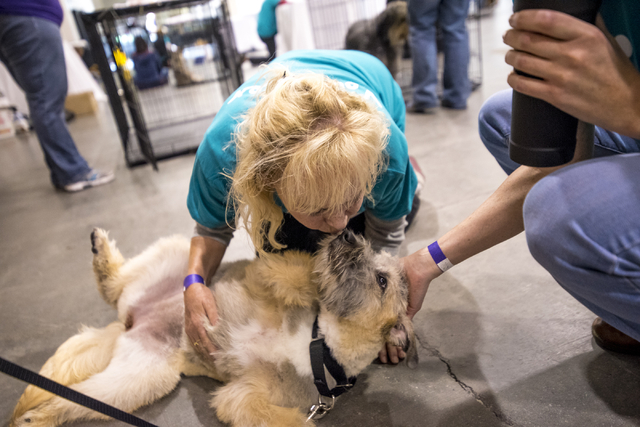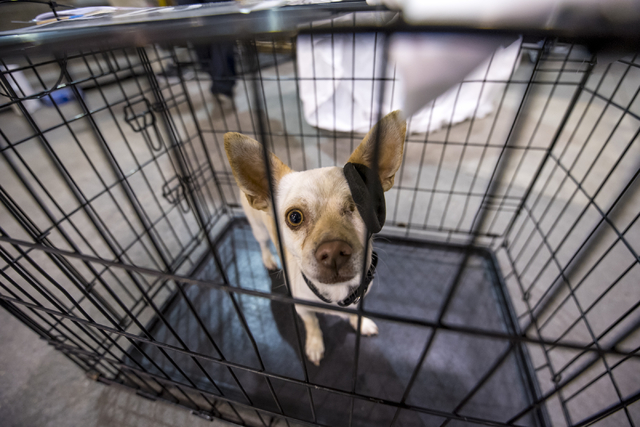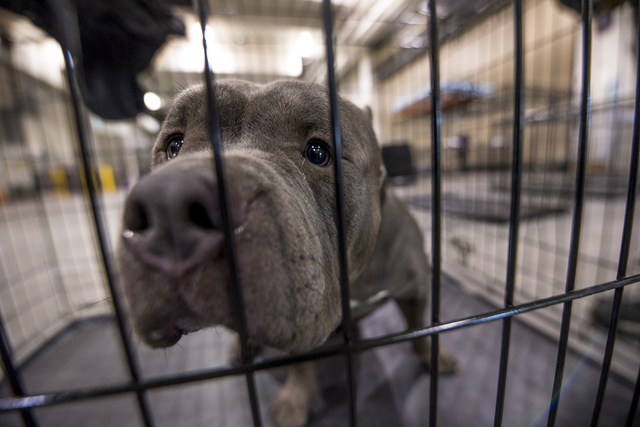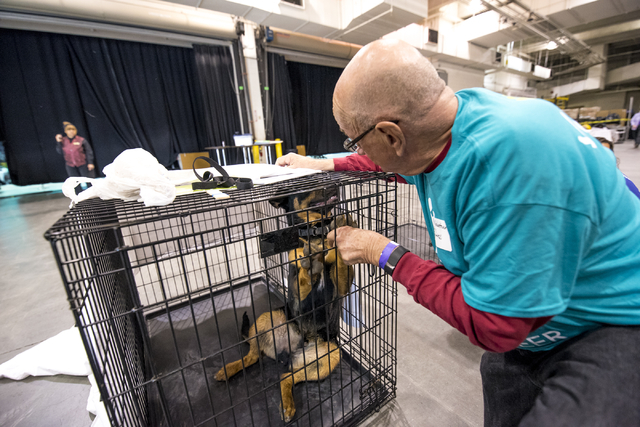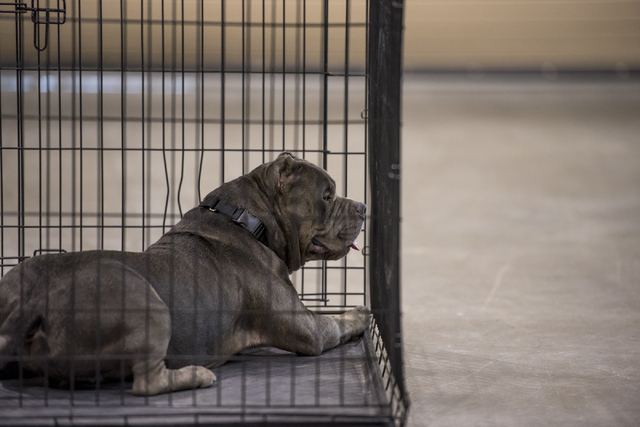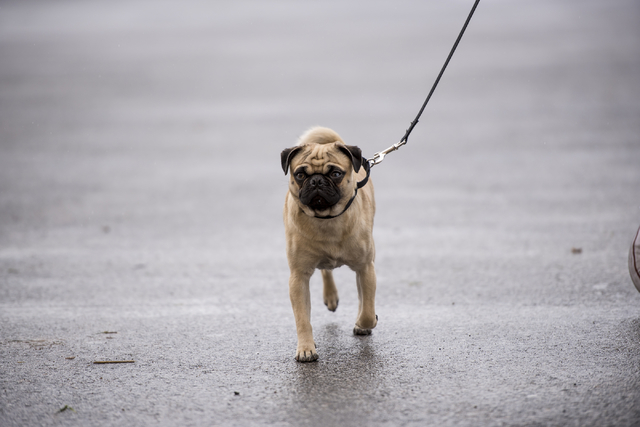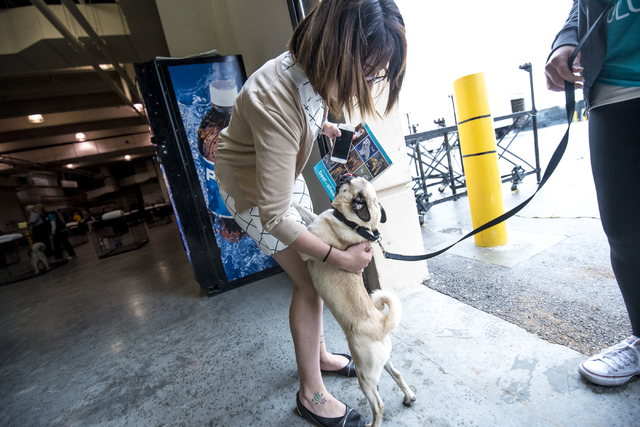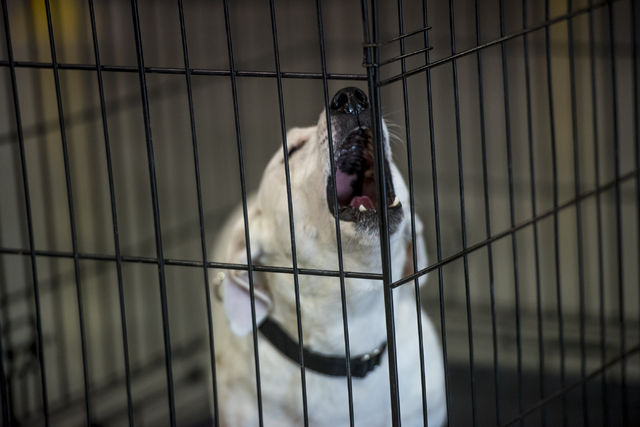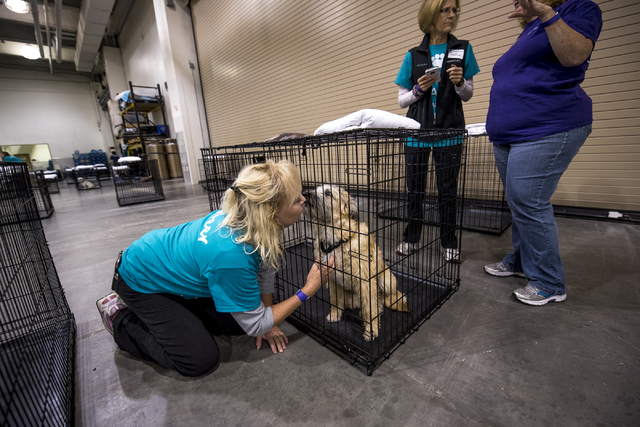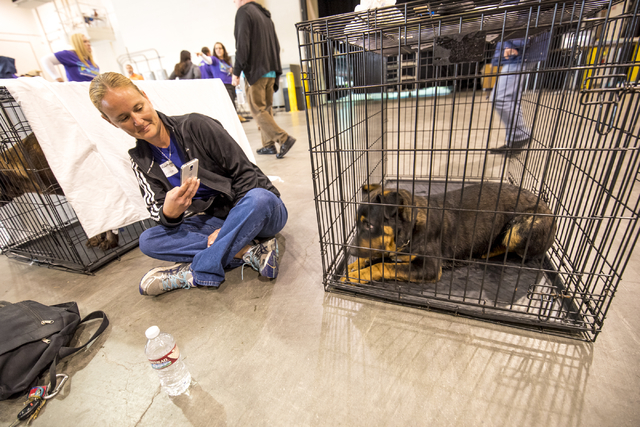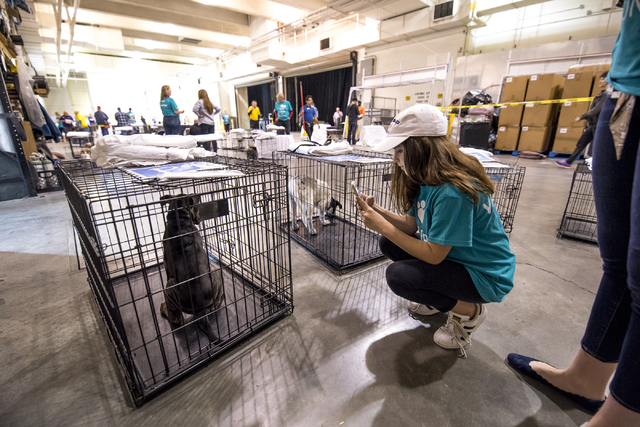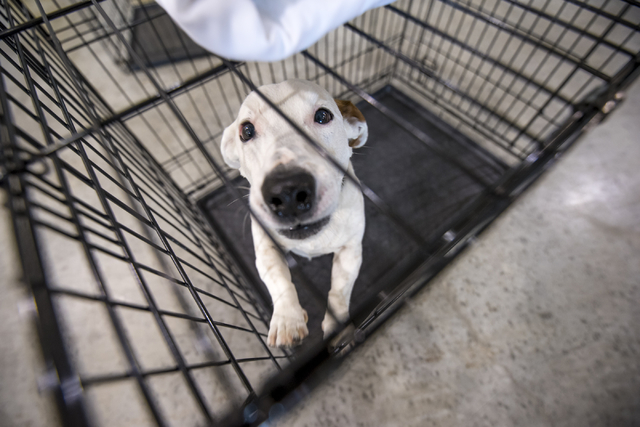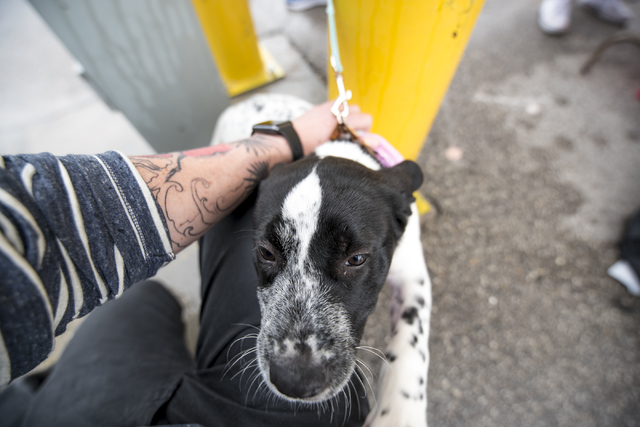 For what was — at least technically — a competitive event, The Animal Foundation's 13th annual Best in Show competition was surprisingly lacking in backstage backstabbing and trash-talking.
Sure, both would have been tricky given that the competitors had no opposable thumbs and that any trash they did talk would be heard only in the form of loud barking. But the 50-plus canines — shelter dogs all — that strutted their stuff in front of an appreciative audience seemed happy just to be on an outing.
And while the show included big dogs and small dogs and working dogs and special needs dogs and every other kind of dog dog-lovers could imagine, all of them — the strays, the surrendered, the abandoned — capped off their daylong adventure by moving into brand-new homes with brand-new owners.
The Best in Show event, held Sunday at the Orleans Arena, raises money for The Animal Foundation — this year's show raised more than $300,000 — finds homes for shelter dogs and promotes pet adoption. The dogs in the show are selected with an eye toward illustrating "the variety of dogs that come into The Animal Foundation," says Nina Radetich, the organization's director of marketing and communications.
While some audience members attend with the intention of adopting a dog, Radetich says others stop by just to enjoy a fun afternoon out.
"I would say a good majority of them (come) because it's a great family event," Radetich says. "That's what we love about it. You'll see the stands filled with people. It's not just the VIPs on the floor. It's fans who come in to look at the dogs."
The contestants, who began arriving a few hours before the show began, were a uniformly friendly bunch: Snickers, a 2-year-old Cavalier King Charles spaniel mix who was picked up as a stray; Charlie, a 4-year-old Jack Russell mix who came in from foster care; and Zelda, an 11-month-old boxer, whose previous owner turned her in to the shelter.
Among the show's special needs dogs were Punkin, a one-eyed, 3-year-old Chihuahua who rocked a snazzy eye patch, and Burrito, a 2-year old Chihuahua who got around just fine even without his left front leg.
It didn't take long for the dogs' volunteer handlers to fall dangerously into, if not love, at least serious like, and none more quickly than Liz Kaupp and Honeybee, a 5-month-old soft-coated Wheaten terrier mix.
Kaupp and her husband are professional musicians, and Kaupp feared that their work and travel schedules would make it difficult to adopt Honeybee. But, Kaupp adds, "she's so cute, so friendly."
(Kaupp didn't adopt Honeybee but did meet her new owners at the show. The following day, they sent Kaupp photos of Honeybee with her new family. "She got a very, very good home," Kaupp says. "That's the most important thing.")
Gretchen Herrera, a volunteer handler for the show, adopted her mastiff, Meatloaf, at last year's show. It was an "instant bond," she says, "just like when you walk into a house when you're looking for a house and (say), 'This is it.' "
This year, Herrera bonded with several of the dogs in her care, including Jumanji, a 3-year-old pit bull. She was particularly happy that the special needs dogs in the show likely would leave the show and go to new homes.
"Some of them have had a very hard time," she says. "And when everybody goes home, (when) you find people with good hearts, that's amazing, too."
The backstage vibe is calm. A half-hour before the show begins, volunteer handlers already are preparing to say goodbye to their charges, taking photos and engaging in some last-minute cuddling.
There's a definite sense of separation anxiety in the air. That's not surprising, says Bryan Goodwin, Animal Foundation community engagement manager, because show volunteers "are all superpassionate about animals."
When the show finally begins, and each group of dogs is led onto the arena floor, watching them walk through the curtains is like watching kids leaving for college. The feeling probably is more acute for those who have been fostering the dogs and preparing them for their new homes.
Nicole Kwarciak fostered Jumanji for about a month. When Jumanji is named the winner of his group, Kwarciak, standing backstage, raises her hands like Rocky Balboa and smiles.
Still, she admits that giving up Jumanji to his new owners "is tough."
In addition to Jumanji, best-in-show candidates were Sport, a 3-year-old Leonberger mix; Jinx, a 3-year-old border collie mix; and Sebastian, a 5-month-old Scottish terrier mix. It's Jinx who takes home the gold cup filled with dog biscuits.
Saying that everybody's a winner has become a post-competition ritual in everything from children's ball games to beauty pageants. If Jinx and her fellow competitors could talk, they'd probably offer it up here, too.
Only difference is: They'd have reason to mean it.
Read more from John Przybys at reviewjournal.com. Contact him at jprzybys@reviewjournal.com and follow @JJPrzybys on Twitter.