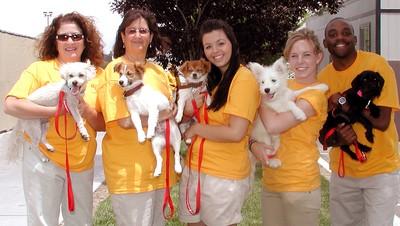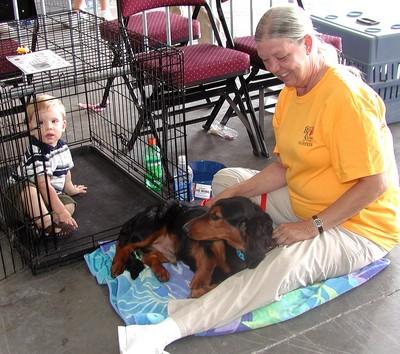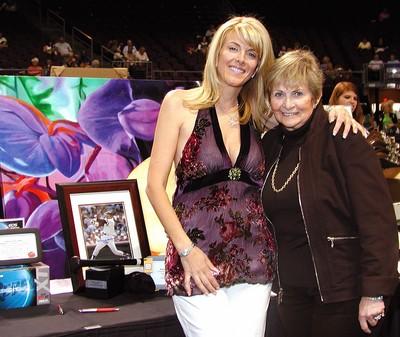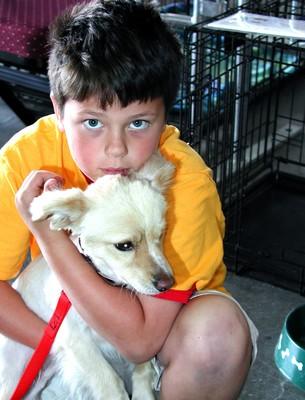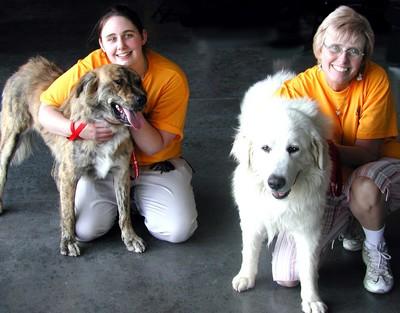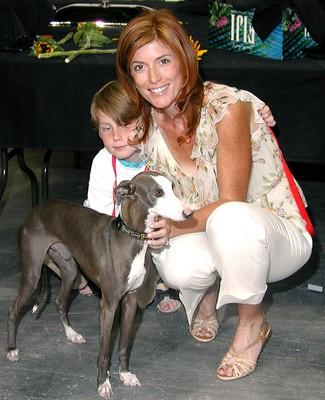 The search for top dog was the focus of the Animal Foundation's fifth annual Best in Show party June 2 at the Orleans Arena. But in this contest, every dog had his day by finding a new home.
The event began with a VIP reception brunch and silent auction. The brunch of bagels with lox and cream cheese, sweet rolls, fresh fruit, sausage, scrambled eggs, potatoes, bacon and pancakes was catered by Master Chef Gustav Mahler prior to the main event.
Supporters including Sharry Quillin, Estie MacAlister, Sallie Doebler, Kitty Rodman, Claudine Williams, Sharon Powers, Ann Lalli, Claire Walker, Frances McDonald, Karen and Bill Goff, Robyne Townsend, Arlene Tan, Sandy and Bob Adams, Laura Fritz, Stephanie and Steve Stallworth, Terry Magnani, Mary Kinas, Susan Fine, and May and Rhonda Mushkin checked their final bids just before the arena's floor was transformed into a show ring for the main event.
Entertainment was provided by illusionist Steve Wyrick.
The dog show was emceed by Frankie Scinta of The Scintas. Denise Valdez, KLAS-TV, Channel 8 news anchor, explained the rules for the dog adoptions.
AKC judges Roger Kaplan and Skip Herendeen of Las Vegas and Rosalie Alvarez of Los Altos Hills, Calif., judged the classifications of small, medium and large dog categories.
Other TV personalities participating in the co-hosting of the various category competitions were Tiffani Sargent, KTNV-TV, Channel 13 anchor; Marines Linera, KINC-TV, Channel 15 reporter; and Kimberly Wagner, KVBC-TV, Channel 3 news anchor.
An Animal Foundation video was narrated by Priscilla Presley, and more entertainment followed by Elvis impersonator Brendan Paul.
The red carpet for Best in Show was rolled out by Mark Pfister's pet potbellied pig, Biscuit.
All 60 dogs were shown around the arena by mothers and their daughters from the National Charity League and members of the Silver State Kennel Club.
Judged Best in Show was a German shepherd, but all the dogs went home with new families.
All funds raised from the show go to provide food, shelter and medical care for the animals.
Best in Show co-chairs were Dale Wynn, Tom Kaplan and Janie Gale.
The Animal Foundation/Lied Animal Shelter at 655 N. Mojave Road has other wonderful dogs looking for a loving home, too.
International flavor: The Las Vegas World Affairs Council celebrated the appointment of Andreas Adrian as Germany's Honorary Consul for Las Vegas during a June 7 reception dinner at the Four Seasons.
Attending was Las Vegan Sigrid Sommer, who previously held the position and is now honorary consul emeritus.
Invited guests socialized with dignitaries including representatives from all of Nevada's elected federal officials; Mariano Lemus, dean of the consular corps and the consul of Mexico; and Gayle Anderson, chief of protocol for the state.
Other guests included Paul Carelli, Italy's honorary consul emeritus, and his wife, Sharon; Lonnie Hammargren, honorary consul of Belize; Lena Walther, honorary consul of Sweden; David Henley, honorary consul of Uruguay; and Ed Prud homme, honorary consul of Austria.
Following the chicken dinner and apple fritter dessert, which was accompanied by German Riesling wine, the speakers included Christian Stocks, German consul general, Los Angeles, and Adrian.
Benjamin Duchek, chief executive of the Las Vegas World Affairs Council, emceed the event.
Other guests included Chris Haave, Anneli Adams, Aster Yehdego, David Tully, Judy Fleishman, Christina Martinez, Tiffany Kahler, Paul Moradkhan, Heidi Praml, and University of Nevada Board of Regents Chairman Bret Whipple.
Entertainment was provided by the Las Vegas Academy of International Studies, Performing and Visual Arts violinists Alex Gonzalez and Tena Shizuma, playing German selections.
DOROTHY HUFFEYMORE COLUMNS