Don't worry EDC fans, the doctors are in the house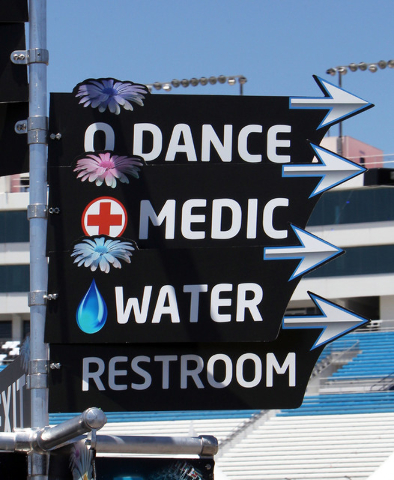 A garage at the Las Vegas Motor Speedway has been converted into a medical facility to treat everything from blisters to bleeding at the Electric Daisy Carnival this weekend.
Amid the lights, music and moving masses, a network of medical professionals will be caring for any of the hundreds of thousands of fans needing assistance. The caregivers include first responders on foot and bicycle, paramedics at first aid stations, and doctors, physician assistants and nurses in the makeshift hospital complete with a critical care unit.
The facilities are so elaborate people mistake them for established practices.
"These guys come in trying to give me their insurance card, and I say, 'No, Insomniac paid the bill,'" said Pete Carlo, who operates C&C Medical Events with Dr. Dale Carrison, University Medical Center's chief of staff.
The goal is bringing medicine to the patients, treating people at the speedway so they can return to the show instead of going to hospital emergency rooms where they're discharged after the party's over.
"Nobody ever plans to seek medical care," said Maren Steiner, health and safety director for Insomniac Productions, the company that puts on EDC.
The process also results in fewer people being taken to emergency rooms at nearby hospitals. Last year, C&C Medical Events answered 1,065 calls for aid, and only 23 people needed to be taken to a hospital.
"If you look at the number of people we saw out of the 420,000 people over the three days, that percentage is minuscule," Carrison said. "What you can't do is overwhelm the local EMS system, and that's happened in other places where they transport every person."
The 23 people taken by ambulance from EDC added little to the routine number of patients being taken to emergency rooms nightly from the Strip and downtown, Carrison said.
"Our goal is to treat these people and get them back out to the party," said Glen Simpson, special events coordinator for the ambulance service MedicWest. "We want everybody to be safe."
Be happy, healthy, hydrated
C&C Medical Events and MedicWest, a subsidiary of American Medical Response, provide most of the personnel to meet the medical needs of festivalgoers and the hundreds of staffers and volunteers who make the show possible. Seven doctors, two physician assistants, 17 nurses and scores of paramedics will be tending to patients.
The Clark County Fire Department and Las Vegas police also have personnel at the event who help on the medical, but those forces are at the event primarily for fire suppression and security, respectively.
MedicWest's personnel fan out across the venue and work in tandem with EDC's Ground Control, about 200 people who work in groups carrying radios, lights and bandages. The ground controllers check portable toilets to make sure no one is unconscious inside, question fans to ensure they have enough water and act as the eyes and ears for medics and security crews.
Insomniac has pages on its website dedicated to safety, giving tips to fans on how to be responsible, respectful and watchful. Attendees are encouraged to report medical issues involving themselves or others, without questions or repercussions.
"Half of the battle we have is overcoming the fear of fans seeking medical attention," Steiner said.
Health care under a disco ball
In the 50-bed Infield Care Center complete with a disco ball, Carlo, a physician assistant, and Carrison have treated a range of issues, including acute allergic reactions. Most of the problems are as routine as headaches, sore throats and twisted ankles. Often simple medications suffice: Tylenol or ibuprofen for pain, fluids for dehydration or something for nausea and vomiting.
Blisters are a biggie, Steiner said. Some of the attire people wear to the show sparkles but is not too practical.
"It's sad because they spend so much time making these elaborate outfits," she said.
EDC fans have limits in terms of what they can bring into the event. Insomniac, therefore, provides for their needs, Steiner said, because no one should have to suffer through an all-night show with a nagging condition that's easily treatable. Water stations abound, and at the care center, they can get bandages, flip-flops and boxer shorts.
Insomniac events have been marred by drug-related deaths, but only one of the five Las Vegas incidents occurred at EDC. Last year, three EDC attendees died, including Montgomery Tsang, 24 of San Leandro, Calif., who was found unresponsive in the parking lot on the event's first night. He was taken to UMC where he died of a drug overdose the next morning. Later that night, an EDC fan was found dead at a Strip resort, and a third fatality occurred at a house on Flamingo Road. Both also were drug-related.
Two other EDC festival-goers died in Las Vegas in 2012, one hit while trying to cross Las Vegas Boulevard and the other after falling from her room on the Strip. A 15-year-old girl who had sneaked into EDC's Los Angeles event in 2010 died from an ecstasy overdose, precipitating the event's move to Southern Nevada.
Carrison, who's been practicing emergency medine in Southern Nevada for 24 years, said Insomniac is unfairly tainted by the death of EDC fans far from the event. No amount of medical planning could prevent the death of an EDC fan at a Strip hotel, Carrison said. It's the equivalent of blaming NASCAR for a fan who dies of cardiac arrest at his home the night after spending the day at the speedway.
Carrison and Simpson said Las Vegas is well-suited for EDC because emergency medical personnel in Southern Nevada encounter the same types of medical issues daily in a town that never stops. Emergency medical technicians are fully versed in gathering information from party goers about what substances they have ingested, even when no health history of the individual is available.
"Any piece of information we can get, the better," Simpson said. "We learn in school that we are detectives. We're digging for information."
Because those data are important to ensure patient outcomes, the EDC fans must feel comfortable to be as forthcoming as possible. The policy of no retribution for anyone supplying information about a fan experiencing a medical problem helps, Simpson said.
"Patients often confuse us with some level of law enforcement," he said. "Knowing what a person has ingested, whether it's legal or illegal, makes our job a lot easier."
Medical event services growing
The clinicians at EDC are part of the medical event services sector of the health care industry. Companies offering such services include the Philadelphia-based Event Medical Staffing Solutions, Event Medical Services in suburban Orlando, Fla., and Crowd Rx in suburban Philadelphia, which promises potential customers that the company "keeps your event uneventful."
Dr. Ryan Stanton, a spokesman for the American College of Emergency Physicians, said no organization tracks the number of health care professionals working in medical event services, but the trend has been growing as organizers try to limit their liability, protect their fans and comply with laws for on-site medical care based on the number of people involved.
Event medical services emerged in the late 1980s, and grew throughout the '90s, but by the mid-2000s, event organizers were convinced of the need for medical services as part of their overall planning.
Pat Songer, emergency services director at Humboldt General Hospital in Winnemucca, 170 miles northeast of Reno, will lead the session "Special Event Medical Operations" in September at the EMS World Expo at the Las Vegas Convention Center. Songer will talk about the logistics and planning lessons he learned during the four years he oversaw medical services at Burning Man, the weeklong event each September in the Black Rock Desert.
In 2013, Nevada lawmakers passed rules for special events, spelling out the number of ambulances, first-aid stations, and roving emergency medical staff required based on the projected attendance. EDC exceeds the requirements under Nevada law in every category, Carrison said, and the creation of the care center and other facilities is more than anything mentioned in the statute.
EDC participants plan for months for the event, and some travel long distances, so they don't want their investments to go for naught. The medical services are designed to ensure they stay safe. The younger fans, partying alongside folks who attended Woodstock, might not know their limitations, and they all want to be raving long into retirement.
"All of our younger fans want to be that person someday," Steiner said.
EDC, in its fifth year in Las Vegas, runs Friday through Monday.
Contact Steven Moore at smoore@reviewjournal.com or 702-380-4563.