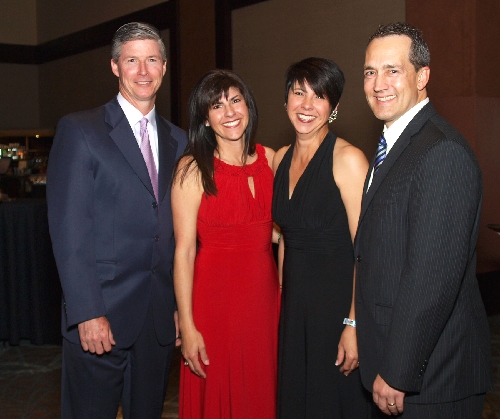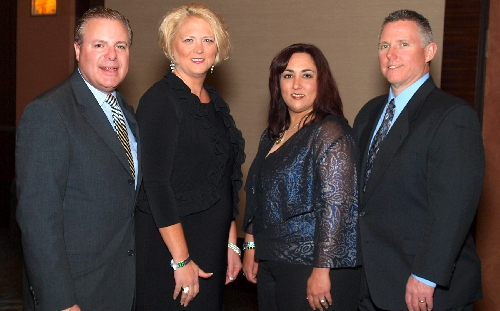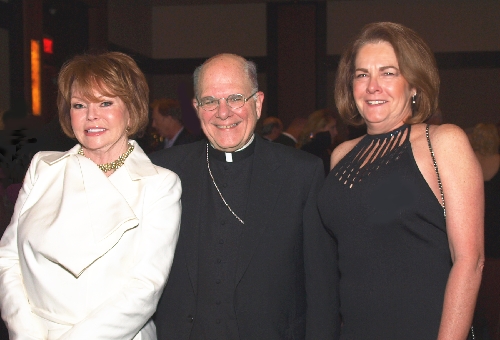 The Engelstad Family Foundation was honored during the 30th annual Royal Order of Nights of the Gael party held by Bishop Gorman High School March 22 at Red Rock Resort.
This signature event is a benefit for the school to raise funds for Gorman students, especially the tuition assistance fund.
The evening honors individuals, couples and foundations into the Royal Order of the Gael in appreciation for their commitment and dedication to the school.
A video of the Betty and Ralph Engelstad family was shown. Daughter Kris Engelstad McGarry, and Kris and Tim McGarry's children, Sean, class of 2012, and Erin, class of 2015, also spoke. Introduced were Betty Engelstad and the late Ralph Engelstad's two sisters, Phyllis Dooley and Mary Tulper with husband, Howard.
The evening began with a cocktail reception offering a display of appetizers and a small silent auction for 11 packages.
Seen renewing friendships were Virginia Cunningham, the Rev. Richard Rinn, Sue and John Mowbray, Justice Ron Parraguirre and Leslie Parraguirre, Vicki Fertitta, Lorenzo Fertitta, Frank Fertitta III, Netty and Randy Capurro, Heather and Jim Murren, Mary Lou and Art Thomas, Michael Gaughan, Lyndy and Tony Marnell Jr., Delise and Blake Sartini, Gina and Ken Gardner, Carolyn Sparks, Kevin Buckley, Monica Buckley, Michael Buckley, Suzan Bennett, Denise Cashman, Dan Tuntland, Maria and Ted Quirk, Patricia and Michael Morrissey, Buffie and Tom Kerestesi, Audra and Paul Maffey, Mary Kaye Cashman, Theresa and Michael Minden, Dorothy and Chi Chi Bengachea.
Gorman's Student Body President Joseph Manfredi introduced Bishop Joseph A. Pepe to deliver the invocation.
Bishop Gorman President John Kilduff spoke about the many direct benefits available to Gorman students and the exciting expansion plans for the Gorman campus provided by the school's supporters such as the Engelstad family.
Entertainment was a song and dance "Viva Las Vegas" presentation by Gorman students directed by Elena Ferrant-Martin.
The Rev. Robert Stoeckig gave the benediction.
Seen among the 600 guests were Megan and John Adams, Melissa and Matt Cook, Mary and Seaton Curran, John Tyler Mowbray, Ron Stolkin, Mario Toto, Lindsay Handsen, Tony Ager, Julie Murray, Mike Sloan, Bridget Moore, Amanda Hawkins and Isabel Henry.