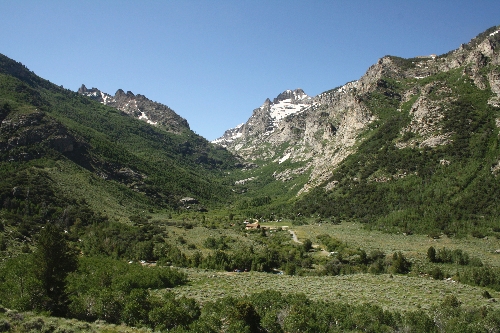 Earlier this summer a friend and I headed to the northeastern region of our state to enjoy its cooler climate, taste a big dose of somewhere different, visit historic sites and view some of the finest scenery the American West has to offer. Our main destination was Elko, but for a change from the usual route up the state's east side, we looped west from Ely, passing through the historic mining town of Eureka. It added only about half an hour to the driving and gave us more than enough new experiences to compensate.
During its heyday in the late 1870s, Eureka boasted a population of more than 9,000; now only about 500 live there. But the town doesn't have the look of a place about to blow away. It's still the administrative seat of a relatively prosperous mining and ranching county, and its location on U.S. Highway 50 means there are a couple of modern motels and lively bar/restaurants. The town's main attraction for casual visitors is the clear visibility of its 19th-century beginnings.
"It is a close-knit community and one that has preserved the integrity of its history," explained Andrea Rossman, the cultural, tourism and economic development director for the county.
The Eureka Sentinel Museum may be unique in the West. Eureka's daily newspaper was published in the same building from 1879 to 1960, and that building became, almost by accident, a time capsule representing all small newspapers of the era, one in which they were extraordinarily important. Typecases and tools lie about, as if the printers might return from lunch and get back to work. Job-printing samples are pasted to the wall, advertising events and political campaigns finished two lifetimes ago.
The most important events were held at the Eureka Opera House, built in 1889 but lately restored and now open for tours. We spent most of our time here, learning how America's far-flung frontier cities managed to have an aspect of live entertainment and high culture. Operas, concerts, plays, dances and speeches were presented here. The old-fashioned oleo curtain, bearing advertisements for vanished local businesses, still hangs over the stage. Nowadays, musical tours occasionally stop here, drawing rural families from much of the state, and the building also hosts small conventions and business meetings.
We made it to Elko by late afternoon with the sun at our backs, making the isolated city glow like a pretty seashell on the shore of a sagebrush sea. Elko proved not only an agreeable place to kick back for a couple of days but a great base camp for exploring the majestic Ruby Mountains.
While American Indians had lived in this region for thousands of years, fur trappers were the first white men to set foot here. By the 1840s, settlers were heading west following the Humboldt River. But it wasn't until the Central Pacific Railroad laid track in 1868 that the community came together. Elko became a county seat the following year.
After arriving in town, we took a self-guided walking tour around town. A good place to start is the old Sherman Station Ranch House, which serves as the Chamber of Commerce and visitor center. Here you can pick up maps and brochures and other information you might need for your visit.
The ranch house is made of limber pine logs, 2 feet thick. Completed in 1903, it originally stood about 60 miles south of Elko and was used at various times as a private home, post office, stage stop and community center. It was relocated here in 1998. We also took a look around at the authentic outbuildings on the property; the most interesting were a one-room schoolhouse, a livery stable and a blacksmith shop.
Just a couple of minutes' walk from here we found the Northeastern Nevada Museum. Exhibits here focus on mining, ranching and the railroad as well as two ethnic cultures that remain important here: Basque and American Indian. They also have many fine collections including some G.S. Garcia saddles, once made in Elko and still adored by Western horsemen. There is an unusually well-preserved collection of antique firearms, too.
The museum also houses the Wanamaker Wildlife Wing, which has the state's largest collection of wild animals from around the world, preserved by taxidermy. There are approximately 300 animals, ranging from those native to Nevada to some from Africa and Australia.
The historic Pioneer Hotel has become perhaps the best-known place in Elko, thanks to its role as headquarters of the Western Folklife Center and at the heart of the National Cowboy Poetry Gathering, an annual celebration of life in the rural West. Many Western towns present cowboy poetry events nowadays, but this one started the custom in 1986. Reciting one's work here is the buckaroo bard equivalent of an appearance at Carnegie Hall.
The center has an exhibit gallery, 300-seat theater, 20-seat black box theater, gift shop and a working saloon.
Elko is home to many people of Basque descent. They first immigrated to the western United States in the 1850s, hailing from rural parts of northern Spain and France. Many came to work originally as sheepherders. There are a couple of fine Basque restaurants in town, and no visit to Elko would be complete without a hearty meal at one of them.
My favorite Basque restaurant is the Star Hotel, which originally opened in 1910 to serve Basque herdsmen. It offers a variety of entrees such as beefsteak, lamb and seafood, but we were really looking forward to the side dishes. We were first served a vegetable soup and bread, then a salad with a great creamy garlic dressing. The beef main course came with skinny French fries, green beans and seasoned red beans. There was a lot of everything. We were so well-fed, we passed on dessert.
We even ordered the traditional Basque drink, Picon Punch. They pour the glass about three-quarters full with Picon (a bitter orange cordial), then add a shot of brandy. They top it off with a twist of lemon and a splash of soda, the only nonalcoholic ingredients. It has quite a strong flavor, and I couldn't drink the entire glass.
The next morning we were up at dawn and set out for the western foothills of the Ruby Mountains. Here, about 23 miles from Elko, we found the picturesque community of Lamoille. Primarily consisting of cattle and sheep ranches and private residences, it also is home to the Community Presbyterian Church. Best known as the Little Church of the Crossroads, it is more than 100 years old and one of the most charming churches you might ever come across. So charming, in fact, it is one of the most photographed churches in Nevada.
After photographing the church and taking a stroll along the town's quiet streets, we set out to drive the celebrated Lamoille Canyon Scenic Byway. The road travels 12 miles into the Ruby Mountains through granite cliffs, waterfalls and alpine lakes, all within a stunning landscape that reminds me more of the Swiss Alps than the Great Basin. With winter snowfalls averaging 8 to 10 feet, this is one of the wettest and lushest places in Nevada's mountains. The place is stunning any time of year, but it should achieve glory about the first week of October, when aspens and other deciduous trees start bursting into fall color.
There is plenty of wildlife to see, including mountain goats, rare or unseen elsewhere in Nevada, and the Rocky Mountain bighorn. If you're a birder, this might be the place to add a real celebrity sighting to your life list: the exotic Himalayan snowcock. Native to Central Asia, these birds were introduced here beginning in 1963 and are very wary; just seeing one is an accomplishment.
When we reached the end of the byway, called Roads End, and at 8,800 feet in elevation, we headed out on foot to the main trailhead. There are plenty of excellent day hikes from here, including a few that take you up to picturesque alpine lakes. If you have the time and want a little more adventure, I would highly recommend taking the Ruby Crest National Recreation Trail. It starts from here and travels about 43 miles south along the range to Harrison Pass. Most people complete it in five or six days as a through hike.
After leaving Lamoille Canyon, we headed down through Mound Valley and up and over the Ruby Mountains to Ruby Valley and Ruby National Wildlife Refuge. From now to early autumn, it is a treat to drive, but in winter, heavy snow makes this route impassable. There are other routes to the refuge, but all of them involve a dozen miles or more of gravel roads.
Containing almost 40,000 acres, the refuge is mostly meadows, ponds, marshes and grassland and serves as an important migratory stop and nesting area for big flocks of waterfowl, besides many other birds.
The Elko County Fair opened Friday and runs through Labor Day.
Elko is at an elevation of 5,060 feet, so late summer and early fall temperatures are ideal, averaging daytime highs in the 70s and 80s. If you put it off too long you'll find the weather nippy, but even winter in Elko is suitable for the fine times of the Cowboy Poetry Gathering, and maybe another Picon Punch.