Event supports Habitat for Humanity
November 18, 2012 - 2:04 am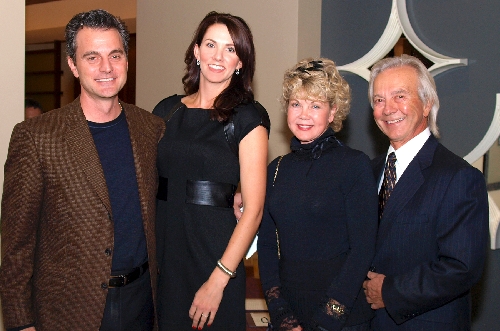 Habitat for Humanity held its 11th Home for the Holidays event Nov. 1. The party showcased a breathtaking four-level house called Marquis off Tomiyasu Lane by Blue Heron Custom Homes. Invited guests toured the luxurious contemporary Marquis.
They enjoyed entertainment by the Las Vegas Academy's Jazz Band, filling hors d'oeuvres and cocktails while participating in the silent auction and buying opportunity tickets.
The home's award-winning design team of Tyler and Steve Jones created luxury living around the swimming pools with a sunken barbecue area, athletic workout room, bar and fire pit conversation area that incorporated a beautiful outdoor retreat separated from the main house by glass walls.
Habitat for Humanity Executive Director Meg Delor welcomed guests including Lee and Ed Nigro, Rayanne Nigro, Andy Anderson, Mike Borden, Judy and Scott Machabee, Shelly and Tom Burns, Elissa Taylor, Chris Higgins, Roger Cooper, Nancy Crutchfield, Willie and Simon Matos, Bobbi Hardy, Michelle Verrone, Tricia and Fred Lewis, Wade Simpson, Rich Delor, Snehal and Michelle Shah and Robert Englert.
The party's masters of ceremonies were Heidi Hayes and Ted Pretty of KVVU-TV, Channel 5. Meg Delor and Todd Nigro, chairman of Habitat Las Vegas' board of directors, introduced Blue Heron's owners, Tyler and Steve Jones.
Habitat for Humanity has been changing lives in Southern Nevada for many years. Qualified families are assisted by the organization, which provides them with the tools and resources necessary to make a more stable life a reality through home ownership.
As an example, motivated families can obtain a no-interest mortgage at or below 28 percent of their total monthly income.
Attending board members spoke about how Habitat for Humanity has changed the lives of many since 1989 by building 88 homes in Southern Nevada. Habitat for Humanity's goal is to support the construction of two more homes for deserving families from 100 percent of this party's proceeds.