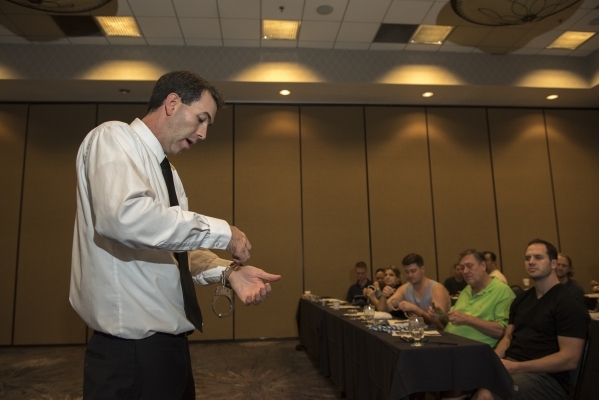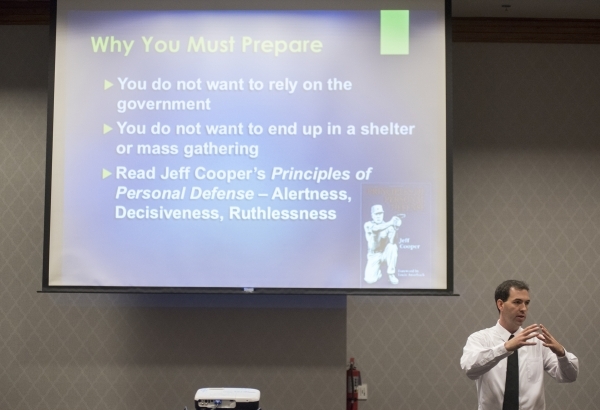 With his elbows pressed against his stomach and his forearms stretched out in front of him, Jason Hanson's wrists are wrapped once, twice, three times with duct tape.
Hanson, a former officer for the Central Intelligence Agency, is simulating what would happen during a kidnapping if the perpetrator used duct tape to bind a person.
"Make sure you have your elbows in," he says. "You still look submissive."
Playing submissive is part of the game because in the end, Hanson knows he can break the duct tape in a matter of seconds if he does everything right.
Once his wrists are seemingly secured, Hanson extends his arms above his head. In one swift motion, he brings his arms down slapping his hips as the duct tape breaks.
Hanson has escaped and now it's time for those in the room wanting to learn the maneuver to practice the same escape.
"The world is crazy and unpredictable," Hanson says. "The stuff you learn today could save your life."
This is all part of Hanson's course, Spy Escape and Evasion, which was offered in Las Vegas earlier this fall.
After six years working for the CIA, Hanson left the agency nearly five years ago — if he told you what he did while he was there, he would have to kill you, he joked.
He left primarily to have a family and start his own business.
"I've always had that entrepreneurial spirit," he says.
Hanson started teaching his wife some of the spy tips. Then friend after friend wanted to hear about them. Soon, it became a business — Spy Escape and Evasion.
Hanson travels the country teaching spy tactics and assessing security issues people and companies might face. He demonstrates techniques such as escapes and evasive driving. The idea is to teach people practical skills they can use that may one day save their lives. His next spy seminar in Las Vegas is scheduled for March 25 and 26 (spyescapeandevasion.com).
In the back conference room of the Hampton Inn, Hanson prepares to teach a class about survival skills and spy techniques. Tables are filled with handcuffs, lock-pick sets, tactical pens and various other gadgets and gear people will learn to use throughout the two-day course.
From looking at Hanson, people just see a man in black suit and a tie. But he is more than meets the eye.
His shoelaces are made of paracord and his belt has a secret compartment in it with a handcuff key. Usually he has one or two guns concealed on him, but not today.
It's all part of the first lesson of being prepared.
He offers recommendations on the gear people should have on their body or in their purse or messenger bag and car. This gear ranges from a lock-pick set, bobby pin, parachute cord and a handcuff key — all to carry on the body — to bolt cutters, tow rope, crowbar, a paper map and a hand-crank radio — all items in Hanson's car.
One by one, the 30 or so people in the class are shown and then get a chance to replicate how to escape being tied up by rope, being handcuffed or trapped in the trunk of a car.
They are even shown how to pick a deadbolt.
With two items in the lock-pick set, students practice diligently on doorknobs and deadbolts, anxiously waiting for the keyhole to turn.
Although much of the class is hands-on, Hanson also goes over practical security tips from making sure people have better door locks and a security system to having 72 hours worth of supplies in case of a disaster.
Hanson also talks about levels of awareness, giving each stage a color code ranging from white to red.
He says white is a state most people live in where they are too busy texting or making phone calls that they don't pay attention to their surroundings.
"You want to stay in orange," he adds.
At this level, people can pick up on small clues that something bad might happen such as an unfamiliar person following them.
Hanson says there have been people who have taken the course who have survived dangerous situations, from kidnappings to home invasions.
At the end of the day, along with gear and tips, people leave with a little more self-confidence.
Hanson urges self-reliance, because as much as people want to believe others would step up to help if they needed it, they might not.
He tells the class the best example was Kitty Genovese, who was murdered in 1964 in New York City despite having several eyewitnesses hear her pleas for help.
"They interviewed the eyewitnesses and they all said, 'Well I thought someone else was gonna call the police,' " Hanson says. "In the end, there is not guaranteed someone will save you."
Contact reporter Michael Lyle at mlyle@reviewjournal.com or 702-387-5201. Follow @mjlyle on Twitter.