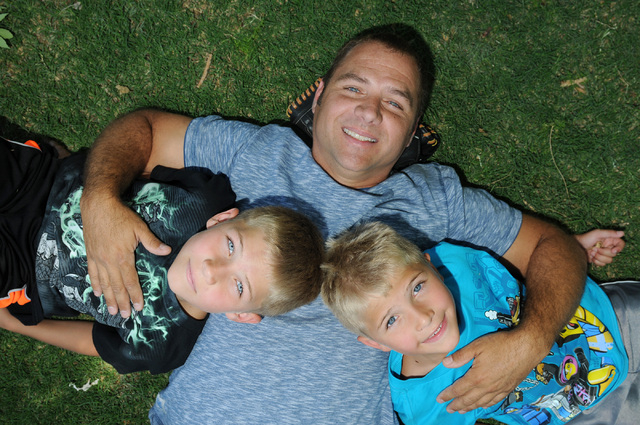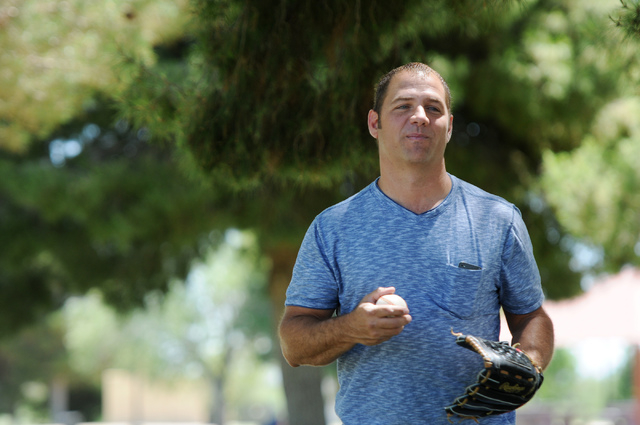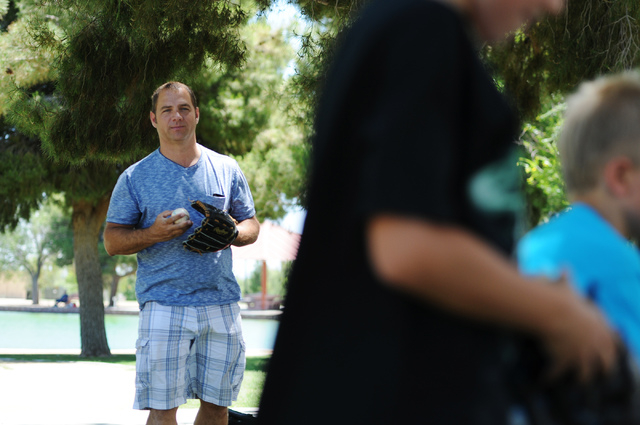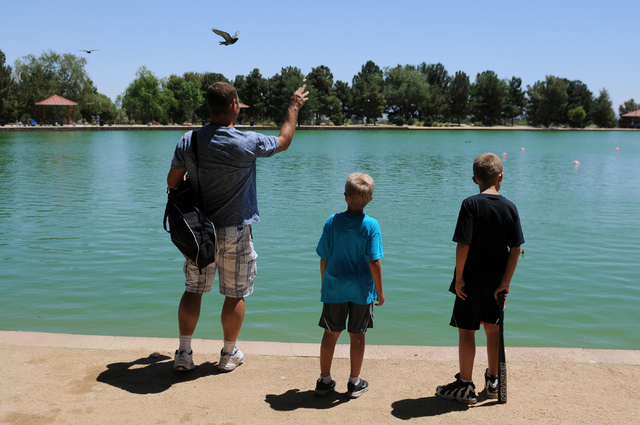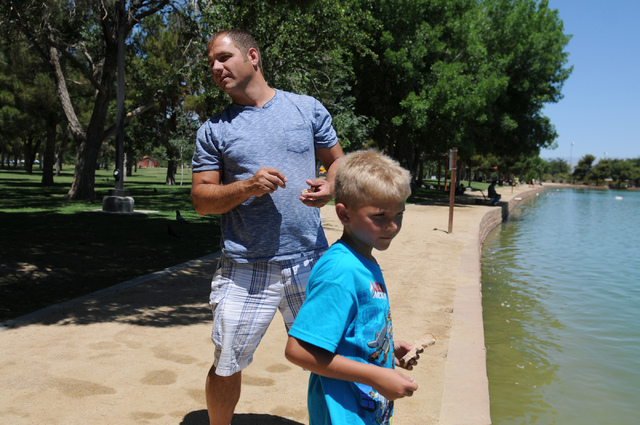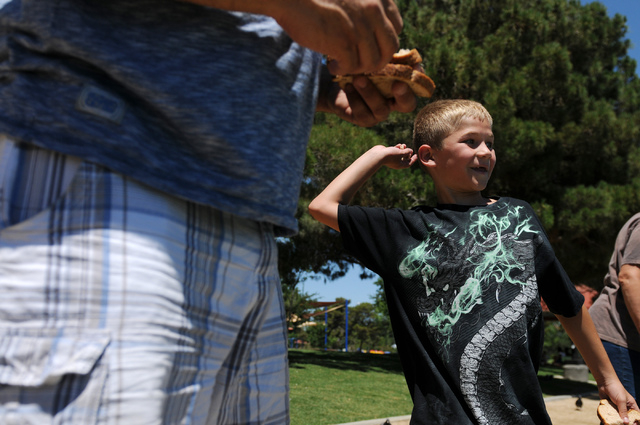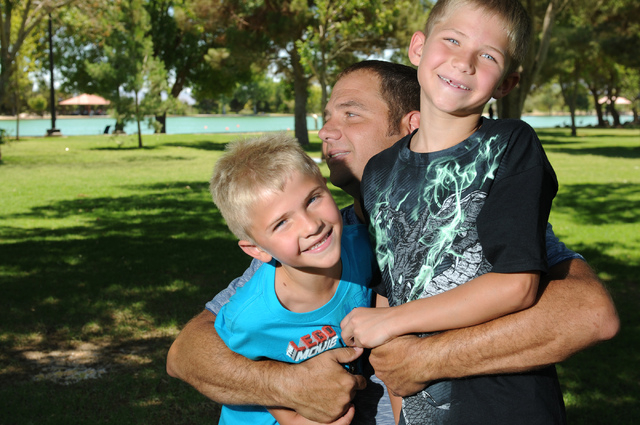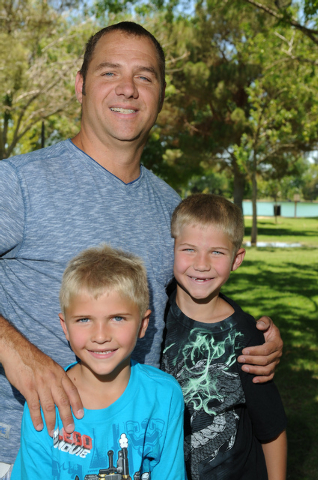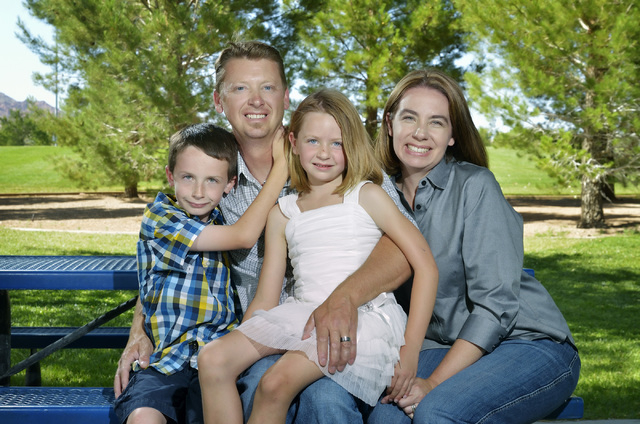 When Christopher Beaumont, a father of two young sons, ages 7 and 9, recently made plans for an overnight camping trip to Lake Mead, he figured if he could steer the boys away from haphazardly chucking rocks or bayoneting each other with sharp sticks it would be a success.
"So, camping? A little bit of a learning experience. Usually we're somewhere in the ballpark of everything going pretty smooth," he said with a chuckle.
Beaumont was raised solely by his single, working mom so there were no father-son excursions in his childhood. During the past nine years he has essentially been writing the playbook from scratch, introducing his sons to everything from tennis and BMX-bike racing, to sitting by a crackling campfire.
The point is to be involved in their lives, he said, and figure it all out together.
"I try to do the best I can. You know, I'm raising someone's future husband, I'm raising someone's future boss or employee so how I teach them to lead, how I teach them to follow, how I teach them to protect, all matters," said Beaumont, 42, who works as a real estate agent and entertainment-technology consultant.
Parenting experts would find it difficult to word it any better. When it comes to the well-being of children and how they progress into adulthood, involved fathers are crucial. The very nature of their parenting, in fact, can affect everything from a child's language skills, to their future relationships and self-esteem.
Kyle Pruett, a clinical psychiatrist with the Child Study Center at Yale University who has been looking at the role of fathers for several years, noted that responsive, sensitive parenting looks similar, overall, in both moms and dads. Yet, there are practical differences in day-to-day parenting styles that come into play from the time a child is born.
For dads, this can mean more of a reality-check approach.
Fathers, for example, are more likely to hold a baby facing outward as if they are exploring the world together, and purposefully talk in full words and sentences as opposed to Mom's simplistic language, or motherese, said Pruett, who is also co-author with his wife of the book, "Partnership Parenting: How Men and Women Parent Differently" (Da Capo Press, 2009). Studies, in fact, show that a toddler's language competency is linked more with Dad's vocabulary than Mom's.
Fathers are more apt to connect with their young children through physical play such as roughhousing, and are oriented toward what lies outside the home, Pruett added. If you go to a park, it is the dads who are standing farther away from the children, giving them the space to explore, to risk a trip down the big kids' slide.
"When you ask fathers what's on their mind about that, they will say, 'I want them to sort of encounter the world while I'm nearby, I don't have to be in their face. … If they can manage this exploration, that's their achievement, not mine,' " Pruett said.
Kevin Zelenka became a stay-at-home dad 16 months ago with the birth of his twin sons so his wife could keep her more lucrative job.
He noticed the difference between his methodical parenting style and the more instinctive, nurturing approach of his wife right away. If the babies cried, for him it was all about efficiently solving the problem: change a diaper, feed, burp. Done. If that didn't work, he was stuck.
"You can't always fix everything, so I've learned patience and a little more understanding," said Zelenka, who is 44. "I think both parents have an important role to play. I think fathers encourage growth and independence, a sense of adventure … and as a child grows up he needs the other side of parenting in order to lead a balanced life."
Studies show that an involved father can have a positive influence when it comes to a child's academic success, sense of self-worth, social skills and future relationships. The absence of a supportive father, or father figure, however, can push the pendulum in the other direction. Children can be put at risk for behavioral problems, drug and alcohol use, and risky sexual behavior, for example.
"Parents are the very first relationships children have and those form the foundation for identity development and later relationships. … Kids who don't have contact with one or both of their parents, for whatever reason, really long to know that other parent," said Erika Ryst, associate professor of child and adolescent psychiatry for the University of Nevada School of Medicine.
The significance of a parent's influence crosses gender differences, she added. By the time children enter preschool they are well on their way to turning toward parents of the same gender as role models, but how a father walks through life with his daughter is just as important as the relationship with his son.
"If a girl experiences her father as attentive and caring and supportive and empowering, she's going to go into her future relationships with men kind of expecting to be treated well," Ryst said.
Fathers who live with their children are, in fact, more involved in day-to-day parenting than they were even a decade ago, whether that means reading to their children at bedtime, changing diapers or shuffling them back and forth to after-school activities.
According to a 2013 Centers for Disease Control report that looked at responses from thousands of U.S. dads, 93 percent of those living with their school-age children, ages 5 to 18, reported eating meals with them every day or several times a week. Also, 58 percent of those living with preschool children noted that they bathe, dress or diaper their child on a daily basis.
That's the good news.
On the other hand, the percentages drop dramatically for biological fathers who don't live in the home. About 29 percent of fathers living apart from their preschool-age children reported playing with them several times a week, while 81 percent of fathers living with their preschool children said they played with them as much as every day.
Peter Gray, a University of Nevada, Las Vegas associate professor of anthropology and co-author of "Fatherhood: Evolution and Human Paternal Behavior," (Harvard University Press, 2012), noted that there is a kind of division taking place in which there are "really highly invested dads" who are spending more time with their children, while other dads are drifting away.
"There is economic inequality so a lot of fathers struggle to make ends meet … and that serves as a risk to stability in a partnership, including the ability of those males to contribute to their kids," he said.
At the same time, because of the growing rates of divorce and childbirth out of wedlock, the percentage of fathers not living with their children has continued to grow, with more than one-in-four fathers currently living apart from their children, according to statistics.
Vincent DiCaro, vice president of development and communication for the National Fatherhood Initiative, in fact, calls today "kind of the best and worst of times" for fatherhood.
"I really feel like the extremes are getting more extreme. … There's 24 million kids living in father-absent homes, probably only a third have any meaningful contact with their fathers and the other two-thirds don't," he said.
Getting involved in a child's life, whether a father lives in the home or not, doesn't have to be complicated. Fathers can start to make those emotional connections by reading to their children, for example, chatting during rides in the car, sharing tastes in music and simply talking about their day, the experts noted. In addition to one-on-one time with children, the relationship with Mom is crucial. Cooperative parenting, in fact, strongly correlates with a greater degree of involvement from Dad and confidence in his own parenting skills, according to studies. A toxic relationship, whether the family is intact or living apart, can be detrimental to a child on many levels.
Eric Vollmer, a 36-year-old Boulder City dad with two young children, points to the experiences with the male role models in his life, including his dad, grandfather and father-in-law, as the blueprints for his own fathering.
Among the "old school" qualities they passed on are a love for the outdoors and the satisfaction of putting in a hard day's work, qualities he hopes to encourage in his own children.
He is fortunate, he said, because his job as a locksmith with the Clark County School District means a work schedule that frees him up in the late afternoons and evenings. He uses the time to volunteer as a Cub Scouts master, help coach his 9-year-old son's baseball team, and shuttle his 6-year-old daughter to gymnastics lessons and T-ball.
It is precious time with his children that can't be replaced, he said, and he knows they will benefit in the long run. But there are other payoffs as well.
"Every day when I see my kids and when they tell me they love me, when they say it to me because I've spent all this time with them and everything, it feels like they really, really truly mean it … and I don't think you can forget that," he said.