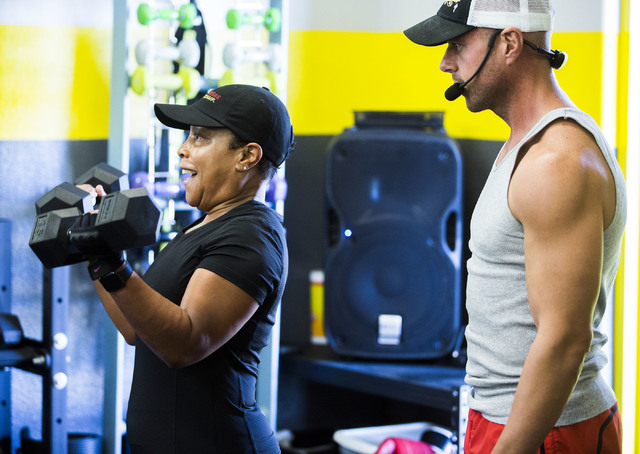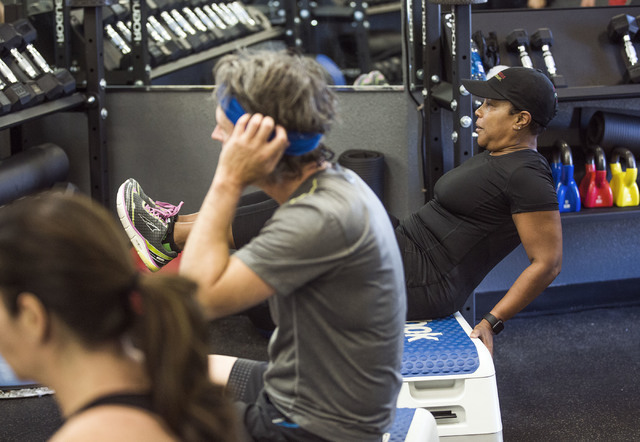 The first time Katrina Harris remembers getting serious about fitness was back in the late 1980s when she was trying to lose the baby weight she had gained after the birth of her first child.
Her solution: lots of walks and Jane Fonda workout tapes.
Today, the 55-year-old's routine is like a template for 21st century fitness, full of high-intensity classes at a local gym, Bikram yoga and a personal trainer. Her reasons for staying in shape have also evolved. It's not so much about how she looks in a swimsuit, but the effect it has on her health and lifestyle, she said.
"I think more people at our age are really focusing on, 'Hey, if I want to live to a certain age, I really gotta focus on being fit and being healthy,'" said Harris, a UNLV education professor.
The generation behind the aerobics craze and first fitness clubs is still influencing how and why Americans exercise, but in a very different way, according to Colin Milner, founder and CEO of the International Council on Active Aging.
More boomers are looking for personalized exercise based on abilities and goals, and embracing the idea of fitness as a means to better health and overall quality of life, not just sculpting the body, he said.
"People are always wanting to look better, that doesn't change a whole lot, but that is not the primary driver (for boomers) anymore," he said.
Cris Dobrosielski, a personal trainer and health coach in San Diego with a business called Monumental Results, noted that the number of baby-boomer clients he serves has been growing during the past few years and is now about 50 percent of his business. He expects the upswing to continue as boomers look for more individualized workouts.
One of their primary motivations for staying fit is being able to continue doing the same activities as they age, whether it's running a 10k marathon, traveling or keeping up with the grandkids, he said.
"There's an expectation kind of built in to that generation that I ought to be able to keep doing this. I mean, the musicians they grew up listening to are still doing concerts so why can't they continue to hike mountains or play tennis or take up stand-up paddle boarding and these kinds of things?" said Dobrosielski, who is also a spokesman for the American Council on Exercise.
Adults in their 50s and older have also been exposed to research touting the health benefits of exercise as far as preventing disease and keeping chronic conditions at bay, and tend to push themselves more than previous generations, experts noted.
Dobrosielski calls it "feeling moderately immortal."
Bret Fitzgerald, vice president of corporate communications and education for Las Vegas Athletic Clubs, said that while boomers may not necessarily make up the largest chunk of a fitness club's membership, he has noticed they are often among the most motivated.
"The average 60-year-old that comes into our club and becomes a member thinks they're 25 … and they're like, 'I'm ready to take the next hardest class, I'm ready to do an hour of cardio instead of 20 minutes of cardio,'" he said.
He estimates that 20 percent to 25 percent of the students in the club's high-intensity HEAT, or High Energy Athletic Training, classes are women age 50 and older.
While the desire may be there, the reality is boomers don't have the bodies of 25-year-olds anymore, which can mean orthopedic issues for knees, backs, shoulders and hips, Dobrosielski said.
But the fitness world has been adapting. He uses resistance training, which works the bones, muscles and connective tissue in a safe way, and functional training with techniques to prepare the body for specific goals, such as playing tennis. Sometimes it may also be a matter of having 30- to 45-minute training sessions instead of an hour, he said.
Restorative exercises that include yoga and pilates, as well as outdoor "green" amenities such as walking paths and adult-fitness playgrounds, are also part of the boomers' influence and more holistic approach to fitness, the experts noted.
But perhaps the biggest impact of this independent generation is the way it is changing how we view the body's potential for staying active and what that means in terms of lifespans.
"The quickest way to change perceptions of aging is to create new perceptions and that is what the boomers are doing," Milner said.