Fools rush in: Couple comes to Vegas for April 1 wedding with Elvis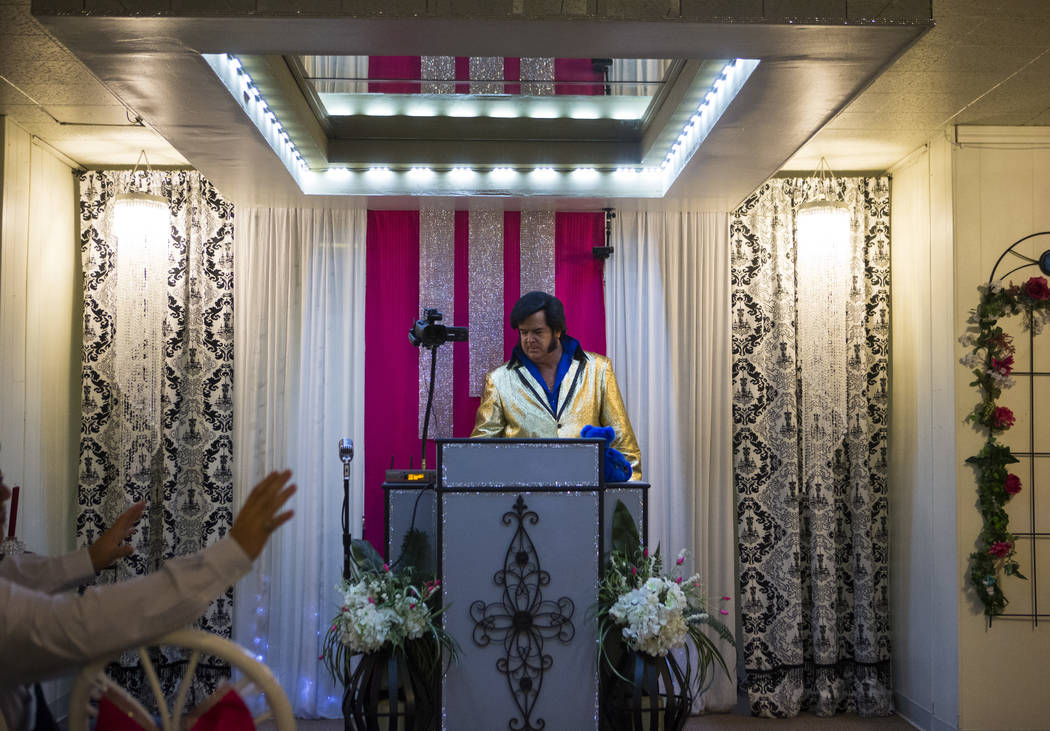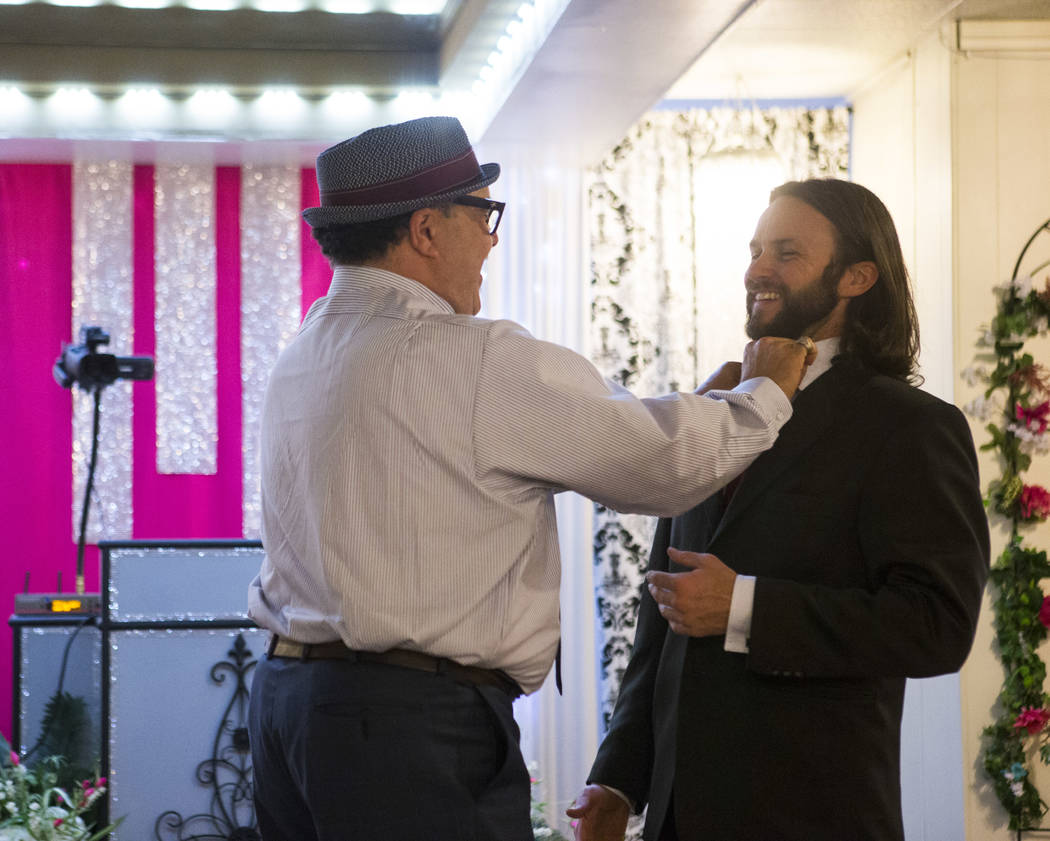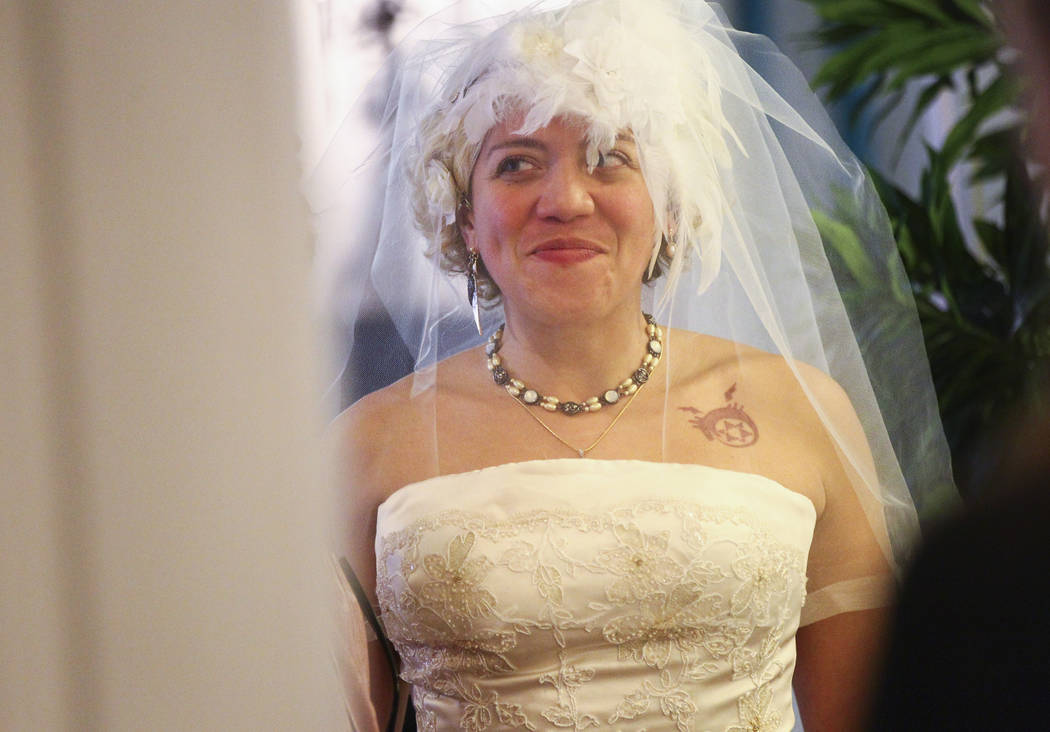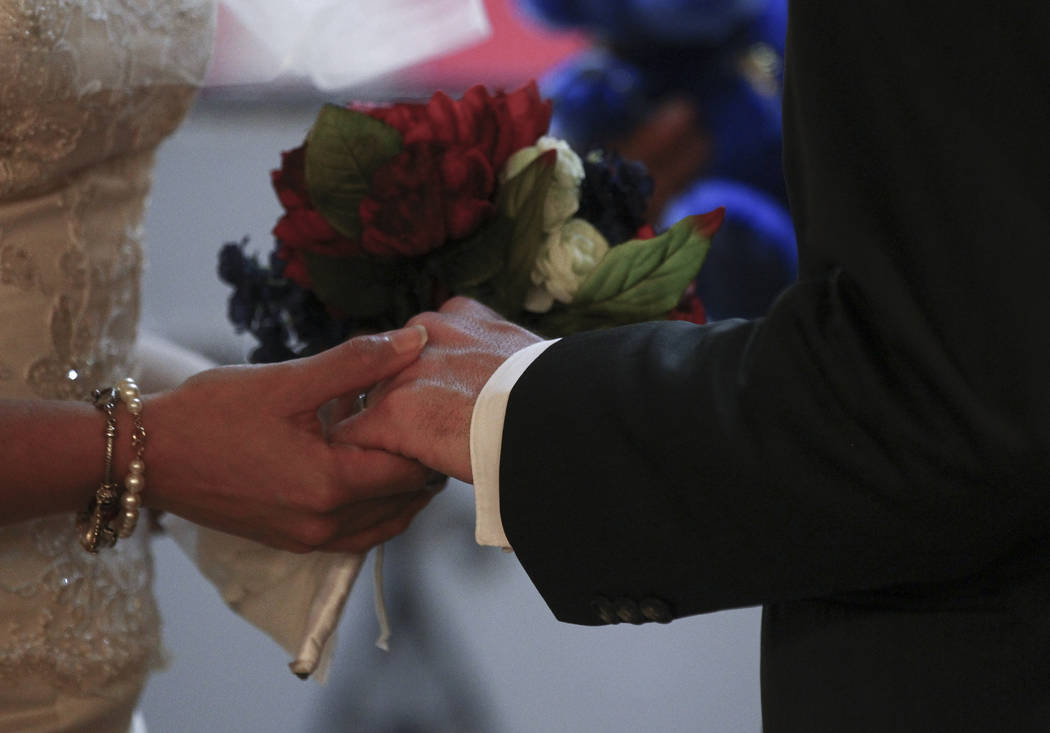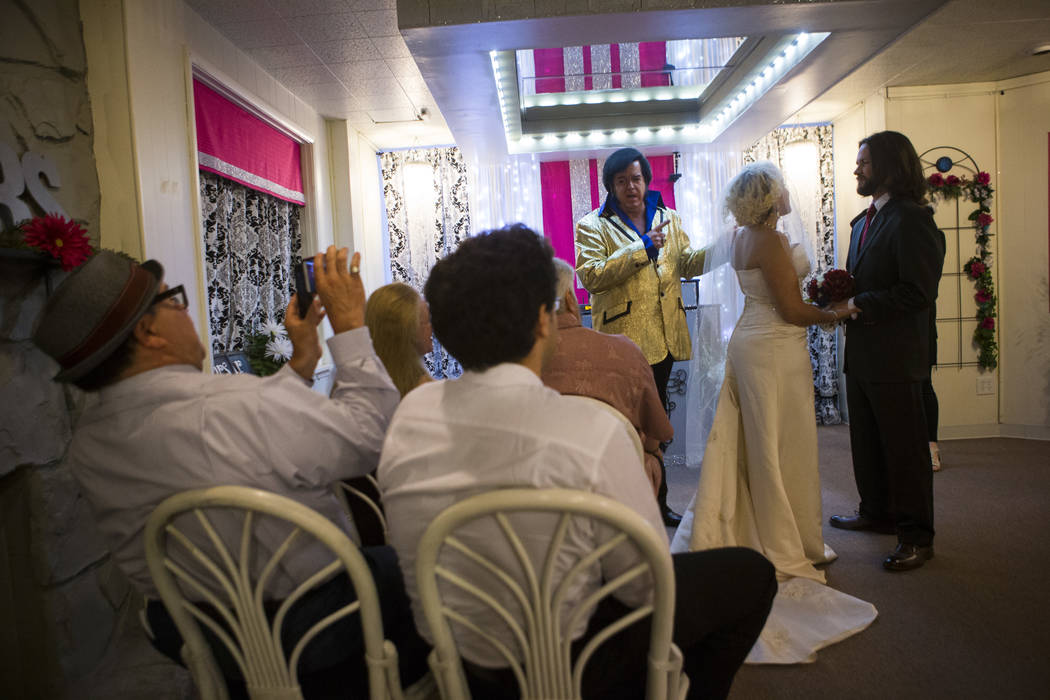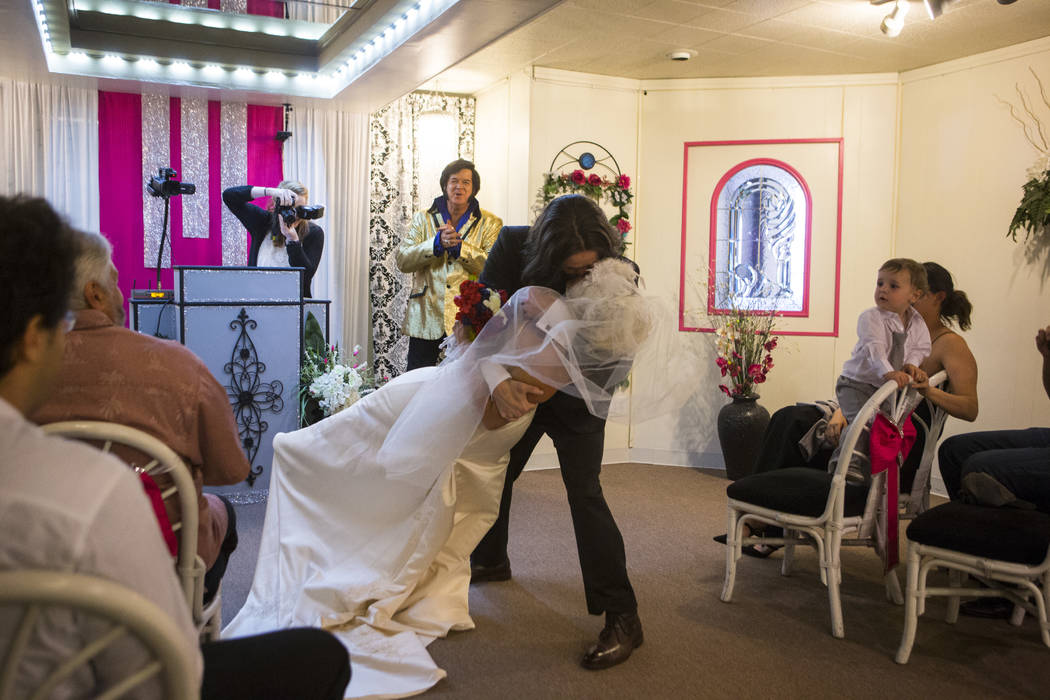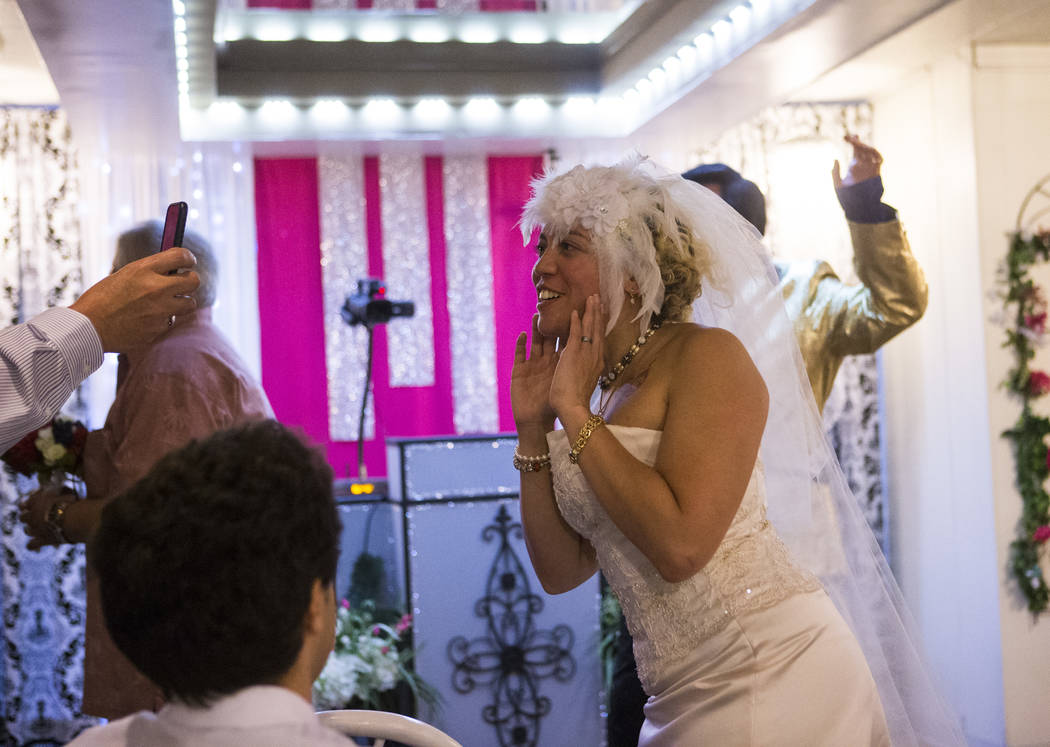 Lauren Santiago and David Wenzel pitched a Las Vegas trip to her parents and his friends as a family reunion.
But Santiago, 33, and Wenzel, 34, had spent months secretly planning to marry at the Little Vegas Chapel on April Fools' Day.
"Life is not that serious, and it's important to not take it that seriously," said Wenzel, who recently graduated from the University of Oregon with a computer science degree. "When I asked her to marry me, she said, 'Only if we can do it in Vegas with Elvis.'"
The two met in high school in Sarasota, Florida, and they've "been in or near each others' orbit ever since," Wenzel said.
After dating on and off for 17 years, they chose April 1 as their anniversary because, "Fools fall in love," Santiago said.
And on Saturday, they nearly fooled Santiago's parents, who found out on Friday night after a performance of "Love," the Beatles Cirque du Soleil show, that Wenzel would wed their daughter the next day.
"I'm in total shock," said her mother, Ana Santiago, who shook her head and smiled.
But tying the knot on April 1 isn't as surprising as it might seem. Clark County Clerk Lynn Goya said holidays and unusual days are always popular for nuptials.
"People like picking notable days just to make it more special for themselves, and April Fools' Day is a special day," Goya said. "It's a special person that picks April Fools' Day, and one that is a little more lighthearted and full of fun."
In the 20 years he's owned the Wee Kirk o'the Heather wedding chapel, Michael Lambermont said he has seen a trend toward more weddings on April Fools', but this year is no busier than normal for him.
"We always look at each other and wonder, 'Who wants to get married on April 1?'" he said.
At Santiago and Wenzel's wedding, her uncle, Albert Guillermo, live-streamed the nuptials on Facebook.
"I posted it to Facebook right now, but no one believes me," he said before the ceremony.
After an Elvis impersonator officiated the wedding, Santiago looked into Guillermo's phone camera and giggled.
"It's for real," she said.
Contact Brooke Wanser at bwanser@reviewjournal.com. Follow @Bwanser_LVRJ on Twitter.
'I'M A JOKESTER'
Michael Harrison said he chose to get married on April Fools' Day because he couldn't remember the dates of his first kiss or date with his fiancée, Khidja Seymour. "The only way I was gonna remember was if it was on April 1," he said.
The couple, both 47, met 25 years ago, but other relationships and children prevented them from crossing paths until Harrison came across Seymour's Facebook profile. "She was looking good!" he laughed.
"She wouldn't take me serious because I say a lot of crazy things on Facebook," Harrison said, but "she finally went out with me, and we've never turned back after that."
The couple had around 50 family members in town to witness their nuptials in the Classico Chapel at Caesars Palace.
Before the wedding, Harrison said many relatives were still uncertain whether it was a joke or not.
"All of them keep saying, 'Don't play!'" he said.