For the Love of the Chase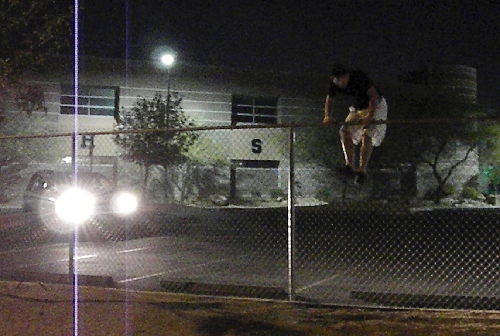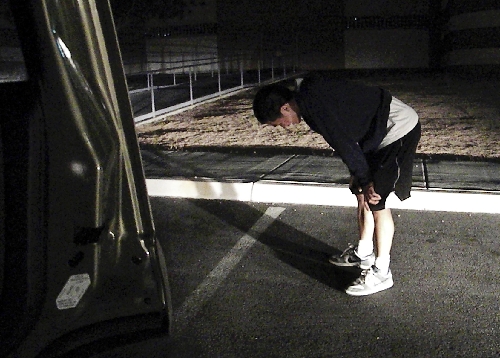 Driving down the street you notice a few teenagers duck for cover behind some bushes. As you pass their location, you glance in your rearview mirror to see a silver SUV flash its brights.
The teens take off in a dead sprint, running as fast as they can away from the SUV. You have just passed through a game of Fugitive.
"My favorite part has to be the adrenaline rush; it's like an adventure," says Silverado High School senior Rody Yousif.
However, Las Vegas police don't think this energetic high is worth the long list of possible misdemeanors that could be committed during the course of the game.
Fugitive is a new fad. Many teens just discovered its thrill in the past months; however, some have been playing for years. Dylan Starsenic, a senior at Silverado, has been playing Fugitive since eighth grade, where he played with his brother.
Fugitive is a way to turn a boring night into a fun-filled time hanging out with friends, Starsenic says.
It is a glorified game of cops and robbers for teenagers. It combines the childhood game's taglike mentality with the teenage need to go fast in their vehicles.
The game has three types of players: the runners, the drivers and the navigators. Everybody meets at the destination spot, which is different each time, depending on who organized it. From there, the runners are loaded up into the drivers' cars and then blindfolded.
"(Being a runner) is more exciting," says Silverado senior Robert Johnson. "You get to run and hop fences. There's an adrenaline rush every time you see a car because you think it's the person trying to catch you."
The runners are driven anywhere from one to four miles away, and dropped off. The drivers return to the destination, pick up the navigators and begin hunting for the runners.
"The object of the game is to get back to the safe house without getting caught," Yousif says.
Usually the robbers, who are the running team, win because the odds are in their favor. For the robbers to win, only one person has to make it to the destination without getting caught, whereas the cops, who are the navigators and the drivers, have to catch everyone before one of them makes it to the destination.
"The feeling you get when you make it back to where you are supposed to be is awesome," Johnson says. "You're tired, you're breathing hard, but you have this sense of accomplishment that you won."
Karla Cross, mother to four boys, says she likes that her kids play Fugitive.
"As long as they are safe, not doing drugs, and behaving responsibly, that is pretty much it," Cross says. "As long as they come home intact they are good."
The Cross boys know they have to be home by midnight.
"Ryan has even called me while he was playing," Cross says. "I trust my kids."
Silverado senior Lindsay Richardson says in every game that she remembers playing, the Las Vegas police have gotten involved in one way or another.
Richardson was stopped by police officers after other game players had hopped the wall into someone's backyard. The homeowner called the police to report a burglary.
"If kids want to play this game where they are acting like burglars, acting like fugitives, we are going to treat them as such," officer Jay Rivera says.
One time while playing, Silverado senior Jonathan Defranza and some of his friends saw a patrol car and their instinct was to run.
If while playing Fugitive you encounter a police officer, Rivera suggests following their commands and not trying to explain that you are just playing a game until the officer begins the interview.
"It does not sound like a safe game because their behavior is very criminal-like and they could encounter homeowners who may be armed," Rivera says.
There are many potential misdemeanors in the regular practice of the game, including trespassing, pedestrians in the roadway, obstructing traffic, and the possibility of impersonating an officer, depending on how far the teens on the cops team go to look and act like a police officer.
Because these are misdemeanors, they usually result in the issuance of a citation, however, it is up to the discretion of the officer whether to arrest the teen, and it usually depends on their criminal history, Rivera says.
"A couple of kids have gotten speeding tickets, but that's not my fault," Starsenic says.
R-Jeneration