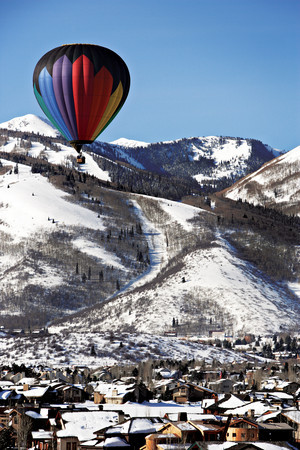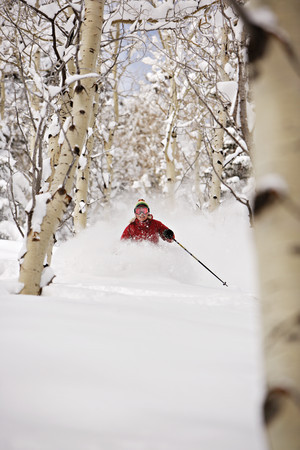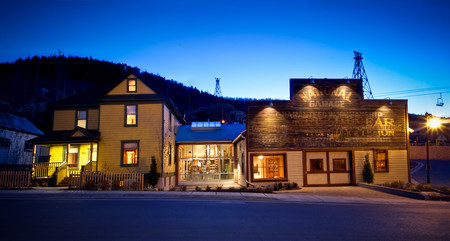 Maps of the West are speckled with dead towns — places that shot to fame on a mining boom and fell empty as a spent rocket when the boom burned out. But Park City, Utah, proved that fate was not inevitable and reinvented itself as richer, livelier and certainly more fun to visit than it was in its original model.
From the 1880s to the 1920s, Park City mines were extremely productive, yielding $400 million worth of silver, copper, lead, zinc and gold. At the start of the 20th century, about 10,000 people lived there, but in the 1930s when mining slowed because of lower prices, the town all but dried up.
Early miners had used skis as transportation, but in 1946, two friends opened a ski resort, Snow Park, where lower Deer Valley Resort now stands. In 1963, United Park City Mines Company opened Treasure Mountains Resort (now Park City Mountain Resort).
Now, snow lovers can enjoy Park City's three world-class ski resorts, many of Utah's finest restaurants and first-rate shopping. My daughter Charlotte and I spent four days in this delightful town, skiing as much as possible, but also enjoying other aspects. There are a slew of other winter activities such as ballooning, sleigh rides, ice skating and snowshoeing, besides the cross-country variation on traditional downhill skiing. And you certainly won't go hungry or thirsty, as the town has more than 100 restaurants and bars.
We drove on previous visits, but with low airline prices, now at just over $150 round-trip, we decided to fly up to Salt Lake City. Our flight time was about an hour, and once off the plane, it was only a 40-minute drive to Park City.
Our base camp was at Treasure Mountain Inn, on historic Main Street, the hub of Park City's restaurants, shopping and nightlife. Our one-bedroom unit was very roomy and had a covered balcony overlooking Main Street. It had large, comfy lounge chairs facing the flat-screen TV and a full state-of-the-art kitchen with granite counter tops, spacious refrigerator, full-size stove and oven. Yet the luxurious hotel is environmentally conscious; a member of the Green Hotel Associate program and the state's first hotel that was 100 percent carbon neutral.
We tried a daring experiment on this trip: leaving our own ski equipment at home. The few times I have had to rent skis and boots had been disappointing. After waiting in long lines, I would get ill-fitting, worn boots and second-rate skis with dull edges. But with Skis on the Run, it was a different and pleasant experience. We just e-mailed the company our sizes, skiing ability and other pertinent information, and when we arrived, a representative came to our room and fitted us with top-of-the-line skis and boots. About 15 minutes later, we were headed to the slopes at Park City Mountain Resort.
For out-of-state visitors who fly here, Park City offers the Quick Start program, which gets you a free lift ticket on the day of your arrival. You just fill out a voucher online before your trip, then once you get to any one of the three Park City resorts — The Canyons, Deer Valley, or Park City Mountain — show your same-day boarding pass and out-of-state drivers license.
Our flight didn't leave Las Vegas until 7:45 a.m., but by a little past noon, we were skiing down some of our favorite runs.
One interesting thing about Park City Mountain is that from the resort's base area, the mountain appears small. But that's because you can only see 20 percent of its terrain. In fact, there are 3,300 skiable acres, encompassing nine bowls, eight peaks and four terrain parks, which includes the largest superpipe in the country. This resort has earned the title of Terrain Park of the Year from Transworld Snowboarding Magazine for the past five years.
We stuck to trails off the high-speed lifts, to get in the maximum number of runs that first afternoon.
If you can tear your attention away from the joy of great slopes, this mountain offers a second, unique attraction: You ski by many historic mining buildings. There's even a historic tour on many mornings; both skiers and boarders can take it, but they should be intermediate or better in ability.
Although Charlotte and I are not usually people to eat our way through a vacation, skiing gave us unusually large appetites. On our second day, we met old friends for lunch at the Royal Street Cafe in Deer Valley's Silver Lake area. This was not the ordinary ski-town repast of giant burgers. Our group's food included a lobster and shrimp margarita appetizer, served with papaya salsa and guacamole, corn tortilla strips, and a crawfish bisque, one of the best soups I have ever tasted.
On two nights, we headed across the street from our hotel to the Wasatch Brew Pub. Charlotte stuck with the chicken wings and salad while I feasted one night on a flaky crust chicken pot pie and a pizza the next. Of course, a brew pub concocts its own beers; one local favorite is Polygamy Porter. The brand's motto is "Why Have Just One?"
An dining experience, especially good for families, is the fireside dining at Deer Valley's Empire Canyon Lodge. Three nights a week, it serves favorites from the European Alps, cooked over stone fireplaces. You stroll from room to room and sample different foods. Think warm Swiss raclette cheese with new potatoes, the little pickles called cornichons, cured Italian and Swiss meats, baguettes and homemade mustard and chutneys. One room features heartier items such as veal, venison and chicken, while another fireplace serves up leg of lamb with polenta or three-onion risotto. The dessert fireplace offers warm chocolate or caramel fondues, into which you may dip your favorite fruit or chunks of traditional pound cake.
Utah's first distillery since Prohibition opened last weekend. The High West Distillery is housed in a renovated, 100-year-old livery stable. It currently makes Rendezvous Rye Whiskey and its oat-based Vodka 7000′ (meaning 7,000 feet, the city's approximate elevation). The distillery has a restaurant and saloon; you also can take a tour or buy a bottle to take home.
The Park City Museum building is one of the oldest in town and once served as city hall and the jail. It has undergone an $8.9 million overhaul that took about two years, and it just reopened last month. One new exhibit is the two-story Mega Mine structure, featuring a mill, Cornish pump and hoist and aerial tramway.
Also worth seeing is the Winter Sports History Exhibit, which showcases old photographs and memorabilia from the early days all the way through events that took place during the 2002 Winter Olympics.
On our third day, we headed over to the Canyons Mountain Resort, Utah's largest. It has 3,700 skiable acres, 163 trails and 17 lifts, affording access to eight mountains.
Snowboarders can enjoy six natural halfpipes and two terrain parks. Even if you don't ski, you can ride the Flight of the Canyons gondola up to mid-mountain for sweeping and far-reaching views of the valley below.
We spent our last morning skiing at Deer Valley Resort.
This is the epitome of luxury, offering ski valets, tissues at the lift lines and gourmet food at the day lodges. Not surprisingly, Deer Valley was named the top ski resort in North America by readers of Ski Magazine in both 2008 and 2009. There are 99 trails and six bowls over 2,026 acres.
It's one of the few mountains in the United States that doesn't allow snowboarders. But it has other attractions for the youthful crowd. Charlotte, who is 12, especially enjoyed the Ontario trail, a place where she could ski some teen-friendly bumps and short sections off the trail through the trees. During our visit over a school holiday, the trails were filled with children.
As is often the case in family-friendly Utah, this resort caters to pre-driving teens as much as those newly liberated from parental reins.
For that matter, with its alternate attractions and proximity to Salt Lake City, there's plenty here for those too old or too athletically challenged to ski. I hope I never find myself in either condition, but if I ever do, it's comforting to know Park City won't ignore my needs.
Contact Deborah Wall at deborabus@aol.com.