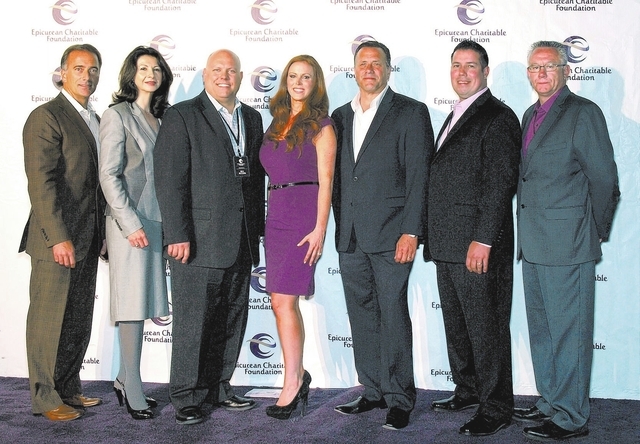 The Epicurean Charitable Foundation of Las Vegas hosted its 12th annual MENUS gala Oct. 4 at Luxor to raise money for scholarships for high school students seeking careers in the hospitality and food and beverage industries.
The MENUS program, whose acronym stands for Mentoring and Educating Nevada's Upcoming Students, provides financial support of as much as $28,000 to cover tuition, books and other fees at a college or university of a student's choice.
Las Vegas students are attending the Culinary Institute of America, Penn State University, Johnson &Wales University, Art Institute of Las Vegas and the University of Nevada, Las Vegas.
This year's benefit included a private performance of the Jabbawockeez, followed by a first-class dine-around of the Luxor's pool and a silent auction.
Thirty of Las Vegas' top restaurants prepared their specialties and beverage companies dispensed every drink imaginable.
Epicurean Charitable Foundation's President Jason Shkorupa and board members Kelley Jones, Michael Kennedy, Ana Marie Mormando, Rene Werner, Melissa Arias, Sean DiCicco and Renee West welcomed hundreds of guests.
Seen among the partygoers were Zowie Bowie, Michael Severino, Marci and Lloyd Wentzell, Lincoln Spoor, Kristin Graves, Ron Winchell, Todd Morse, Christopher Johns, Ariana and Johnny Mora, Jackie Rau, Mel Garraway, Billy McGreevy, and Ronna and David Bart.
Concluding the evening was an after-party hosted by Luxor's LAX nightclub.
■ Project Dinner Table Fundraiser: About 200 guests gathered on the rooftop garden at the Molasky Corporate Center Oct. 5 for a benefit for Project REAL, whose acronym stands for Relevant Education About the Law.
Community leaders Irwin Molasky and Sam Lionel started the nonprofit organization to support educating Nevada's youths about their rights, democracy and respect for the law. Project REAL offers programs free to teachers and students. The most popular is Your Day In Court, in which students of all ages visit the courts to learn about the judicial system.
The rooftop dining experience began with a cocktail reception and silent auction. Renaissance catered the dinner.
Master of ceremonies Dayvid Figler discussed how Project REAL educates children from kindergarten through 12th grade. He introduced Irwin Molasky, who spoke about the curriculum designed by the Alabama Center for Law and Civic Education.
Guests included Daniel W. Hamilton, dean of the William S. Boyd School of Law at UNLV, and his wife, Mary Ann Winkelmes. Other guests included Shannon Nordstrom, Jane Jensen Saint, Debra King, Pamela and Doug Puppel, Susan Molasky, Barbara Molasky and Mike Sloan, Christy and Alan Molasky, Lauren and Kalani Wright, Mary McCarthy and Cam Ferenbach, David Soyk, Pam and Paul Krug, Ann and Scott Cook, Gloria Perry, Helen Costanza, and Diane Boyle and Rich Worthington.