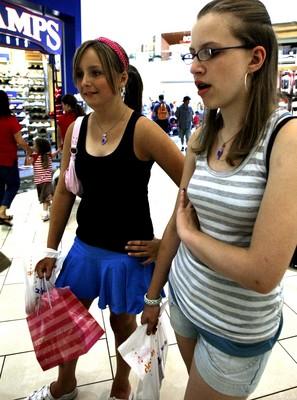 When the new school year begins here Monday, kids will find out the answer to the nerve-racking question they face every fall: Am I cool?
While part of that answer is intangible — some kids just seem naturally cool no matter what they do — it is possible to boost the cool quotient through the proper accumulation of stuff.
Most of this year's crop of back-to-school supplies represent variations on veteran themes: new tools for organizing schoolwork, twists on the gadgets that have become part of everyday life and a few new embellishments on fashion notes.
For many students — especially those in high school — cell phones remain a vital part of back-to-school gear. Christian Tidwell, a junior at Advanced Technologies Academy, says newer models of cell phones always are in-demand on campus, making this fall's hot picks the iPhone or mp3-playing cell phones.
Of course, what the well-supplied student carries can vary from school to school. Casey Goodwin, a junior at Advanced Technologies, says for students there, the Texas Instruments 84 calculator is "the cool thing."
It's a graphing calculator, but "a lot of kids have games on them," she adds.
Jacob Freeman, a senior at Las Vegas High School, says messenger bags have become a popular option among many students.
"I have one actually," he says. "I've had one for two years, but a different one each year. It's easier to get into when you're walking. You just sling it back over. It's just right there."
Also popular, Freeman notes: personalizing a messenger bag with patches of club logos, video game trademarks and the like.
During a recent shopping trip to the Meadows mall with his parents, Dylan Pelton, 9, who goes to Katz Elementary School, had his eye on a backpack of the hip, one-strapped sling variety.
Is a sling pack more comfortable? Not necessarily, Dylan says. "I just like it."
In terms of design, Megan Jensen, 12, who's entering eighth grade at St. Francis de Sales School, and cousin Molly Jensen, 14, of Wisconsin say they notice more plaids and pinks in this year's crop of back-to-school items. Megan's mom, Robin Jensen, sees "more coordinating binders and folders. Everything (Megan's) got this year is coordinated. I've never seen that before."
In fashion, Lorelei Menist, shopping with daughters Bridgette, 8, who's going into third grade at Parson Elementary School, and Celine, 12, who's going into seventh grade at Lied Middle School, says clogs appear to be popular this year. "I think clogs always are popular. We wore clogs in the '70s," she adds.
Also popular among girls is the colorful line of Roxy apparel, Menist says.
Some youngsters received lists from their schools for their fall supplies.
"It's just the basics," with such things as pencils and a disposable camera, says Elisabeth Bankhead of her daughter Zoe's list. Zoe, 6, is going into first grade at Mack Elementary School.
What the artistic Zoe really enjoys is Color Wonder, special clear inks and paints that create colors on special paper. "But they haven't brought that to school," her mother says.
Sometimes the things kids want just don't fit into the school's plans.
Among particularly cool gadgets, Molly Jensen knows of a speaker-equipped binder for iPods. Not that it would do her any good, though: Such devices can't be used during the day at the school she attends in Wisconsin.
Jordyn Rowlett, 11, who goes to Ronzone Elementary School, also had a list that included the basics — and a little more. The other desired item on his list: a video game.
For school? "No," Jordyn says.
RELATED STORY
Classrooms filled with more than pencils and notebooks