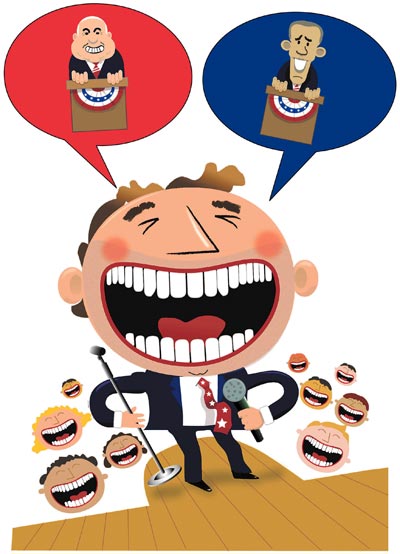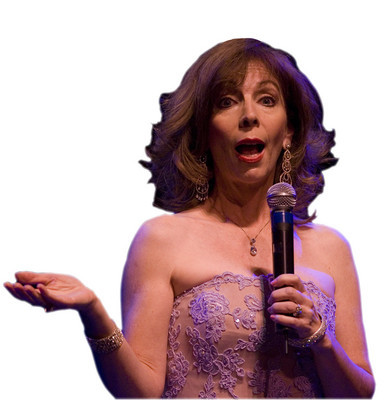 For people who make a living mining laughs out of current events, a presidential election is Christmas, Halloween and your best birthday ever all wrapped up into one.
When Americans cast their votes for president Tuesday, it will mark the conclusion of one of the most historic, heated and downright bizarre campaigns in U.S. history. With the finish line finally in sight, we asked a few experts to offer a roundup of the race to the White House from a comedic standpoint.
——
Thea Vidale on her pick for president: "I personally feel that if people vote for McCain to be in office, pretty soon slavery will be back and maybe I can get a job as a sharecropper. At least I'd have someplace to stay."
—–
Political humor is always tricky, and that's particularly true with an electorate as divided as ours. But for Thea Vidale, who will play the Improv at Harrah's Las Vegas Tuesday through Nov. 9, it all begins with the truth.
Audiences "laugh, because they know I'm speaking to the truth," Vidale says. "I'm working from the perspective of, 'This is the truth, I wouldn't tell you a lie. I'm gonna tell you the real deal, and the real deal is there's a lot of funny (expletive) going on.' And the audience may not agree with me, but (a joke is) funny, so they have to laugh."
Take Vidale's line about asking Secretary of State Condoleezza Rice, "What does Uncle Tom's cabin look like on the inside?"
"People got mad at me when I do that joke — 'How could you say that?' " Vidale says. "But it's very funny."
But you're probably correct in thinking that Sen. John McCain, the Republican nominee, has taken more hits than Democratic challenger Sen. Barack Obama during the past several months.
One reason, offers political satirist Will Durst, is that McCain is "not as contained as Obama."
"Obama is so tight," says Durst, who's planning an Improv date early next year. "You saw him dance on the Ellen DeGeneres show and he barely moved three millimeters to the left and right. And that's pretty much an encapsulation of his entire campaign. He's not allowing anything to get out there."
Compare and contrast with McCain, who, says Durst, is "wandering around the country like an ornery troll with irritable bowel syndrome. So there's a lot more material."
Also, says George Wallace, who appears at the Flamingo Las Vegas, Obama "is smarter than us, and we've never had a president smarter than us."
—–
Carrot Top on the post-George W. Bush political landscape: "Americans are ready to take Gilligan out, yet they're gonna put in the Skipper and Mary Ann when the Professor is already there, ready to go?"
—-
But Obama's sometimes aloof manner has made him a comedic target, too.
Obama "always looks like he's looking off into the future, like he's posing for the fifth face on Mount Rushmore," Durst says.
"People says he's arrogant, but I say so what? At least he's smart, because we tried stupid and arrogant and that didn't work."
Bobby Slayton, who performs at The Hooters Hotel, says a preponderance of McCain jokes probably also reflects the tastes of comedy club audiences, who may be "more liberal and Democratic and left-leaning Libertarian and Democratic."
Slayton adds that most comedians probably are "voting for Barack Obama, and any joke they do about Barack Obama is going to seem like a cheap shot at him."
——
Rita Rudner on Sarah Palin: "Sarah Palin disagrees that she's not well-traveled. She says she's been to many different lands … Disneyland, Frontierland and of course, Never, Never Land."
—-
Speaking of vice presidents, McCain's running mate has been a godsend to comedians.
"I just mention her name and shake my head and I get a laugh," Durst says.
"What it's like," Vidale says, "is (McCain) went to the grocery store and, out of all the fancy boxes of cereal, this (expletive) had the nerve to bend down and pick up the puffed rice."
Slayton, referencing Palin's assertion that she understands foreign affairs because Alaska is close to Russia: "She said, 'I could see Russia from my house.' I can see the moon from my house. Does that make me an astronaut?' "
—-
Durst, on McCain's inadvertent use of "my fellow prisoners" during a campaign stop: "Very 'Manchurian Candidate.' Do not show this man the queen of diamonds."
—–
Yet, as heated as the campaign has been, there are areas audiences may be squeamish about.
For instance, Durst says, "you can't mention the lump on (McCain's) face.
"It's true, even (with) the most liberal audiences. I used to have a great joke, 'There's never been a more startling difference in terms of choice: Black-white, youth versus experience, smooth neck versus marsupial pouch.' And I thought it was hysterical; I love to say 'marsupial pouch.' And audiences would never go for it."
—-
Durst on McCain's losing track of how many houses he owns: "Who among us hasn't had that problem? He should do what I do when I get four houses: I trade them in for a hotel."
—–
Of course, in welcoming the new, whoever he/they will be, comedians will bid goodbye to the presidency of George W. Bush. And, comedically speaking, W. will be missed.
"He was a full employment act for political commentators," Durst says. "I'm just one little cog in his No Comic Left Behind program."
Contact reporter John Przybys at jprzybys@reviewjournal.com or 702-383-0280.