Getting personal with Christmas trees
December 17, 2015 - 3:34 pm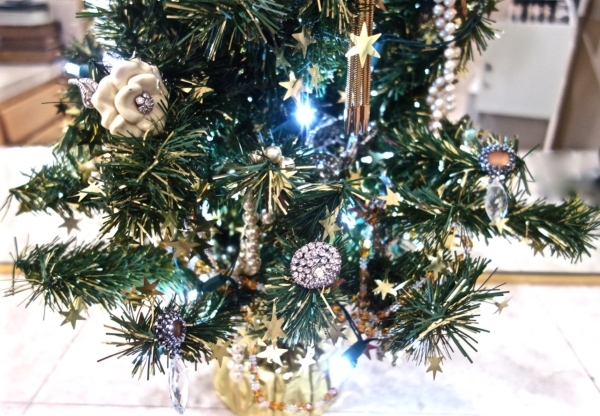 During the holidays, Las Vegas Valley residents have a hard act to follow when considering Christmas trees and decorations. Spectacularly decorated trees are everywhere, even to the point of attracting visitors just to photograph them: at the Bellagio, The Venetian, Sam's Town, Fremont Street Experience and elsewhere.
So how does the family tree compete? Most likely by being a tree filled with memories and/or eye-catching creativity.
Chris Carroll and Erica Fratilla are local residents who each make a point of picking up holiday ornaments in the places they visit. Fratilla also makes sure that evidence of her favorite NFL team appears on her tree.
Mindee Garamendi, Jamie Zobrist and Heath Woods are part of the design team at Ralph Jones Displays, 2576 E. Charleston Blvd. The company designs and produces many of the high-end trees seen in Las Vegas hotel-casinos and in larger private homes.
What do these top designers say are the trends in holiday tree decorating? This year sees champagne colors, canvas ribbons and even dark colors such as blacks and browns integrated on a tree.
When asked what a young person on a budget should do about having a holiday tree, Garamendi advises, "Start small and build the collection year after year."
Nontraditional ornament colors have grown in acceptance (think, pink, orange, chartreuse and teal ornaments ), and artificial prelit trees are eliminating the struggles with yards of light cords. Some of the new prelit trees now have remote controls and up to eight lighting options.
Take caution, though: Not all prelit trees are equal.
The Frontgate catalog lists a 7½-foot traditional balsam prelit tree with 1,200 lights for $999. Overstock.com lists a 7½-foot "no-fuss" prelit tree that promises a "full, fluffy look" and 600 lights (with foot switch) for $179.98.
An ad in the Plow and Hearth catalog touts a new artificial Nordmann Tree with a "found in the forest" natural shape (meaning it is so realistic, it isn't perfectly shaped). The cost for this "natural" 7½-foot artificial tree with 528 lights is $499.95.
Some people, however, just have a live tree, although lights have to be added. The Bunac/Burr family of Las Vegas recently bundled up its first live Christmas tree at Star Nursery in Green Valley. Family members said they liked the smell of a live tree.
Julie Johnson of the Star Nursery at 8725 S. Eastern Ave. says buyers should test a tree's freshness by reaching in the branches of their chosen live tree to see if the needles are firm (good) or loose (not so good).
Johnson notes that most of Star Nursery's trees are grown in Oregon, and because the Oregon and Nevada climates are so different, she recommends local buyers hose down their live trees at home before setting them up. (Star Nursery hoses down its trees each evening.) A preservative in the water is also a good idea, says Johnson, as is keeping the tree away from heating vents, windows with lots of sun or drafts of any kind that can dry out the tree.
Flocking a live tree with artificial snow means it cannot be recycled later. Live trees at Star Nursery range in price from $20 to $200.
After the tree is selected and lighting is in place, the fun begins: decorating the tree. Decorations can be the accumulation of years of collecting ornaments or products from the owner's kitchen (dried fruit, cookies, etc.). Decorations can be purchased new or can be handmade with products from craft stores.
Decorations also can include keepsakes from hobbies or other collections. How about hanging unworn costume jewelry on a tree? Or adding your child's drawings or hats? Or hanging your Los Angeles Lakers memorabilia on a tree?
Decorations can have a theme (Disney, "Star Wars," golf, the great outdoors) or decorations can be sparse with a wild tree skirt getting all the attention.
Decorations on the high end can be bought as part of a whole tree from Ralph Jones Display. Every tree in the Jones showroom has a detailed list of the number of ornaments as well as the price of each ornament that is on the tree.
This way a buyer wanting to duplicate a tree can get a quick answer. A large, fully decorated tree in the Jones showroom will not be cheap. The good news: Like many retailers, Jones has a post-Christmas half-price sale.)
Decorations, of course, needn't be expensive to be memorable.
For inspiration, many of the 150 trees that are part of Opportunity Village's Mystery Garden prove that "anything goes" in tree decorations. For 2015, Rachel's Kitchen has a tree decorated with fruit and white bags stuffed with colorful tissue paper. Ken's Foods hangs bottles of Ken's salad dressing on its tree. Magician Murray Sawchuck created ornaments using his own logo, and Nettles Law Firm has a "Nightmare Before Christmas" themed tree.
Clearly, whatever the choice of tree and decorations, the results can be unique, warm, friendly and fun — helping to put the "happy" in happy holidays.