Got an itch to make 'em twitch, act like a witch? Make your pitch
September 7, 2013 - 9:53 pm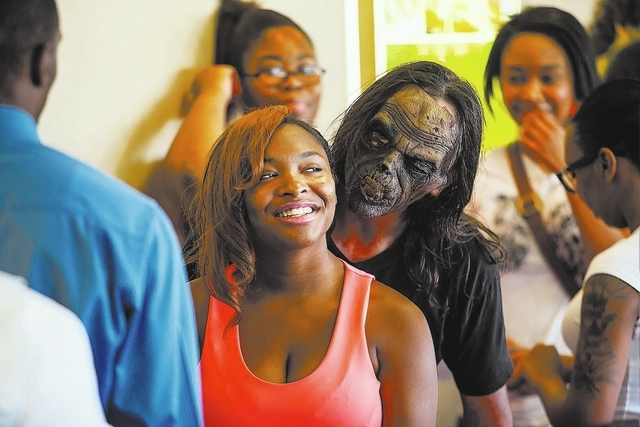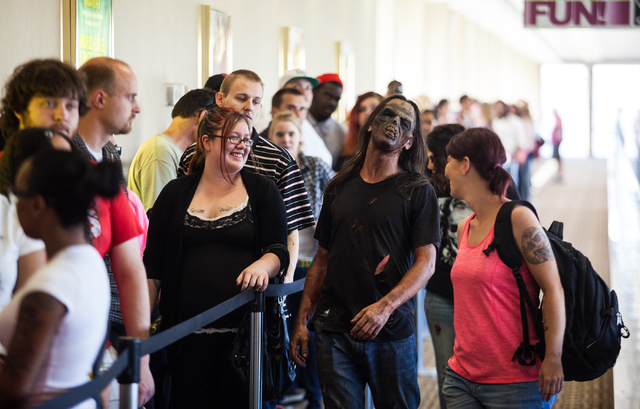 By trade, Richard Loeks is a computer geek, a guy who works banker's hours and reaps the benefits of what's mostly a desk job.
He's well-suited for it but even his boss knows it's not his real passion. No, that's something a little more frightening.
Loeks' true calling in life is scaring the heck out of strangers. Like some people have a knack for whistling or sewing, Loeks has one for hiding behind doors and jumping out at just the right moment. Since 2007, he's been scaring tens of thousands of people every October as an actor in Fright Dome at Circus Circus. He's worked his way up the gory chain of command, from a lowly dead prisoner in one of Fright Dome's haunted houses to "The Stranger," a character who roams throughout the attraction, giving people a fright when they least expect it.
He's also become a spotter of special, scary talent; for the past three years, he's helped Fright Dome founder Jason Egan with casting duties. So far this season, Loeks has screened hundreds of applicants hoping to join this macabre family. Today, he will be on hand for the final day of official hiring.
In past years, casting calls were swamped with applicants, Egan says. Fewer people have turned out at this year's auditions held over three weekends in August and September. To Egan, that's a good sign that the economy is better. He's still looking for a few good zombies and monsters and even sales people, though. The 20-day gig can net workers up to several thousand dollars. Wages start anywhere from minimum wage up to $100 an hour for special talent. Sales people, the ones who sell Fright Dome T-shirts and other merchandise, are eligible for extra pay based on their sales. Egan has paid out $250 bonuses to top retailers on some nights.
Before he opens Fright Dome on Oct. 3, Egan will hire more than 400 people. About half of them are like Loeks, repeaters who have an urge they must fulfill around Halloween. Even Loeks' wife and children have joined the cast as zombies and guides.
"This is in my blood," says Loeks, 42. "I come from a family that celebrates Halloween almost as much as people celebrate Christmas."
He grew up in a family headed by a theatrical mother. It rubbed off on Loeks. People who visited the family's home quickly learned that doors were much more than portals to another room; they were also traps where Loeks was known to lay in wait for the perfect victim. It was not unusual for him to stand there for hours. At 15, he landed a job as a patient in a haunted asylum in California. He perfected the art of insanity by talking to fake, severed heads and behaving bizarrely. Visitor feedback was good; he was super-creepy, they said.
"It was so much fun," Loeks says.
Sadly, there was no career path in haunted houses for him. It wasn't until 2007, when Loeks got a desk job, that he had time to work at Fright Dome. He's even passing his love of all things Halloween to his seven children. Recently, his 7-year-old son has started hiding behind the front door, jumping out to scare his father.
"When I come in from work, if I see that the TV is off, I know he's back there," Loeks says. "But he still gets me."
If you think you can scare Loeks, he wants to meet you. Fright Dome representatives will hold interviews noon to 4 p.m. today at the Skyrise Casino Tower at Circus Circus, 2880 Las Vegas Blvd. South.
Contact reporter Sonya Padgett at spadgett@reviewjournal.com or 702-380-4564. Follow @StripSonya on Twitter.