HallOVeen at Opportunity Village leads full roster of Halloween attractions
October 12, 2013 - 6:57 pm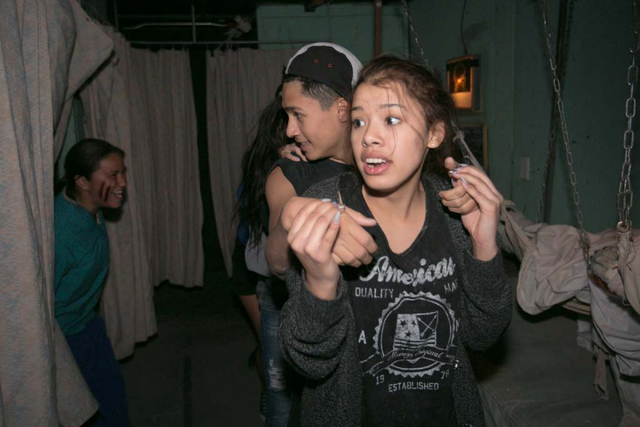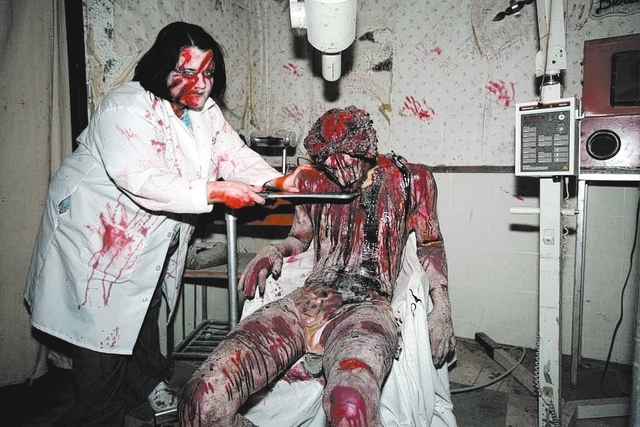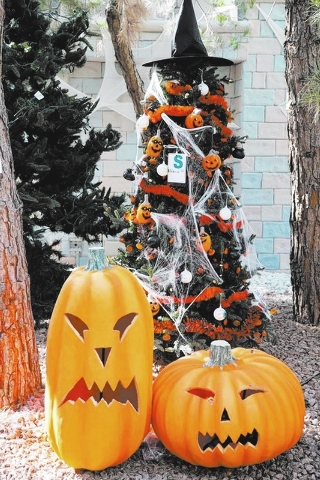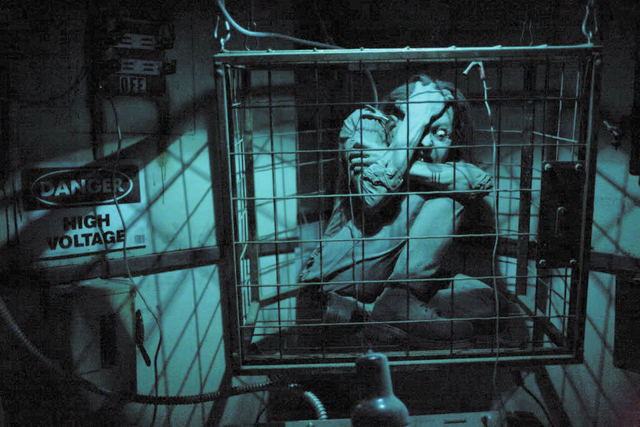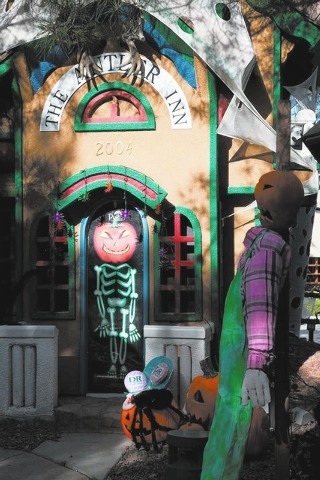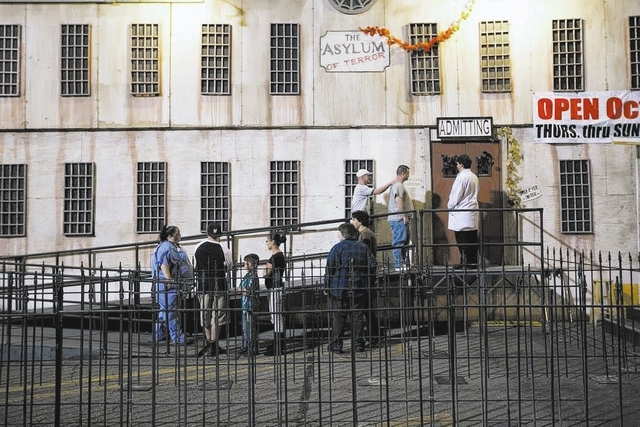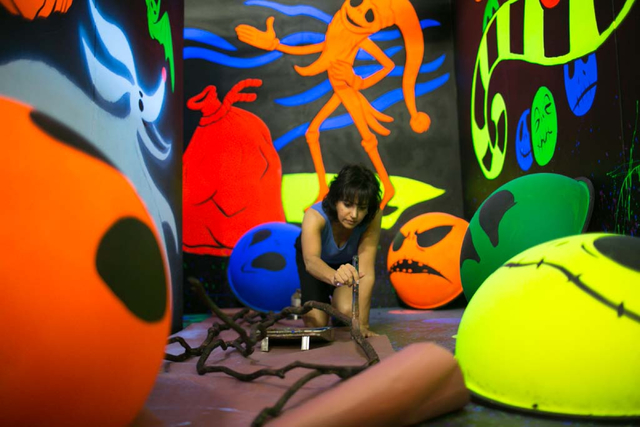 There's something eerie going on at the Magical Forest, Opportunity Village's venerable Christmastime attraction.
The yuletide season's giant candy canes are covered in what looks like spider webbing. Scarecrows with jack-o'-lantern heads, rather than friendly snowmen, stand alongside the walking path. Furry spiders perch menacingly in trees and on the ground. Even the odd reindeer now looks, well, a bit scarier than you might remember.
And, next to the Magical Forest carousel, a giant dragon sits, deflated for now but awaiting frightening and inevitable regeneration.
But don't worry. They're all just part of "HallOVeen at the Magical Forest," Opportunity Village's newest holiday attraction, which opened last weekend for a monthlong run.
And, in offering an entertainment option for Southern Nevadans seeking a good, safe Halloween scare, HallOVeen joins a roster of frightening possibilities ranging from intense haunted houses to laid-back trick-or-treating.
HallOVeen — which repurposes the attractions and features of the Magical Forest for more Halloweenish purposes — is Opportunity Village's first foray into Halloween entertainment, says Linda Smith, the nonprofit organization's associate executive director.
The notion of expanding the organization's holiday attractions beyond Christmas came from a survey of Magical Forest patrons, Smith says.
"It was amazing how many people who came to Magical Forest suggested, 'Why don't they do other events, like Halloween or an Easter egg hunt?' " she recalls, "So the natural progression really was to give this a try."
Like the Magical Forest, HallOVeen offers Southern Nevadans a family-friendly, affordable night out. Also like Magical Forest, HallOVeen helps raise money for Opportunity Village, which serves people with intellectual disabilities through job training, employment, artistic and other programs.
While HallOVeen's attractions are creepy enough, they're not overwhelmingly so, which makes HallOVeen perfect for younger children who, perhaps, aren't ready for a visit to a haunted house.
"We don't want anything gory here," Smith says. "We want something really wholesome."
Still, Magical Forest regulars may experience a bit of inside-out deja vu when they see the rides and attractions they've come to know only in a yuletide context in vastly different wrappings.
And for that, thank plenty of paint, the donors who supplied Opportunity Village with the raw materials, and abundant creativity from Opportunity Village's staff members and volunteers who are amazingly adept at turning regular somethings into other somethings way cooler.
"We have the best dumpster divers in the country, if not the world," Smith says, smiling. "We were scrambling through our thrift stores for stuff. And once we decided we were doing this at Halloween last year, we started telling people, 'Don't throw your Halloween stuff away. Give it to us.'
"We're pretty good at taking someone's castoffs and turning it into something fabulous."
Among HallOVeen's attractions are a 150-foot-long walk-through giant dragon, a 3-D maze, a slide, carousel and train rides, storytelling sessions, spooky karaoke, parades, movies, games and treats.
HallOVeen is open from 5 to 9 p.m. Fridays through Sundays through Oct. 27 at Opportunity Village's Oakey campus, 6300 W. Oakey Blvd. General admission is $11 for adults and $9 for children (children 2 and younger are admitted free), and passes that include entry and unlimited rides are $19.99 for adults and $17.99 for children. For more information and online ticket purchases, visit www.halloveen.org.
HAUNTED HOUSES
For valley residents seeking more intense Halloween scares, haunted houses will again be the ticket. Among this year's offerings are "The Asylum" and "Hotel Fear," both of which have moved to Meadows mall, 4300 Meadows Lane.
Last year, The Asylum was in downtown Las Vegas while Hotel Fear was in North Las Vegas. Rich Strelak, who with his wife, Jan, have been creating and operating haunted houses since 1999, says the houses can be toured independently. However, guests may wish to tour both to fully appreciate the story line they share.
"What we do is different than most," he explains. "They're two separate attractions, but tell a story. Their styles are a little bit different, so you get a little different look, but the story line is intertwined."
Admission is $15 for one house ($2-off tickets can be obtained at Smith's or Carl's Jr. locations) or $25 for both houses. Hours are from 6:30 to 10 p.m. Thursdays and Sundays and 6:30 p.m. to midnight Fridays and Saturdays. During Halloween week, the houses will be open from 6:30 to 10 p.m. on Oct. 29 and from 6:30 p.m. to midnight Oct. 30 and 31. For more information, visit www.lasvegashaunts.com.
In a similar vein — see what we did there? — veteran horrormeisters the Freakling Bros. will for the 21st year offer their take on haunted houses via "The Trilogy of Terror" featuring "Circus of Horrors," a newly renovated "Castle Vampyre" and "Gates of Hell," the latter of which is billed as Nevada's "first and only R-rated attraction."
The houses are at 2321 N. Rainbow Blvd., near the AMC Theatres Rainbow Promenade 10 complex.
The houses this year will be open on Oct. 13 and Oct. 17 to 31. Hours are from 7 to 11 p.m. Sunday through Thursday and 7 p.m. to midnight Fridays and Saturdays, as well as Oct. 30 and 31.
Tickets are $12 for "Circus of Horrors" and "Castle Vampyre" and $15 for "Gates of Hell." Line pass T-shirts cost $10. Discount offers include a $30 "Freak Pass" for all three haunts and a $40 "All You Can Scream" pass.
To enter the "Gates of Hell" — see what they did there? — guests must be 17 or older or be accompanied by an adult, and all "Gates of Hell" visitors must sign a consent form.
For more information, call 702-362-3327 or visit www.freaklingbros.com.
"Fright Dome," inside the Adventuredome at Circus Circus, 2880 Las Vegas Blvd. South, kicks off another Halloween with its stable of haunted houses, roaming creatures, rides and other Halloweenish touches.
Hours are from 7 p.m. to midnight Oct. 13, 17 to 20, 23 to 27 and 29 to 31. General admission tickets start at $32.95 (www.frightdome.com).
Finally, "Sin City Scare Fair," 121 E. Sunset Road, began a 15-day run Friday. The attraction features two haunted houses, interactive activities — including a 3-D attraction — go-kart racing on a haunted track, a "burial simulator" and, promoters say, guest appearances throughout the month from AMC's "The Walking Dead" and FX's "American Horror Story."
"Sin City Scare Fair" will be open on select nights through Oct. 31 starting at 7:30 p.m. Ticket prices range from $30 to $55; each ticket includes admittance and one entry to the haunted houses and the burial simulator.
For more information, visit www.sincityscarefair.com.
NEON MUSEUM
The Neon Museum knows how to celebrate a birthday.
Namely, with zombies, and how cool is that?
On Oct. 25, the museum, 770 Las Vegas Blvd. North, will throw its annual Boneyard Bash, which this year goes full zombie.
"We want to embrace the zombie theme this year," says Danielle Kelly, executive director of The Neon Museum and Boneyard. "We were able to partner with AMC's 'The Walking Dead,' so we've got some superduper cool official 'Walking Dead' gifts that we're going to be giving out as prizes to people."
Guests are asked to attend in their best undead-inspired costumes. The evening will include live music, food trucks and magic from master of ceremonies Murray Sawchuck.
A VIP reception is scheduled from 7 to 8 p.m., and general admission will be from 8 to 11 p.m.
Tickets are $125 for the VIP reception and $75 for general admission. Tickets can be purchased at www.neonmuseum.org/boneyardbash.
FREMONT STREET EXPERIENCE
The Fremont Street Experience in downtown Las Vegas will offer something you don't see very often: Its fifth annual OktoberFrightFest, a mash-up of Oktoberfest and Halloween in the form of a street party.
The event, which runs through Oct. 31, will feature free performances of the musical revue "Frank &The Steins," light and sound shows themed to "Time Warp" and "Monster Mash," and, on Oct. 18 and 19, the fourth annual Fall Beer Festival at the Golden Nugget.
For a schedule and more information, visit www.vegasexperience.com
SPRINGS PRESERVE
The Springs Preserve, 333 S. Valley View Blvd., again this year offers a family-friendly Haunted Harvest event that will feature trick-or-treating, carnival games and live entertainment.
At donation stations run in association with Operation Gratitude, kids also can donate some of their Halloween candy and write thank-you notes to troops stationed overseas.
Note, however, that costumes are welcome, but adults are not permitted to wear masks.
Haunted Harvest runs Fridays through Sundays, including Oct. 13, 18 to 20 and Oct. 25 to 27, from 5 to 9 p.m. Admission is $8 for adults, $5 for children ages 5 to 12 and free for children 4 and younger. Springs Preserve members receive half-off the regular admission price.
For more information, visit springspreserve.org or call 702-822-7700.
LAS VEGAS
The Fourth Annual Las Vegas Halloween Parade is scheduled for 7 p.m. Oct. 31.
The parade will form at 6 p.m. at Fremont and 13th streets then travels west down Fremont Street, ending with a free after-party at Fremont and Seventh streets.
Costumed characters may join, and costume judging will follow the parade. For details, visit www.thelasvegashalloweenparade.com.
Other city of Las Vegas Halloween events include:
■ "Trunk or Treat at the E" at 6 p.m. Oct. 18 at East Las Vegas Community Center, 250 N. Eastern Ave. (call 702-229-1515 for information);
■ The Ward 2 Trunk or Treat Car Show and Halloween Festival at 10 a.m. Oct. 19 at Veterans Memorial Leisure Services Center, 101 N. Pavilion Center Drive (702-229-1100);
■ A "Howling Halloween Carnival and Haunted Hallway" event for kids ages 1 to 11 at 6 p.m. Oct. 24 at Doolittle Community Center, 1950 N. J St. (702-229-6374);
■ And, a "Spook Fest" for kids ages 3 to 12 at 6:30 p.m. Oct. 24 at Cimarron Rose Community Center, 5591 N. Cimarron Road (702-229-1607).
NORTH LAS VEGAS
North Las Vegas' Halloween events include the city's signature Safe Halloween party, which this year is scheduled for 5 p.m. Oct. 31 in the Home Depot parking lot at 1275 W. Craig Road.
Also scheduled are Trunk or Treat events at 4 p.m. Oct. 19 at Silver Mesa Recreation Center, 4025 Allen Lane (633-2550), and at 6 p.m. Oct. 30 in the La Bonita supermarket parking lot at 2672 Las Vegas Blvd. North (633-5632).
HENDERSON
Trick-or-treating is a classic Halloween activity, and the city of Henderson's variation, Trunk or Treat, is scheduled from 6 to 8:30 p.m. Oct. 24 at Black Mountain Recreation Center, 599 Greenway Road.
Participating children simply follow an outdoor trick-or-treat trail to receive goodies from car trunks along the way. The event also will include a costume contest, carnival games and other activities.
Admission is $2 per child or teen (parents may accompany kids at no charge). To register in advance, visit www.cityofhenderson.com or any Henderson recreation center. For more information, call 702-267-4070.
Other Henderson Halloween events include: a "Haunted at the Ranch" event with a guided haunted house tour, games and other activities from 6 to 8 p.m. Oct. 25 (admission $5 per person) at Whitney Ranch Aquatic Complex, 1575 Galleria Drive; and a Tot's Trick-or-Treat Trail at 11:30 a.m. Oct. 30 at Valley View Recreation Center, 500 Harris St. and 10:30 a.m. Oct. 31 at Whitney Ranch Recreation Center, 1575 Galleria Drive.
For more information about Henderson Halloween events, visit www.cityofhenderson.com or call 702-267-5870.
'TITANIC' TOURS
"Titanic: The Artifact Exhibition," on the Atrium Level of Luxor, 3900 Las Vegas Blvd. South will present Haunted Ghost Tours during which guests can relive stories of the doomed ocean liner and examine whether stories of the exhibition's "mysterious encounters" may be true.
The event is suitable for the entire family. The ghost tours run nightly from 5 to 9 from Oct. 31 through Nov. 2.
Tickets are $32 general admission, $30 for seniors and $24 for chidren ages 4 to 12. For tickets, visit www.luxor.com.
TIVOLI VILLAGE
Tivoli Village, 440 S. Rampart Blvd., will be the scene of the Great American Classic Halloween Car Show from 5 to 9 p.m. Oct. 26. The event, hosted by the Mustang &Classic Car Club of Las Vegas, is free and will include live music and candy for the kids.
Then, from 3 to 6 p.m. on Oct. 27, Tivoli Village will host the third annual Cox Treat Streets safe trick-or-treating event with games, candy and live entertainment. The event is free and for families with costumed kids ages 10 and younger.
For more information about events at Tivoli Village, visit www.tivolivillagelv.com.
TOWN SQUARE
Participating stores and restaurants at Town Square, 6605 Las Vegas Blvd. South, will offer trick-or-treating to kids from 4 to 7 pm. Oct. 31.
The event is free and open to the public. For more information, call 702-269-5001 or visit www.mytownsquarelasvegas.com
Contact reporter John Przybys at jprzybys@reviewjournal.com or 702-383-0280.