Hammers honored for philanthropy at governor's gala
April 17, 2010 - 11:00 pm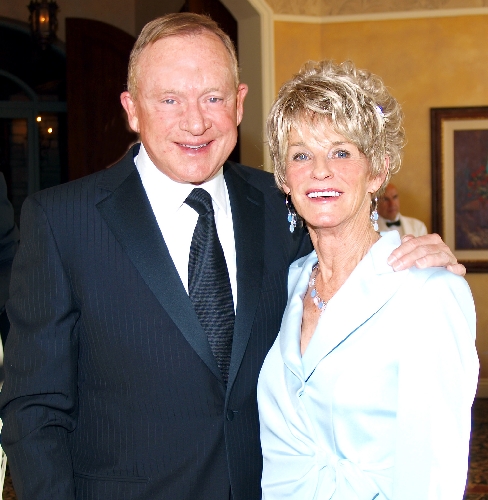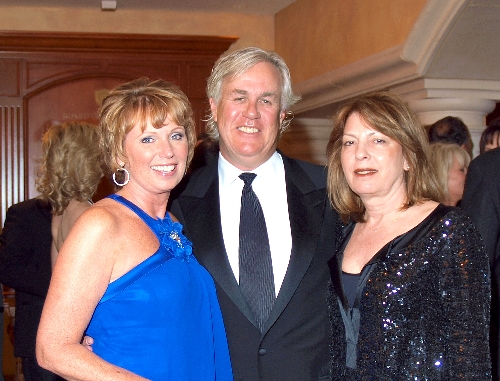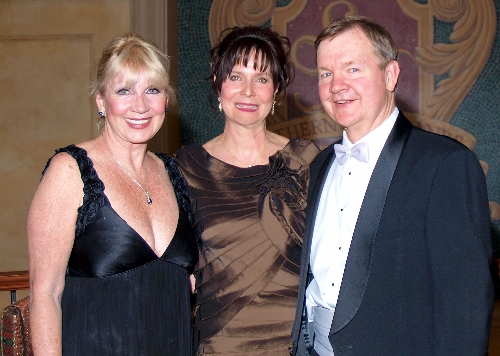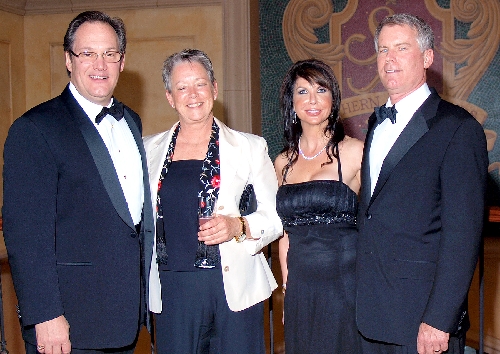 Over the few short years that the Governor's Black Tie Invitational at Southern Highlands Golf Club has taken place, the event has raised more than $7 million for local charities.
The 2010 three-day social and golf event celebrated its 10th anniversary in grand style. On April 8, participants met the Southern Highlands Golf Club for the black-tie gala that commenced with a reception that offered a silent auction, libations and cooking stations offering lobster with seared portabella mushroom, carved filet of beef, sushi, risotto and fresh seafood.
Guests, including Donna and Chuck Ruthe, Dana and Terry Wright, Kelly and Steve Brockman, Kenna and Jeff Cooper, Christina and Curtis Pope, Darlene and Cliff Miller, Kristine and John Thistlewood, Kelly and Brian Iriye, Jeanne and John Kilduff, Jack Woodcock, Lisa and Allen Kaercher, Brett Torino, Judy and Ed Cebulko, Jill and Scott Gragson, Frank Schreck, former Gov. Robert List and Polly List and former Justice Bill Maupin, socialized with Garry Goett, founder and co-chair of the event.
Gov. Jim Gibbons was ill and not able to attend.
The party continued under a large white tent set up on the golf course. The tent featured a stage and was filled with dining tables for the 445 guests. The formal tables were covered in sea foam green silk or white silk flower petals, and each table was decorated with four vases containing orchids, moss white roses and lilies. Master of ceremonies was Jack Sheehan.
Entertainment was music performed by MASS Ensemble, known for its earth harp. Dinner of lobster Thermidor and braised short rib was prepared by Four Seasons Hotel Las Vegas.
The gala is noted for its prestigious Governor's Philanthropist of the Year Award, which honors individuals who are active in local philanthropy. The 2010 recipients are Jim and Joan Hammer. The Hammers have supported more than two dozen nonprofit organizations, focusing on health, children, education and at-risk youth.
The evening concluded with a live auction that made more than $290,000. Conducted by Christian Kolberg, 14 packages were featured, including a new Mercedes Benz E-Cabrio.
More guests enjoying the gala were Loreen and Glen McKay, Steve Kaplan, Nick Mamula, Guy Inzalaco, Linda and Mark McKinley, Jeri and Rick Crawford, Linda Smith, Carolyn and John Glaser, Melinda and Bob Brown, Rick McGough and Tess Davis, Marieka and Mike Meyer, Denny Weddle and Lou Ann Harrison, Carrie Martz, Kelly Siegal, Rochelle and Farid Matraki, Izzy Haring, Sharon Carlson, Joe Murphy, Joyce and Jim Nelson and Jeff Canarelli.