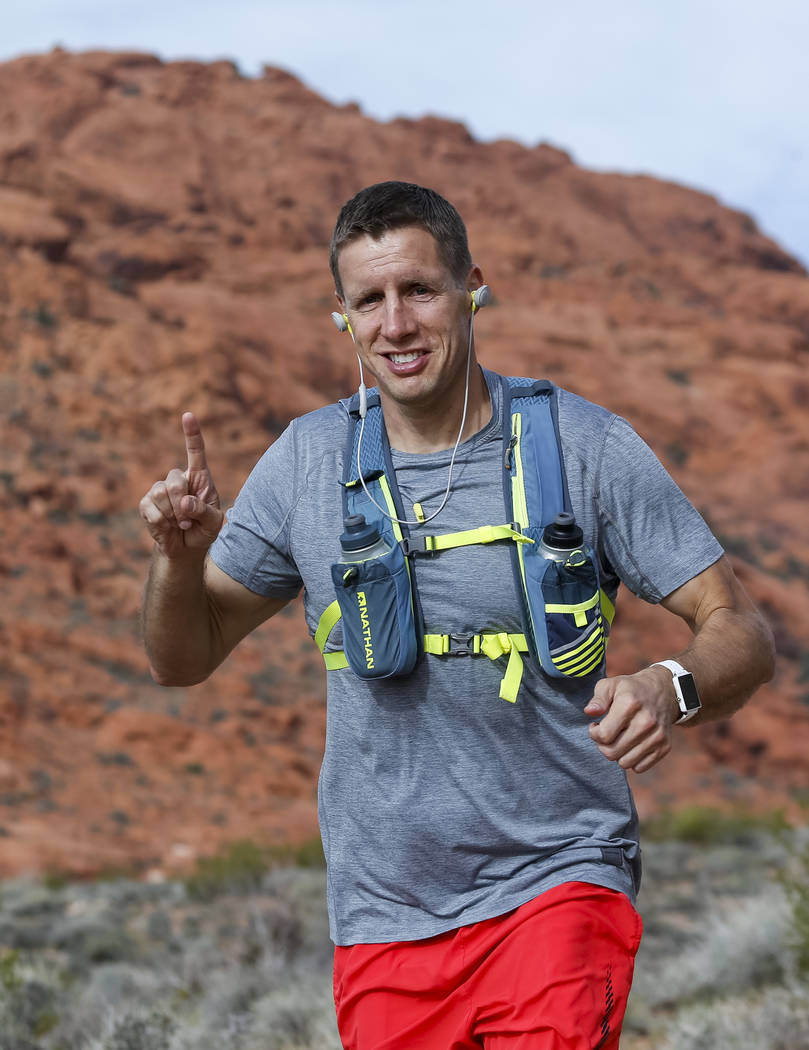 David Ludlow is a 38-year-old married father of four daughters and a surgeon at Urology Specialists of Nevada. Monday, he will be one of about 30 people from Las Vegas running in the Boston Marathon.
The road to qualifying for the 26.2-mile race was paved with endurance, Ludlow said, as he mainly trained while his family was asleep.
"If I don't get it done in the morning, then I don't get it done," said Ludlow. "Usually, I wake up at about 4:30 every morning. I read for about a half-hour and then I usually go exercise. I try to exercise five to six times a week. But when I'm home in the evening, I'm home. I'm coaching my daughter's softball team (or) I'm doing church stuff."
Balancing marriage, fatherhood, work and long-distance running keeps Ludlow — well, running.
"Anyone who's run a marathon or longer knows you go through these ups and downs within the same race, but it's about persevering," Ludlow said. "It's kind of like that in life. You have ups and downs, but you just have to figure out a way to stay motivated."
Ludlow said the benefits of endurance racing go deeper than physical strength — to mental and spiritual fulfillment. He uses the time to collect his thoughts and receive inspiration from what's around him.
"I think there's a degree of physical and mental kind of pushing yourself to the limits with both surgery and running," Ludlow said. "That's one of the things that attracted me early on in medical school with surgery. We did some surgeries in residency that were eight, nine, 10 hours long and it's the same thing with these endurance races. There's times where it's hard to stay focused. You just have to find ways to stick through it."
Jeremy Wallace, a 39-year-old trainer at Las Vegas Runners, will run in his seventh Boston Marathon this year.
"For me, the Boston Marathon is a little bit special," Wallace said. "I've run some other marathons, but the spectators, the atmosphere, the energy that surround the race are second to none. It's something I haven't experienced in any other race."
Wallace and Ludlow both say long-distance running provides mental balance.
"I think every runner has their reason for running," Wallace said. "For me, there is a relaxing aspect to going out and running. It makes me a better person in all aspects of my life. It pushes me to be better. It makes me want to strive to do more. It makes it so, when I come back from my run, I'm happier. I'm less inclined to have negative thoughts or do negative things."
Wallace has run long distance for 10 years and said it is one of his deepest passions. He and his wife founded Las Vegas Runners, a running group dedicated to promoting the benefits of long-distance running.
"I wanted to participate in something that was difficult and challenging yet rewarding — and something that was positive," Wallace said. "I found a passion in running that I hadn't found in anything else."
Katie Turner, a member of Las Vegas Runners, will run in Boston with her husband Ryan Turner, also a member of the group.
"I'm most excited to share this experience with my husband," Turner said. "We're using this to celebrate 'Vegas Strong,' making the correlation between Vegas Strong and Boston Strong."
Turner has run long distance for five years and said that it makes her feel great.
"I started running after I had my children," Turner said. "It just gave me that time to myself, but I also got to run with my kids in the stroller. It was something I could do anytime — it made me feel stronger, it made me feel healthier. It made me feel like a better mom and better person. Obviously, there's a ton of health benefits, but even more than that are the benefits you get from feeling good."
Meanwhile, Ludlow said he's ready to run.
"It's cool to qualify," he said. "I think anytime you're doing any hobby or passion, you have to have some goal to go for. I'm going to try and enjoy it. People are asking me 'Are you ready? What time are you going to get?' and I'm like, 'I don't care.' I worked hard to qualify for it, this is the reward."
Contact Mia Sims at msims@reviewjournal.com. Follow @miasims___ on Twitter.