Caring for exotic animals makes UNLV dentist smile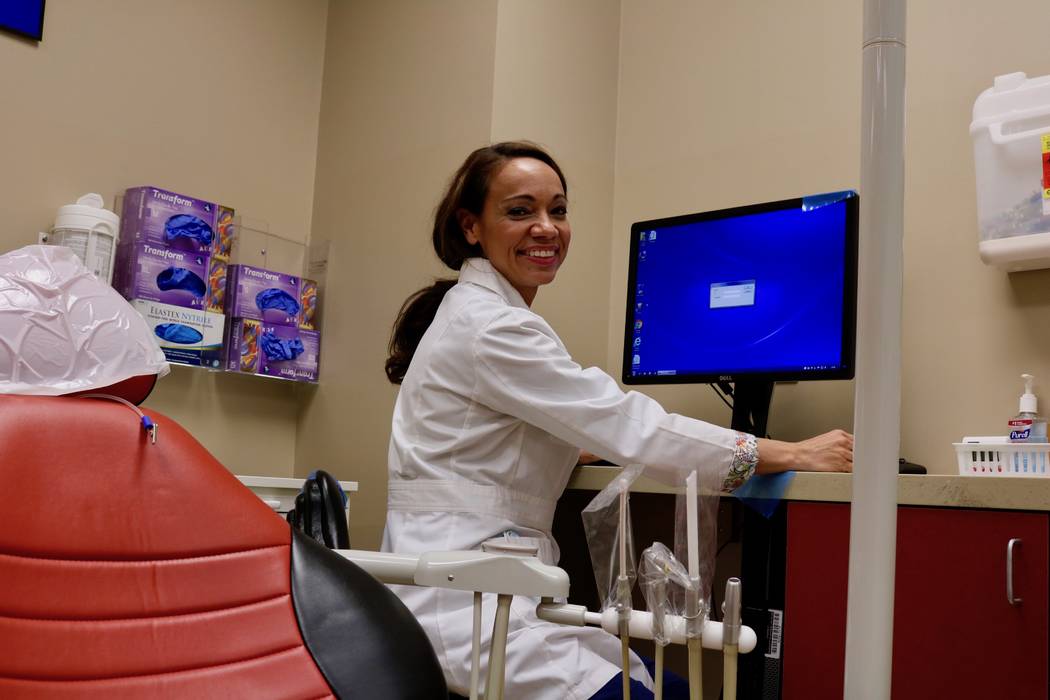 Dr. Tina Brandon Abbatangelo realized the importance of dental care at a young age after a terrible toothache.
The pain was so severe that her mom pulled her out of school, and she ended up needing a root canal.
She still remembers the intense pain, but also the feeling of relief she got when her dentist finished the procedure. She also remembers the comfort she received from the dentist, who took great care to reduce her pain and anxiety.
"From that point on I realized how important dental care was," Abbatangelo, 46, said. "I knew I wanted to be in the health care profession somehow."
Abbatangelo grew up in Las Vegas and graduated from Chaparral High School before going on to the University of Iowa Dental School.
She came back to her home city and is now a professor of clinical practices at UNLV, where she oversees senior dental students on rotation in a five-chair clinic on campus. She is also a volunteer with the Peter Emily International Veterinary Dental Foundation, a children's book author and the reigning Ms. Nevada.
Abbatangelo's work in veterinary dentistry was the result of another doctor's visit that changed her life. A trip to her new veterinarian with her puppy, Lola, included a dental check up.
The vet knew Abbatangelo was a dentist, so she took advantage of her knowledge and asked her to help set up her new radiograph machine.
"I started helping that vet doing dental exams and cleanings, and that turned into more classes with veterinarians and really understanding the similarities as well as the differences of animals and humans," Abbatangelo said.
Now, Abbatangelo travels across the country with the Peter Emily Foundation, performing dental procedures on wild animals in captivity including chimpanzees, tigers and grizzly bears.
"People don't realize that … these animals need dental care," Abbatangelo said.
Abbatangelo pays for all of her trips herself, and usually fits them into her weekends so she can be back on campus by Monday morning. Some recent trips have been to the Wildlife Waystation in Sylmar, California, and the Exotic Feline Rescue Center in Center Point, Indiana.
"Every time we go out there, there's so much work that needs to be done," Abbatangelo said. Many animals that end up in sanctuaries have been surrendered or rescued and often abused, she said.
"People think it's cool to have a big cat and then they realize how expensive they are," Abbatangelo said.
Animal rights, the importance of animal dentistry and awareness of the Peter Emily foundation have also become Abbatengelo's platform for her Ms. America pageants, a series of pageantry competitions for women 26 years old or older.
Abbatangelo was crowned Ms. Nevada this year. But it's not about the sash, the stilettos or the swimsuit, she said.
"My platform for the pageants has always been the Peter Emily foundation and the exotic pet trade," Abbatangelo said. "When you go into these animal sanctuaries, you start to ask these questions. Why are these animals here? What is it going to take for us to stop these animals from being people's pets? I've been trying to be a voice for them."
Contact Madelyn Reese at mreese@reviewjournal.com or 702-383-0497. Follow @MadelynGReese on Twitter.
By the numbers:
Since beginning missions in 2008, the Peter Emily International Veterinary Foundation has treated 411 animals at 20 sanctuaries over 74 missions. There are more than 400 exotic animal sanctuaries and more than 200 zoos and aquariums in the U.S. and Canada.
Volunteers have performed 593 root canals, 364 extractions and 243 other procedures.