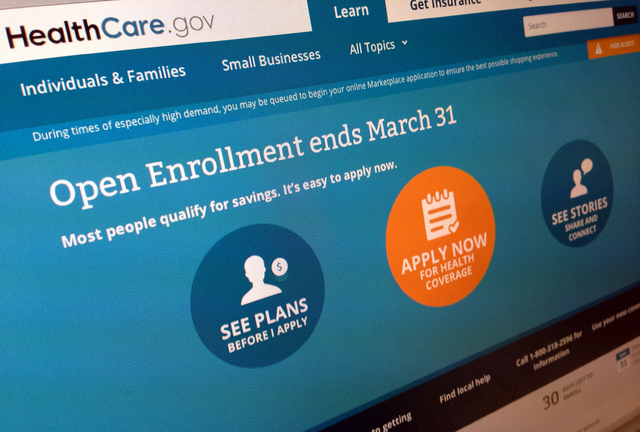 As the Nov. 15 launch date for open enrollment looms, we have a question from one consumer about where her unemployed son should buy a plan, as well as a query on how Medicaid recipients will go about keeping their coverage.
Jane of Las Vegas wants advice for her son, a 25-year-old who lost his job in another state. His insurance runs out at the end of the month. He's job-hunting and could end up anywhere in the country. Should he keep his workplace plan through the federal COBRA law or buy coverage through the exchange?
The first thing your son should do, Jane, is get an idea from his former employer on how much it will cost to keep his plan through COBRA. It won't be cheap: Rather than having his employer pay for part of his premium, your son will be on the hook for 100 percent of the cost. Plus, employers can — and often do — charge an additional 2 percent administrative fee, said Lydia Boske, a broker with Nevada West Business Insurance.
Your son might not yet have gotten his letter offering to extend his health benefits, but his HR department should be able to tell him the monthly premium even before it sends the mailing.
Once he knows how much his COBRA plan will cost him each month, he can comparison-shop on the exchange. He will need to use healthcare.gov because his state doesn't have its own marketplace. Because he's unemployed and likely has little income, he might qualify for a federal tax credit that could make an exchange-based plan a better deal.
Boske recommends he buy a plan in his current hometown because he has no idea where he will end up.
One more note: If your son is being treated for chronic health problems, it might be important to keep the workplace plan that has his current provider network.
In any event, if he buys before the end of the month, your son can be covered almost immediately.
If he wants to take time on a decision, he has 60 days to opt for COBRA coverage. If he chooses that option, his plan will be effective back to the date on which he was last covered.
■ Judy of Las Vegas wants to know if someone who already is on Medicaid has to reapply through the federal healthcare.gov website when the state begins using the national system for enrollment in November.
We ran your question by the folks at the state Welfare and Supportive Services Division, Judy, and they let us know that anyone who already is signed up for Medicaid can sit tight for now.
The open enrollment period, which runs from Nov. 15 to Feb. 15, doesn't apply to Medicaid recipients.
The state does redetermine annually the eligibility of Medicaid enrollees, said agency spokeswoman Miki Allard. The welfare division begins the process by sending recipients an application to their mailing address listed in the system.
When someone gets that application depends on when she signed up. A consumer found eligible for the program as of March 2014, for example, would have to go through redetermination between Jan. 16 and Feb. 28.
As long as you stay Medicaid-eligible, Judy, you won't need to visit nevadahealthlink.com. The Welfare and Supportive Services Division can handle all of your questions.