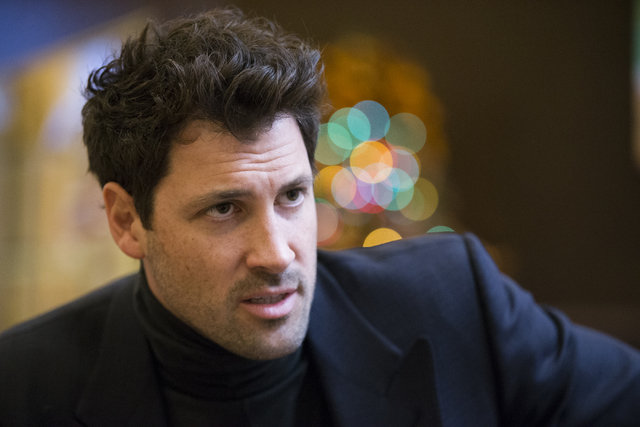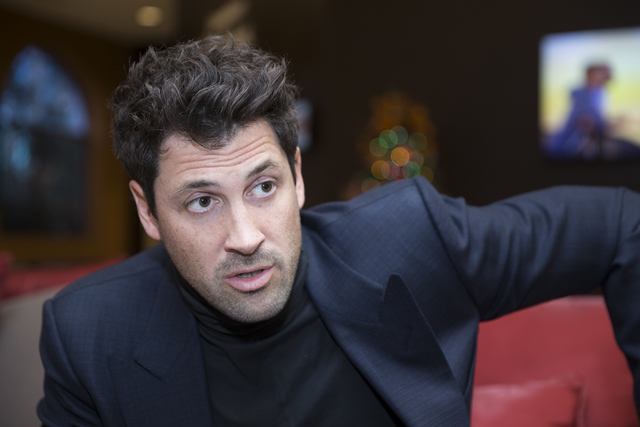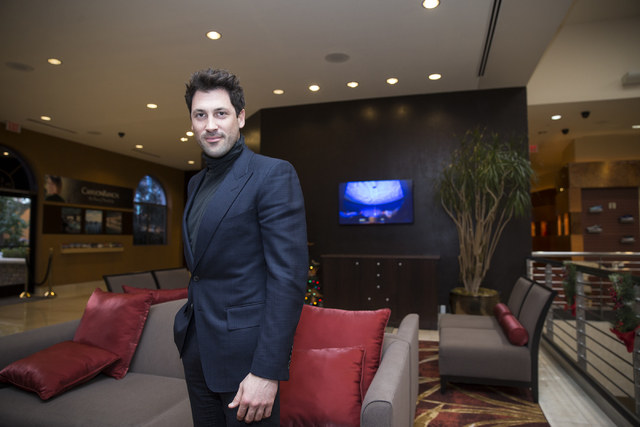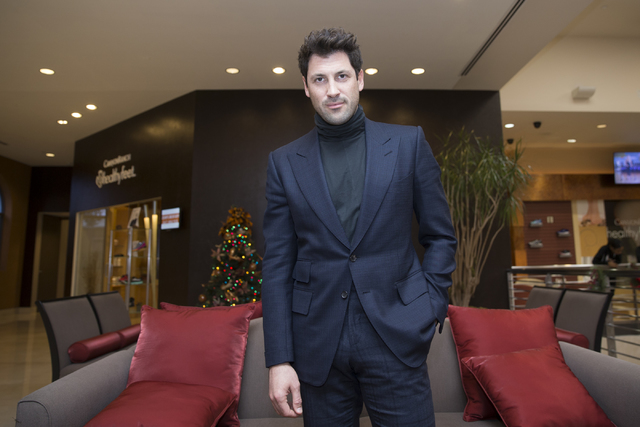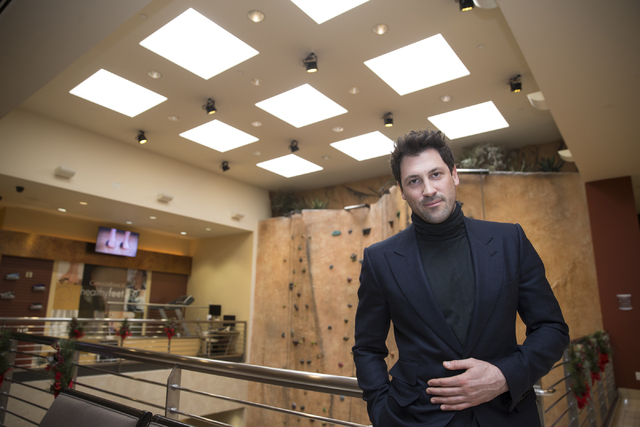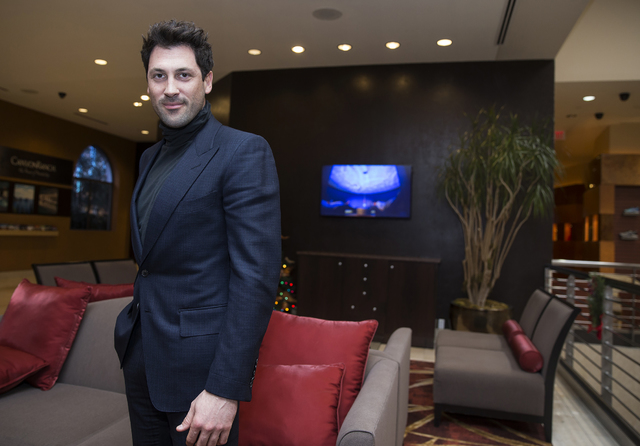 Dressed in a snug black suit and surrounded by friends, professional ballroom dancer Maksim Chmerkovskiy can't help but draw attention from passers-by even while strolling through the halls of a crowded hotel.
At The Venetian about a week ago, the "Dancing with the Stars" alumnus flashed his signature smile as fans pointed and stared.
When he wasn't grinning at fans or chatting, he was patiently waiting to man a booth for Henderson-based vitamin supplement company LivOn Labs at the A4M 24th annual World Congress on Anti-Aging, Regenerative and Aesthetic Medicine.
The three-day conference — which began Dec. 9 — featured global guests and attendees interested in medical developments on topics including reducing pain and stress, running medical scans quickly and distributing vitamins into the bloodstream more efficiently.
Booths featured everything from an eye massager to reduce eye strain and dry eyes to a patch that monitors heart rate for signs of stress and sends a signal encouraging the wearer to calm down.
Conferences of A4M — the American Academy of Anti-Aging Medicine — "aim to ensure that all medical professionals are up-to-date with the latest scientific research and the most recent medical and surgical advances in preventing and treating the degenerative effects of aging," according to the organization's website.
Chmerkovskiy, who said he's been using LivOn's supplements for three years and advertising for the company for two, insisted he wants to help the public cut through the misinformation and dieting fads he sees taking hold.
He said it's vital that people wanting to get healthy find someone trustworthy who can provide information on how best to do so, and spending money on targeted vitamins and other tools should come second to making basic lifestyle changes, he said.
"It's not about looking at products and spending that money and so on and so forth. You'll get there later, but in the beginning it's what not to do. Simple," he said.
He criticized methods like the Paleo diet, saying that people should take a common-sense approach to eating rather than trying to adhere to different dieting approaches.
The key thing is to cut out items like sugary drinks and desserts from the diet and focus on eating fruits and vegetables, he said.
"You don't need to prepare yourself to not eat a burger," he said.
Instead, he argued, people have to make a decision to be healthy and stick with it, no matter the other circumstances in their lives.
And that decision includes not just healthy eating but also an active lifestyle, visits to the doctor before something hurts and efforts to be an involved consumer, he said.
Chmerkovskiy, an expectant father who has been dancing since he was 4, said his family can be credited with much of his success in dance and staying fit.
From a young age, his parents pushed their children to participate in activities such as sports and dance and encouraged them to excel in academics.
"Our parents strongly believed lack of free time is the key to a child's success, and I get it and appreciate it now," he said.
And though he credits his parents for pushing him to always maintain that fitness, he said he also watched as they fell prey to fattening foods while on a low income.
With the birth of his first child weeks away, Chmerkovskiy said he's now feeling even more desire to stay healthy.
"I just want to live for a very long time and be as healthy as I can," he said.
And during times of stress, it becomes even more vital to commit, he added. With people living longer, it's important to recognize the effects that bad decisions early in life can have on a person's elder years, he said.
"The problem is: Do you really want to be unhealthy for the last 30 years of your life?" he said. "It's not only about the quantity of life. It's also about the quality."
Contact Pashtana Usufzy at pusufzy@reviewjournal.com or 702-380-4563. Follow @pashtana_u on Twitter.