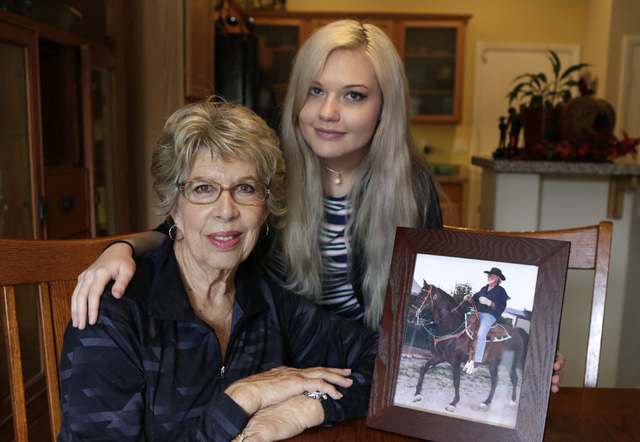 Sherry Jasperson and Kate Rasmussen aren't your average grandmother-granddaughter duo.
Their days together may be filled with fun and love, but they're also immersed in health care and politics.
Every day, they work toward the goal of making life a little easier for people struggling with cancer.
"Almost everyone that you will ever meet has been what we call 'one degree away' from cancer," Jasperson said.
A 70-year-old grandmother and Clark County School District assistive technology specialist, Jasperson spends her off time pushing for increased access to care and treatment for cancer patients as Nevada's state lead ambassador for the American Cancer Society's political arm, the Cancer Action Network.
Along with her 18-year-old granddaughter, Rasmussen, and other volunteers, Jasperson works relays and other cancer awareness events, but she also takes on a more prominent role, networking with Nevada and national politicians to give the needs of the state's cancer patients a voice.
"This is an issue that's very relatable to people," she said. "It's a real helpless feeling when you or someone you know is diagnosed with cancer."
Jasperson hopes to strike a chord with people who can advance the cause by sharing her story and the stories of so many others.
In 2002, her husband, John, was diagnosed with carcinoid cancer. He died about eight years later at the age of 62.
The death hit the family hard. But it's also what spurred them to action.
"I was with my nana through all of that, going to the hospital and seeing how she felt, and how important he was to us," Rasmussen said, "and I just feel like nobody should have that feeling of someone they know losing their life little by little every day."
To cope with the heartache, Jasperson joined an online group dedicated to cancer information and patients.
A little more than two years ago when her supervisor suggested she become involved with the American Cancer Society, she saw it as a way to honor her husband.
"I feel that this is a way that I can fight back," she said. "What I couldn't do for John, I might be able to do for other patients and their families."
Her involvement grew quickly, and last year, she made her first lobbying trip to Washington, D.C. She recruited friends, her daughter and her granddaughter to the organization.
When she traveled to the Capitol again this year to meet lawmakers and highlight the cancer issues facing Americans, Rasmussen joined her.
"This year with Kate there it made it even more meaningful for me because it was just something I was sharing with her," she said, "and the whole time I was thinking, 'John is loving this.'"
As the group's young adult engagement ambassador for Nevada, Rasmussen encourages friends and others her age to volunteer at American Cancer Society events.
The teen, who completed her home schooling this year and is hoping to go to college in Missouri next year, said she plans to stay involved with the organization, even far from home.
"I really want people of a younger age to … know about it, know how important it is," she said.
Together, she and her grandmother plan to push ahead and address statewide issues including additional funding for and access to palliative care, rural patients' access to cancer treatment, and insurance coverage for oral chemotherapy drugs with the state's political leaders.
From there, those politicians may go on to support bills or organizations that can resolve those issues, because of volunteers like Jasperson and her granddaughter, said Erin O'Neill, vice president for volunteer engagement and grassroots strategy at the Cancer Action Network.
"They're essential to the future of an organization like ours," she said, "and to the fight against cancer."
Contact Pashtana Usufzy at pusufzy@reviewjournal.com or 702-380-4563. Follow @pashtana_u on Twitter.