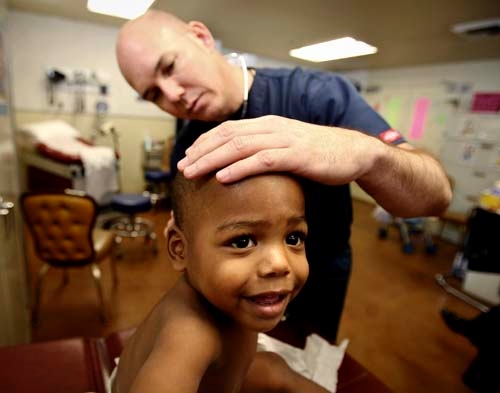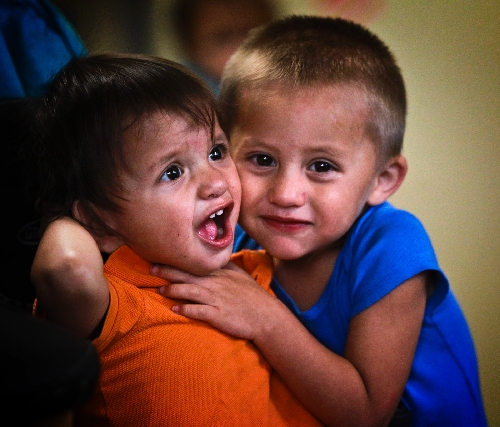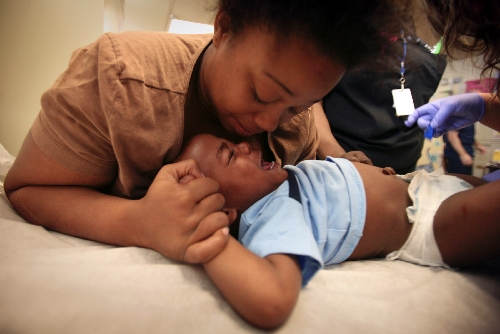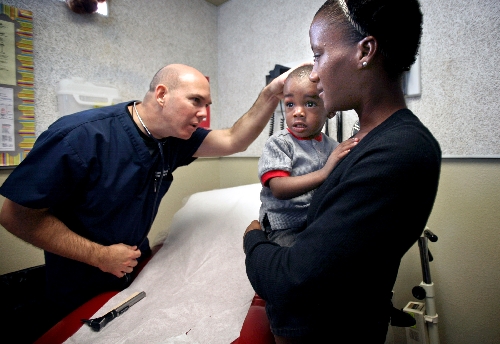 It takes two people – Mom and a nurse – to hold down little Jeremiah Jones while he gets his shots.
"Don't hurt him, OK?" says his 21-year-old mother, Rayshawn Jones, who is close to tears.
It's especially tough on her and 18-month-old Jeremiah because he's behind on his vaccines.
The writhing toddler will endure four injections this morning in the tiny free clinic at The Shade Tree shelter for women and children.
It's a common scenario for children there – many of whom are uninsured.
"They are missing a lot of basic well care," says Dr. Tony Bakerink, a pediatrician who volunteers at the clinic each Wednesday.
His statement could easily apply to the larger community of uninsured Nevadans, who tend to be sicker and wait longer for health care than their insured neighbors.
And that's a big, expensive problem for Nevada, a state with one of the highest rates of uninsured residents in the nation – nearly 23 percent, according to Census Bureau data from 2011.
About a quarter of the state's uninsured are children.
Health care is a contentious, highly politicized issue. But those with little access to it don't necessarily think of it that way. For them, struggling through illness is just how they live.
"The hard part is getting medication for my asthma," says Amy Oropeza, 39, who showed up at The Shade Tree's clinic with three young children in tow. "It's not really being treated."
Because of that, "I had to go to the hospital for an asthma attack in September," she says.
A MATTER OF HUMAN VALUES
Uninsured people have limited options when it comes to getting health care in Nevada. They can pay for it out of pocket – obviously not usually an option for the poor.
They can search for a doctor or a nonprofit clinic willing to treat them for cheap or for free.
Or they can head to a hospital emergency room.
Many local doctors volunteer some of their time and resources to treating uninsured patients, and there are a number of local nonprofit clinics that offer services for free or on a sliding scale.
These are helpful but come nowhere near meeting the local need, says Brian Brannman, CEO of University Medical Center, the county hospital.
Under federal law, hospitals are required to screen anyone who shows up requesting help for a medical condition.
If the person has a medical emergency, the hospital must provide treatment.
UMC, in central Las Vegas, treats "a disproportionately high number of folks who are uninsured or underinsured," Brannman says. "We do $250 million in uncompensated care every year."
Nevada's reimbursement rate for Medicaid – the free health care program for the poor, disabled, handicapped and some elderly – is among the lowest in the country, Brannman says. It's also "tough to get qualified" for Medicaid in Nevada.
Almost 311,000 people are on Medicaid in Nevada.
This year, the caseload has increased by about 1,060 recipients each month, according to the state's department of Health and Human Services.
Still, more than 600,000 Nevadans remain uninsured.
UMC has long been hemorrhaging money; it lost more than $70 million each year for the past three years.
Many agree that taxpayers can't keep subsidizing the facility at current rates much longer. Consultants have warned the county that without "major, dramatic and profound change," the hospital will be forced to close in a few years.
Brannman wants to make the hospital more competitive, in part by running it more like a for-profit facility and adopting a new governing structure that creates greater autonomy for UMC, even if it remains county-owned.
Many significant decisions now require county commissioners' approval.
But the overwhelming underlying problem, Brannman says, remains the fact that "our health care system is sub-standard."
Access to health care is a "basic societal issue we as Americans have to face regardless of political affiliation," he says. "We don't take care of each other very well."
Dr. Florence Jameson, founder and CEO of Volunteers in Medicine of Southern Nevada, agrees.
"We have to decide, as a state, what value we place on human life," she says. "That's the crux of it. It's not just a matter of money. It's a matter of values, morals and ethics."
Volunteers in Medicine treats uninsured Southern Nevada residents who otherwise wouldn't have access to health care.
Jameson says Nevada's tough eligibility requirements for Medicaid coverage is proof that "our state puts a very low value on human life."
Essentially, you have to be poorer to qualify for the program here than in many other states.
The new federal health care reform law calls for expanded Medicaid eligibility. But Nevada could choose to opt out of that part of the Affordable Care Act.
IN-THE-TRENCHES MEDICINE
Like many other women at Shade Tree, Oropeza has applied for Medicaid and is awaiting a response. She previously qualified for the program in Utah, but moved to Nevada to be closer to family.
"I don't know if I can get it here," she says.
The Stallman Touro Health Clinic opened inside The Shade Tree in 2009, funded by a $50,000 grant from the family of the late Andy Stallman, a successful New York financial analyst who was concerned with the plight of the homeless. Faculty from Touro University Nevada's School of Physician Assistant Studies and volunteer doctors from the community – such as Bakerink – staff it.
Emergency calls from the shelter dropped dramatically when the clinic opened, says Marlene Richter, Shade Tree's executive director.
The volunteer doctors do their best to address all their patients' concerns in a single visit, she says.
"We have one chance with them. There's no promise they will stay or we will see them next time. Follow-up is not a luxury any of us get to have."
But when women or children do need ongoing or specialized care, the clinic partners with outside service providers.
"We try to find physicians in the community to do CT scans, MRIs" and other tests, Bakerink says. "We have good ancillary sources. The logistics are the hardest part."
And the wait for such care can be long. For basic health care, the clinic makes do. This morning, for example, there are no cold packs in the supply chest for 2-year-old Elijah, whose eye is swollen from a fall.
His mother, Theresa Rogers, who is five months' pregnant, asks for some Vaseline for the boy's cracked lip. There's none of that, either. Instead, Bakerink pulls out a bottle full of Vitamin E gel capsules. Rogers should "pop them" and apply the gel to Elijah's lips, he says.
"This is in-the-trenches medicine."
Contact Lynnette Curtis at Lynnette.Curtis@yahoo.com.