Las Vegas substance-use treatment center to open this month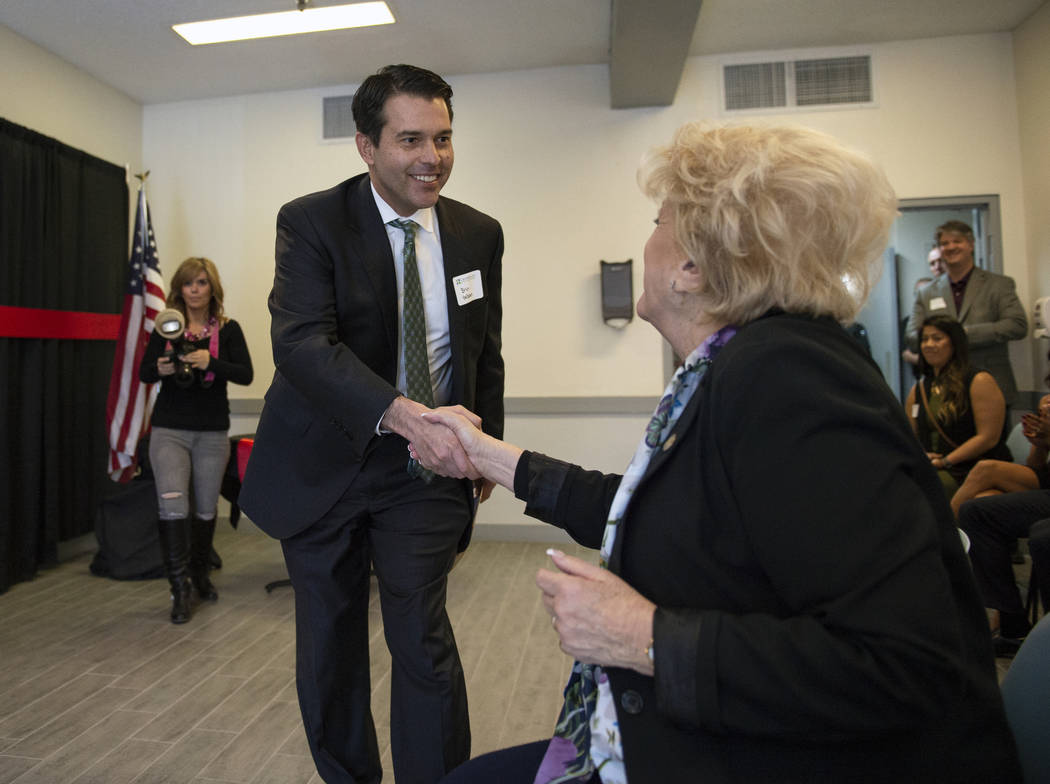 A substance-use treatment facility will open in mid-November with the promise of providing a continuum of care, from detoxification to transitional living.
CrossRoads of Southern Nevada founder Jeff Iverson, who's in recovery himself, made the announcement Thursday at a ribbon-cutting ceremony at the Las Vegas facility, 2121 W. Charleston Blvd.
"I'm really honored to be a part of a project that is so needed in the community," said Iverson, joined by the center's staff and board of directors, along with health care industry members and public officials.
The opening comes four months after Iverson planned to admit patients. At the time, he had staff members, but contracts with insurers weren't established, and he was waiting on a license from the state for a detoxification facility.
He was working on securing designation from the Southern Nevada Health District as a drop-off site for first responders, too.
He may have contracts with Medicaid-managed care organizations and private insurers, but the state hasn't granted the facility a license as a detox center. Iverson said he's hopeful that piece will come through next week.
Julie Kotchevar, administrator for the state Department of Health and Human Services Division of Public and Behavioral Health, said the department would issue the license after the facility has passed an inspection.
"We can provide all of the services here that are proposed, except for the medical detox," Iverson said. He said he was in talks with fire and police officials about the facility being designated as a drop-off location.
Iverson raised "several million dollars just to get to the point where I am now" in private donations, he told reporters Thursday. He said he would turn to city and county officials to address options for public and grant funding should the need arise.
'I love my community'
Public officials lauded Iverson and his staff Thursday for creating a 172-bed facility to detox substance users and treat them through their transition away from life on drugs. The facility's bed space will be split between patients needing detoxification and those seeking short-term housing.
The facility will also provide on-site medical care and an outpatient clinic.
Without the bed space, those needing mental health and substance use treatment end up in county jails and in hospital emergency rooms instead of in specialized care, said Clark County Commissioner Steve Sisolak, who's running for governor.
"What you're doing here is giving hope to individuals that otherwise didn't have hope," he said to a crowd of about 80 people Thursday. He was joined by Las Vegas Mayor Carolyn Goodman, Las Vegas Metropolitan Police Department Sheriff Joe Lombardo and First Assistant Attorney General J. Brin Gibson.
Iverson said he is in discussion with county officials to determine how to best serve uninsured clients but promised the center would not turn anyone away.
"I love my community, and I want to do things to help," he said. "Hundreds will be going through our continuum."
Contact Jessie Bekker at jbekker@reviewjournal.com or 702-380-4563. Follow @jessiebekks on Twitter.