Nevada's Blood Donation Day goes national, expands to a week
September 6, 2016 - 9:55 pm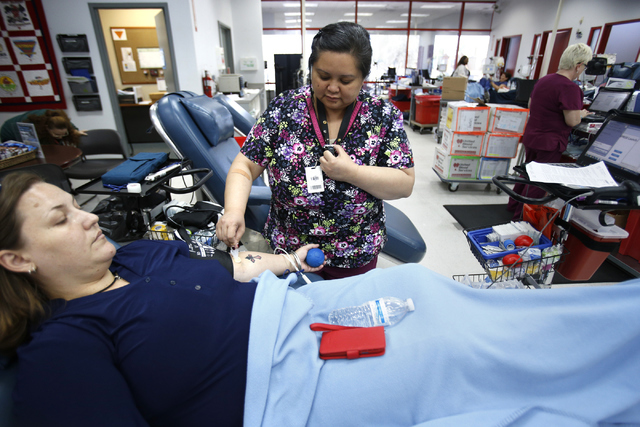 Would you give up an hour of your time to save a life? Southern Nevadans are urged to do that during National Blood Donation Week — a concept that began last year in Nevada and is now spreading across the nation.
National Blood Donation Week, which culminates with National Blood Donation Day on Saturday, is intended to combat the persistent shortage of blood at the nation's blood banks, which can force cancellation of elective surgeries and leave a region at risk in the event of a disaster.
Las Vegas physician and radio host Dr. Daliah Wachs joined forces with the American Red Cross and United Blood Services last year to press for a calendar set-aside to raise awareness of the shortage. Gov. Brian Sandoval responded with a proclamation declaring April 25 as Nevada Blood Donation Day.
The concept spread quickly, with more than two dozen states now designating the first week in September as National Blood Donation Week.
Donors can find local blood drives by ZIP code at the American Red Cross website – redcross.org/give-blood — or create an account and make an appointment at United Blood Services — unitedbloodservices.org. UBS also will have mobile operations throughout Southern Nevada.
Contact Pashtana Usufzy at pusufzy@reviewjournal.com or 702-380-4563. Follow her on Twitter: @pashtana_u