New doctor training programs in Southern Nevada announced
December 3, 2015 - 2:23 pm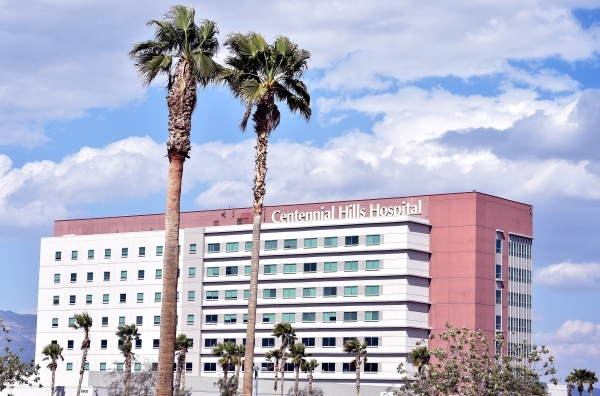 New residency programs to train doctors in Southern Nevada will be launched at four hospitals, Valley Health System officials announced Thursday.
The programs at Centennial Hills, Desert Springs, Spring Valley and Summerlin hospitals include emergency medicine, family medicine, general surgery, internal medicine, obstetrics and gynecology, orthopedic surgery, psychiatry and the transitional year for residents preparing to enter a medical or surgical specialty.
Coordinating the programs will be Dr. Andrew Eisen, a former state Assemblyman who has been named chief academic officer for the Valley Health System.
Eisen, a pediatrician, will join the Valley Health System next month and after leaving his positions with the Touro University Nevada College of Osteopathic Medicine as associate dean for clinical education and director of the school's Center for Autism and Developmental Disabilities.
The number of residency slots created by the eight programs has yet to be determined, but officials plan to have residents in family medicine, internal medicine and general surgery in place by July 1, 2017.
Experts say doctors in training are more likely to remain in Nevada to practice medicine if they complete their schooling and residencies in the state.
Valley Hospital established its graduate medical education program in 2006 and offers residencies in internal medicine, family medicine, neurology and orthopedic surgery, and gastroenterology and pulmonary/critical care fellowships. As of September, 142 residents and fellows had graduated those programs, and 53 percent of them remained in the state to practice.
Eisen has been a proponent of adding and expanding residency programs in Southern Nevada to bolster the health care workforce. Nevada ranks near the bottom among states for the number of doctors per capita, which helps explain why it can be difficult to schedule an appointment with a new provider.
Touro and the University of Nevada School of Medicine graduate about 200 doctors per year, and UNLV and Roseman School of Health Sciences are creating new medical schools. Those current and future graduates need residency programs to become licensed.
"We need all the building blocks of medical education so we are fully training the physicians who will be taking care of all of us in the future," Eisen said. "We're going to involve ultimately all of the hospitals in the system as we build out these programs over the next several years."
Valley Health System officials would not say whether they will seek any of the $10 million approved by the Legislature for residency programs.
A state task force is now being assembled to recommend ways to spend that money.
Residency and fellowship programs also operate at University Medical Center, Sunrise Hospital and the Veterans Affairs facility in North Las Vegas. Mountain View Hospital is recruiting candidates for its new programs, and the first doctors will be working as residents at the Las Vegas facility in July.
Contact Steven Moore at smoore@reviewjournal.com or 702-380-4563.