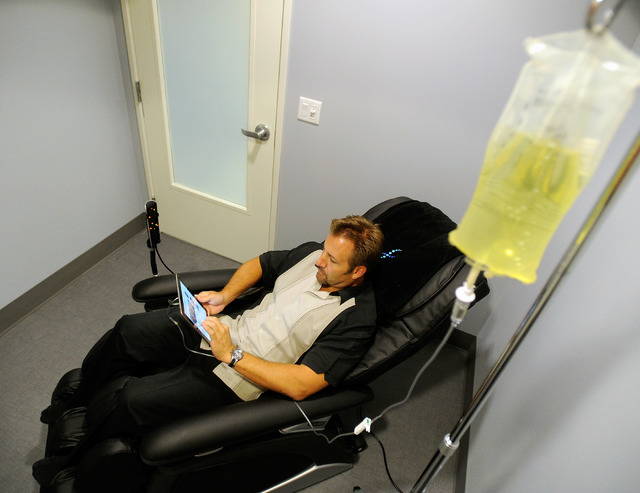 Local Tom Kinzer opted for a liquid lunch during a recent shift at MGM Grand. Even though it started off with the prick of a needle, it ended up being one the most refreshing lunches in recent memory. "I feel great," he says. "I feel rejuvenated, ready to go."
Kinzer, 46, enjoyed an intravenous drip full of saline fluids, vitamins and antioxidants at REVIV, a new spa/minimedical clinic that opened at MGM in August. The Royal Flush treatment costs $195, but REVIV was running a two-week special for hotel employees that Kinzer couldn't resist.
"I thought I'd do a little test drive on it, see if it really works," Kinzer says.
The idea behind the medspa is to provide hydration therapy to people who are suffering from hangovers or tourists who underestimated the power of the valley's sun. If needles aren't your thing, they also offer oral medications.
The experience is meant to be soothing, relaxing and revitalizing, says Dr. Raanan Pokroy, the spa's medical director and an emergency medicine physician. He and three other doctors teamed up a couple of years ago to open a franchise of hydration medical spas. Their first REVIV opened in Miami in summer 2012 around the same time the Hangover Heaven bus debuted on the Strip.
Originally, REVIV doctors had hoped to open first in Las Vegas but they couldn't sell the concept to a casino, Pokroy says. Then Hangover Heaven came along and garnered international attention for treating willing tourists with IV fluids outside of a hospital setting. The bus' success softened resistance to REVIV's business plans.
Staffed by a team of nurses, paramedics and a Nevada board-certified doctor, REVIV shares similarities with quick cares or express clinics that are popping up in pharmacies, says Dr. Daliah Wachs, a local family practice physician and radio personality.
Some people may balk at the idea of receiving an IV outside of a hospital, but it's not that unusual, Wachs says. As long as the procedure is overseen by a qualified doctor who has assessed the patient, it's as safe as any medical facility, she adds.
REVIV is staffed by at least one Nevada board-certified physician at all times, along with a team of registered nurses and paramedics trained to administer IVs and vitamin treatments. Treatments are administered in one of four full-body-massage-chair rooms or in a group "living room" furnished with a large couch and a high-definition television. Guests receive iPads upon check-in to use while relaxing during their treatments.
The medspa provides a service that can help free up emergency rooms, Pokroy says. He frequently treats patients who come to the ER because they have a hangover. The "Annals of Epidemiology" ran a study examining the medical costs of dehydration. In 2004, hospital charges from "dehydration admissions" exceeded $5 billion. "Just to see my face in the ER it will cost you about $1,000," Pokroy says.
Add in treatments and you could be looking at a bill of more than $2,000. At REVIV, you can receive the same hangover remedy you would get in an ER for $99 to $195.
As health care continues to change, more doctors will probably start offering boutique medical procedures similar to REVIV, says Wachs, a former ER physician.
"A lot of doctors are going to be offering a lot of services of this type," Wachs says. "I think we'll see a lot more express clinics, a lot more convenience type medicine because of lack of access. Hopefully, it will be services that can free up emergency rooms."
REVIV is open from 9 a.m. to midnight daily. It's in the Underground, the retail space between MGM's parking garage and casino.
Contact reporter Sonya Padgett at spadgett@reviewjournal.com or 702-380-4564. Follow @StripSonya on Twitter.