Northwest resident receives state-of-the-art implant after leg amputation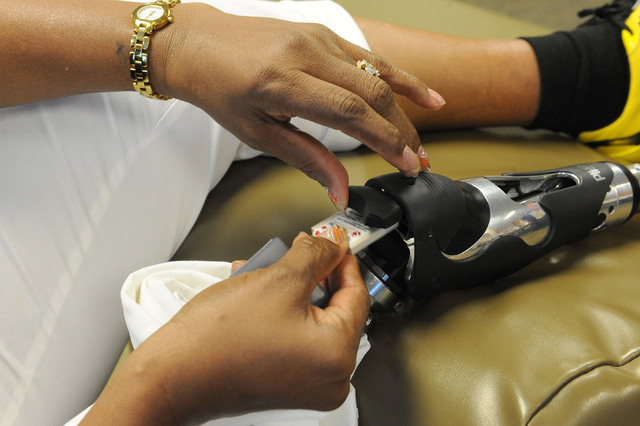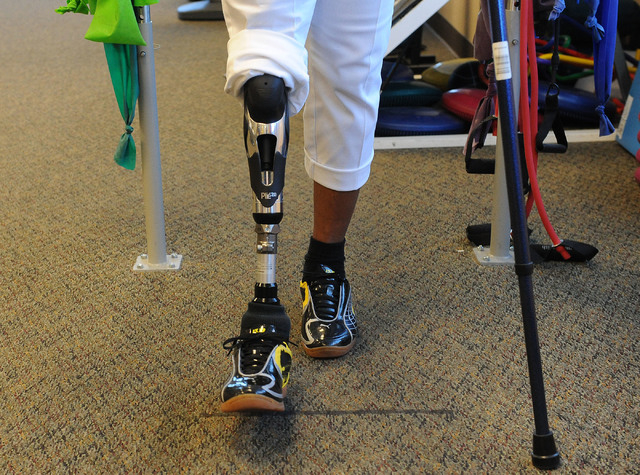 One might call Elizabeth Bailey-Smith a bionic woman. The northwest resident is the first reported American recipient of an osteointegration implant on her partially amputated right leg.
Bailey-Smith has been undergoing rehabilitation with therapist Ed Dolegowski at Matt Smith Physical Therapy, 7301 Peak Drive, Suite 101. She spoke of her dreams as a young woman.
"I wanted to be a professional dancer," she said. "I've had, like, three surgeries between (the ages of) 16 and 38. And I had a knee replacement in 2010 … Everything was going fine until I started having lots of pain."
She developed a lump behind her right knee, had it checked out, and the news was not good: chondrosarcoma, a type of cancer that affects the bones and joints.
"The first thing I thought was, 'I'm going to die,' " she said. "Then, when we spoke later, he told me it was a type of cancer that was very slow-growing, and it (had) not spread. That put some light back into my life, because the light had gone out."
She was told the sure-fire way to deal with it was amputation. She could also opt for surgery to remove it, but chances were high that it would return, and she'd have to have more surgeries every six or seven months. She chose amputation.
Dr. Ronald Hillock performed the amputation in May 2013. At the same time, a titanium implant was put in her femur. For the osteointergration, the surgeons had to hollow out the bone with a microsaw, a process that resulted in heat buildup. The team had to be careful because if the bone got too hot, it could result in tissue destruction.
The International Society of Musculoskeletal and Neuronal Interactions describes osteointegration as a direct bone-to-metal interface without interposition of non-bone (soft) tissue. The idea is to cause as little body response mechanisms — such as scarring and fluid buildup — as possible.
"A traditional prosthesis is made with a socket," Dolegowski said. "She doesn't have a socket. The socket fits around the residual limb or the amputated limb, so it fits like a shoe. Then the pylon is attached to the socket. She has a prosthesis that is actually inserted into her bone, so she doesn't need the socket, and this provides greater feel for her. … She puts the pylon on, right into an extension of her bone. There's a coupling."
He said with the old prosthesis, there was constant adjustment because the remaining portion of one's limb could change size. The old prosthesis also required suction or a support method to keep it on.
As an Intensive Care Unit nurse at Valley Hospital, 620 Shadow Lane, Bailey-Smith asked technical questions.
The osteointegration implant is designed to allow patients movement akin to the natural body, achieved by a direct skeletal attachment that gives a direct energy transfer to the device. It's also high-tech, as Bailey-Smith's new knee comes equipped with a programmable microprocessor.
"My doctor made it sound so enticing," she said. "He thought I'd be back to work by last November. The procedure had its origin in Sweden, but the parts were made in Australia. Because it was new, stringent testing had to be done, and legalities had to be followed. I waited months to get the coupler that connects to the prosthetic. I kept getting told it'd be a couple of weeks, then a month."
It ended up being about a three-month wait, she said. She used a walker during that time.
Having the latest and greatest advancement did not mean it would be easy to get used to. Adjusting to walking after an amputation usually requires six to 12 weeks of physical therapy. Along with sessions at Matt Smith Physical Therapy, she exercises three times each day in her home. As her rehabilitation progresses, Bailey-Smith said she's most looking forward to bicycling and walking her dog, Macy Gray. Her goal is to return to work without relying on a device such as a cane.
Hillock, a partner in the Nevada Orthopedic & Spine Center, monitors her progress. Since completing Bailey-Smith's surgery, he's published three case reports on her recovery in a scientific peer-reviewed publication, the Reconstructive Review, the journal of the Joint Implant Surgery & Research Foundation.
"This is the wave of the future," Hillock said of the integrated device. "It's a little concept, but once you get it, it's huge."
Meanwhile, Bailey-Smith has made adjustments in her home and in her outlook.
"I was always going somewhere — out shopping, going here and there," she said. "It gets a little frustrating at times. I was always the caregiver, that's the hardest part. Now, to sit back and have someone take care of me, to do the things I can no longer do, that's rather hard."
Bailey-Smith said she had no qualms about having her leg amputated. Her spouse was of a like mind.
"We're calling it a 'momentary inconvenience,' " said Dwayne Smith, her husband. "It's a transition, two legs to one, and then you've got this bionic thing going on. She thought I would have a problem with it, but I was like, 'Hey, this is part of the package.' You take the good with the bad. … Her feeling is that this was supposed to happen this way. "
Contact Summerlin Area View reporter Jan Hogan at jhogan@viewnews.com or 702-387-2949.