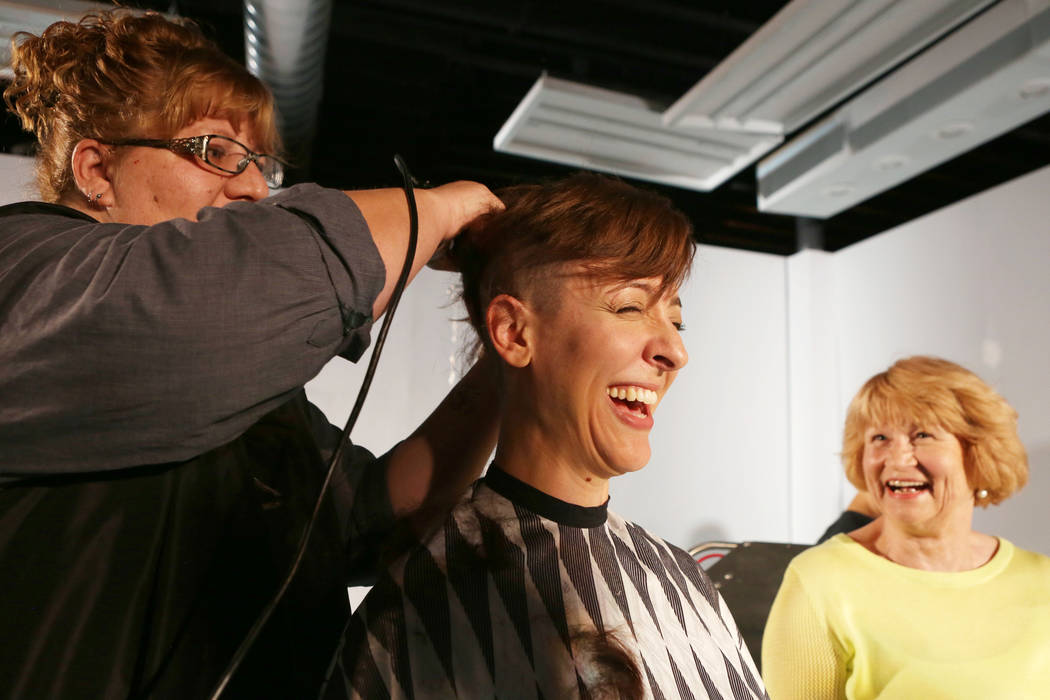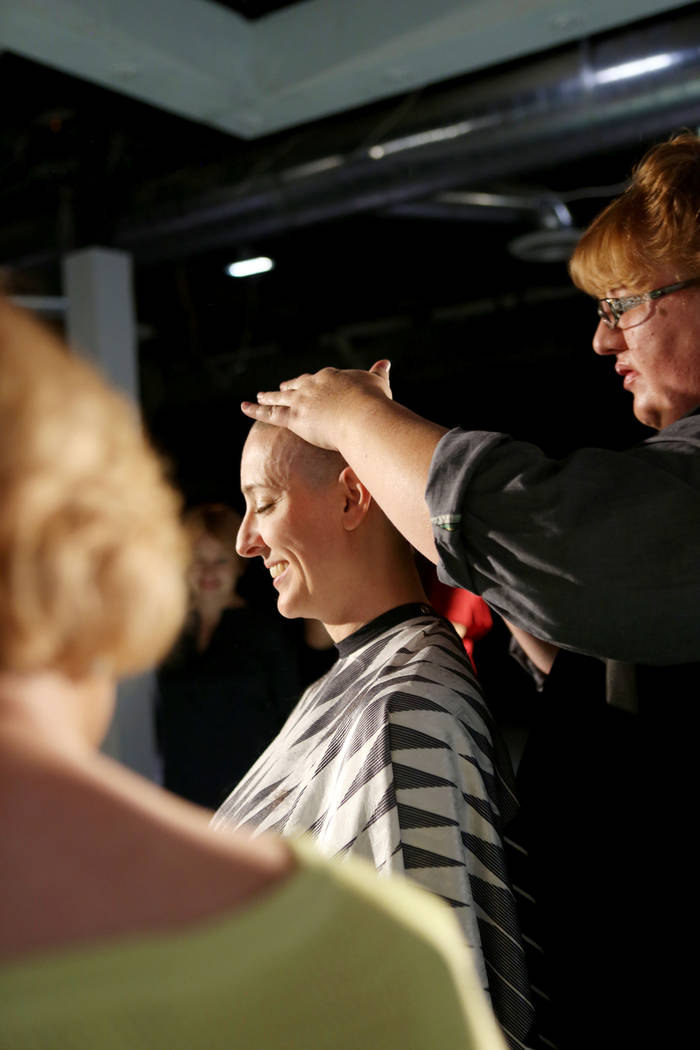 Ginger Tangedal scanned her bedroom at her sister's Las Vegas home. Hair, everywhere.
"My dog shouldn't be losing so much fur," she remembered thinking. It was Nov. 1, 2015.
She ran her fingers through her hair. Clumps fell into her hand.
The hair wasn't from a shedding pup, but the chemotherapy rendering her bald.
The two-time ovarian cancer sufferer, affectionately known as GG, or Virginia on paper, had cut hair professionally for 51 years. Now, she was losing her own adornment once again.
That memory didn't keep Tangedal, now 71, from smiling as she recently watched Tina Rice, the lead in the Las Vegas production of "Wit," voluntarily lose her hair in preparation for her role as an ovarian cancer patient.
The Pulitzer Prize-winning play, a one-act piece written by Margaret Edson in the '90s, tells the story of 50-year-old university scholar Vivian Bearing as she reflects on her life during eight rounds of an experimental chemotherapy.
Ann-Marie Pereth, co-director of A Public Fit Theatre Company's production, wanted the real-life experience of someone who has fought ovarian cancer. She contacted the Women's Cancer Center of Nevada, through which she met Tangedal in June.
On that recent Sunday, Tangedal sat in the cozy audience space of a warehouse-turned-theater watching the backstage crew test the lights.
"Virginia is a spitfire," Pereth said. "She's got red hair, she is so full of life. We just hit it off."
The cancer was back
Like Bearing, Tangedal has been on a trying journey with cancer.
She was diagnosed with stage 3 ovarian cancer in 2014 after bloating, fatigue and palpable lumps in her lower abdomen led her to seek care from a gynecologist.
Since then, Tangedal has undergone 52 chemotherapy treatments of the ovarian cancer "gold standard," carboplatin and paclitaxel, and experimental operations, including one in which doctors laid Tangedal across a bed of ice and sliced her abdomen open to pump chemicals in and out of her body.
The doctors were aggressive. They removed five masses, a portion of her colon that left her with a permanent colostomy, her spleen, some lymph nodes. Then, they moved on to chemotherapy.
Tangedal moved to her sister's home in Las Vegas from California on Halloween in 2015, at the onset of a 10 month relationship with remission. She thought she'd beat it.
Her toughest day as a cancer sufferer, she said, wasn't the first — or second — time she lost her hair, or the day treatment sent her into anaphylactic shock.
It was the day the doctor called and said the cancer was back.
"That is the day that it hit me: 'This is probably going to kill me,' " Tangedal said, tearing up at the thought. "But until then, I really believed that we had it."
Leaving a legacy
Cancer cells dot the inside of her abdomen, like scattered M&M candies. They sit on her liver's lining. So far, they haven't penetrated the organ, or spread to her lungs or other parts of her body.
Despite Ginger's grim prognosis, she's hopeful that a new drug called Zejula — a birthday gift, Tangedal says, as its FDA approval came one day after her 71st birthday — will send her into remission long enough for another cancer-killing discovery to emerge.
That's "the nature of this ugly beast," said Barbara Caldwell, her nurse, and director of chemotherapy at Women's Cancer Center.
But Tangedal hasn't stopped living life to its fullest.
'You just live'
Pereth remembered of some of their early meetings. "I asked her, 'How are you so happy? What do you do when you know the finish line is more definite than the rest of us?' "
"She goes, 'You just live. You try to get some things done on your bucket list and you just live.'"
Alongside Caldwell, Tangedal is making a sort of local legacy for herself.
"In directing, it's all about the details," Pereth said. "The more detailed a production is, the more it rings true and the more the audience will accept the world you've created for them."
She works closely with Caldwell and Tangedal to capture the emotions of a cancer fighter and the accuracy of medical procedures — all to bring attention to the disease and to the strength of the women who fight it.
When Pereth approached Caldwell with her call for help, the nurse immediately recommended Tangedal because of her outlook on life.
"I classify people as Eeyores and Tiggers," Caldwell said in reference to the respectively moody and upbeat characters from Winnie the Pooh. "She's happy, happy Tigger. Happy, upbeat, glass is half full."
In preparation, Tangedal watched the 2001 film version of "Wit," which starred Emma Thompson as Vivian Bearing, and read the play twice.
"I could see the wit in it, and see her transformation from the day she's diagnosed, and what she went through mentally, what she went through to get to the end, and her growth through all of it and her sense of humor," she said.
Tangedal plopped down alongside Rice on a hospital bed on the tiny stage as the actress had her head shaved. The clippers buzzed, and Rice's thick brown hair drifted to the floor as opening night approached. She giggled nervously.
"It's airy up there," Rice joked amid musings from cast and crew members, many of whom gawked at her perfectly shaped head.
Tangedal told the story of her first bald night, how she lay awake shivering without her built-in blanket, grabbed a pair of cotton underwear from a drawer and pulled it over her naked scalp.
She later bought head scarves, and friends donated a few. But she doesn't need them now.
Tangedal offered Rice her choice of black or cream, each embroidered with a teal ribbon to raise awareness about ovarian cancer.
She took the black.
About ovarian cancer
A woman has a 1 in 75 chance of developing ovarian cancer in her lifetime, according to the American Cancer Society. The organization estimates that 22,440 women will be diagnosed with ovarian cancer in 2017.
Ovarian cancer is the 10th most common cancer in the U.S. and fifth in cancers causing death among women, according to the Centers for Disease Control and Prevention.
Ovarian cancer, in most cases, is detected in later stages because symptoms such as bloating, back pain and pelvic pain often appear after the cancer has progressed.
Most women with ovarian cancer don't have a family history, though history can increase a person's risk of developing the cancer. Other risk factors include older age, having had breast, uterine or colorectal cancer, endometriosis and having an Eastern European Jewish background.
If you go
Wit runs every Thursday through Sunday until Nov. 19 at A Public Fit Theatre Company, 100 S. Maryland Parkway in Las Vegas.
Showtimes are 7:30 p.m. each performance day. There is a 2 p.m. matinee on Saturday and Sunday.
The show runs approximately two and a half hours.
Tickets cost $25 to $30, and can be purchased online at https://apublicfit.org/qsot-event/wt.
100 S. Maryland Parkway, Las Vegas, NV 89101