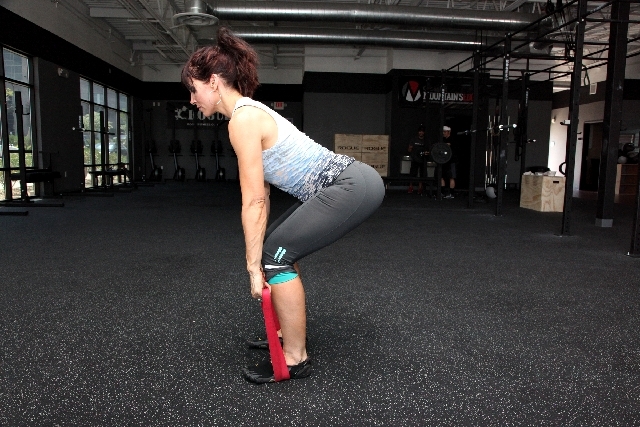 Some gyms have a hard time keeping rubber resistance bands stocked. They are small, portable and versatile, making them easy to stuff in a gym bag and take out the front door. For this reason, gyms may require you to check out bands from the trainers or the front desk.
Sad, I know. They are cheap enough to purchase without breaking the bank but some feel they simply must have what others have come to rely on.
Whether you use the ones at your gym or have your own at home, there are many ways to use the resistance bands. They can work both the upper and lower body. Not to mention the many core exercises that can be adapted to any fitness level.
I have used them with new and veteran athletes alike to provide challenging workouts. Many people use them when traveling.
Hotel gym facilities aren't always what you are accustomed to at your home gym. Bands are a good way to make sure you get your resistance work in when you are away. Just anchor them to the door with the anchor device included and you can begin working out in less time than it takes you to tie your shoes.
Sometimes, anchor points can be tricky to locate. You may have to get creative. My go-to anchor points in the home or hotel room would have to be the door. Be sure to use the hinge side of the door because it is the strongest. How a band whipped back at you and left an interesting-shaped mark is an embarrassing story to tell.
Other anchor points can be your feet, a horizontal bar, pole or tree. Even the underside of a workout bench or chair while you're sitting on it will do. As long as it is sturdy, there is probably a way to anchor a resistance band to it.
Another type of resistance band that is showing up in gyms lately is the jump-stretch band. Instead of having two handles on either end, this band is a large circle made of heavy rubber. It is also just as versatile. You may see others using it to stretch or even train specific areas of a squat or press by incorporating them into barbell work.
Today, I will show you how to use a jump-stretch band to perform dead lifts. Regular resistance bands can become too easy when doing dead lifts. Dead lifts are one of a person's strongest movements and it generally doesn't take long for someone to surpass the 20 pound benchmark. A medium or heavy jump-stretch band can take over where others leave off.
Dead lift technique is a movement that should be mastered. If you ever pick anything up from the ground or grab something from the bottom shelf of the fridge, then practice this lift.
If weights scare you, then use a PVC pipe and drill the form. Have someone watch you. You will undoubtedly make form flaws along the way. Learning a movement wrong can lead to injury. Get a trainer to drill you for a few weeks until you have it down.
I have said it many times: The dead lift is an important movement to humans because it brings so many benefits. It teaches you how to use your core for movement instead of just for posing by the pool. It teaches your body how to load the hip and maintain a straight back. Not to mention, it is a fast way to get powerful buns and a shredded back.
Using the resistance bands to practice your dead lift form is a good way to improve your lift of all lifts.
Chris Huth is a Las Vegas trainer. He can be reached at 702trainer@gmail.com. If you are a Las Vegas trainer and want to share your love of fitness as a guest coach, please contact him. Consult your physician before beginning any exercise program.