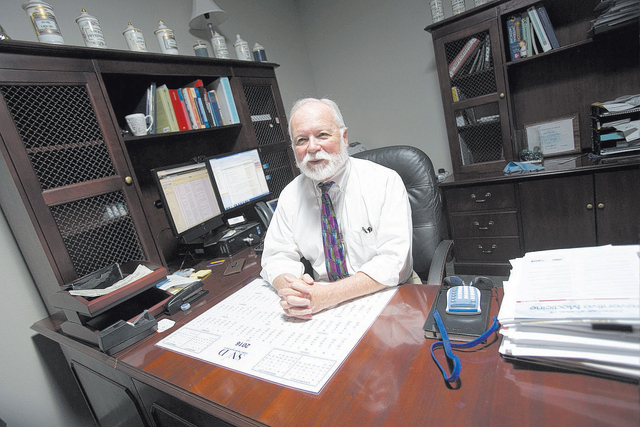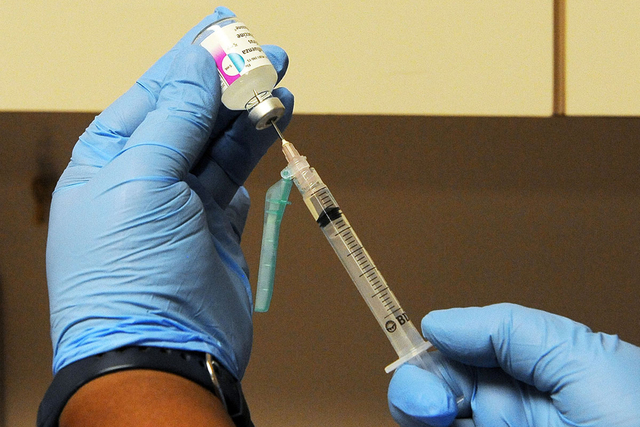 As flu season kicks into gear, health officials remind residents that it's not too late to get vaccinated.
There have been 136 reported flu cases this year, including one death — five times the number of cases reported at this time last year, according to the latest flu surveillance data from the Southern Nevada Health District.
But in Southern Nevada, the flu is spreading at a low-to-moderate pace compared with the rest of the nation, said Joe Iser, the health district's chief health officer.
"Every year is just a little bit different," he said.
Once temperatures start to drop, people start spending more time indoors with the windows closed, which can lead to higher rates of sickness.
The flu vaccine can help mitigate the spread of illness. Once administered, the shot takes about two weeks to become effective, Iser said.
The Centers for Disease Control and Prevention recommends that anyone older than 6 months get the shot. Adults older than 65, children younger than 5, pregnant women and people with compromised immune systems are most at risk of suffering complications because of the flu.
"It's never too late (to get vaccinated), honestly," Iser said, "But certainly up through February, it's still OK."
He recommended that people cover their faces when they cough or sneeze, and wash their hands frequently.
"Just try to be careful of what you touch and when you touch it," Iser said.
And if you're sick, stay home, he added.
It's still too early to tell whether this season's flu vaccine will be effective. Usually, it will reduce the risk of getting sick by 40 percent to 60 percent, the CDC reports, but efficacy varies year to year.
Peak flu season varies depending on where in the country one resides. In Southern Nevada, it's usually between January and February.
Contact Jessie Bekker at jbekker@reviewjournal.com or 702-380-4563. Follow @jessiebekks on Twitter.