Technology, patient demand has boosted outpatient services in Las Vegas Valley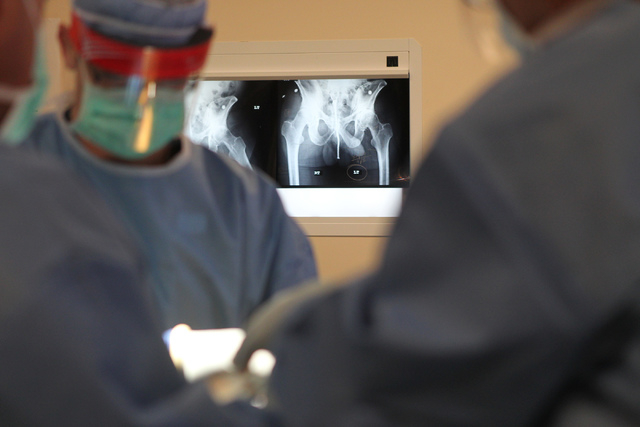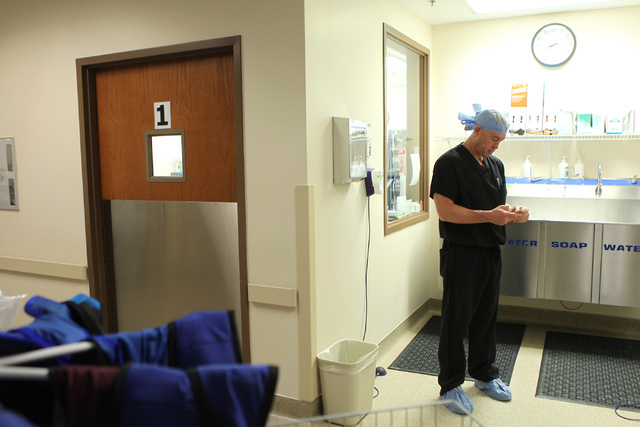 Medical clinics across the Las Vegas Valley are performing treatments formerly available only in a hospital, driven by new technologies, patient demands for outpatient services and the goal of delivering the most cost-effective care.
The shift from inpatient to outpatient services, once opposed by hospital executives because it affected their bottom line, is now embraced by medical centers, community hospitals, for-profit chains and nonprofit providers alike. Doctors are performing procedures, from inner ear surgeries to hammertoe correction, in every corner of the valley with 44 of the 63 licensed ambulatory centers in the state located in Southern Nevada.
With the Coronado Surgery Center and the Coronado Surgical Recovery Suites, Henderson orthopedic surgeon Dr. Michael Crovetti realized his goals of giving his patients an out-of-hospital experience in state-of-the-art facilities. His dream was accomplished despite opposition from the medical establishment as Crovetti sought to provide a model of care never before attempted. Crovetti recently performed the 1,000th procedure at his facilities where patients go from pre-op to the operating room to the post-anesthesia care unit to their recovery suites within hours.
Surgeries that do not require an overnight stay are considered outpatient. Surgical centers were developed as doctors sought autonomy, more scheduling convenience and facilities better suited to their specialties and the needs of their patients.
Some Southern Nevada surgeons who have started such centers and have had difficulty negotiating transfer agreements allowing patients to be taken to a hospital in the event of unforeseen complications. Nevada law requires surgical centers to prepare plans for external emergency care, but hospitals haven't always been enthusiastic to cooperate.
Crovetti's complications began because he had the misfortune of starting an enterprise during the worst U.S. economic downturn since the Great Depression.
In 2008, Crovetti and his wife, Karen, lost money in the collapse of Silver State Bank, the Henderson-based financial institution taken over by regulators in September of that year. His original plan was to have the surgical center occupy the entire space he was developing at 2779 Horizon Ridge Parkway in Henderson. The financial loss he took after the bank collapse forced him to pivot, and that's when he came up with the idea of having the recovery suites next door.
After he was granted a provisional license by the state in 2009, Crovetti drew complaints he was opening a physician-owned specialty hospital. Critics say doctor-owned hospitals direct the best-insured and lucrative cases to their facilities while more severely ill patients are sent elsewhere.
The challenge drew the scrutiny of state health officials who inspected the site and found the facility was not putting patients at risk of harm. Crovetti was fully licensed in April 2011 and has been performing orthopedic procedures including knee, hip and shoulder replacements ever since.
PUSH FOR MOVEMENT
Patient No. 1,000, Walt Hawkins, 58, awakened from his anesthesia last week surprised his hip replacement was complete.
Not that the procedure wasn't fully explained to Hawkins. Crovetti makes clear to his patients what his surgeries entail and how soon afterward they will be called upon to move to enhance their recovery.
"The earlier they move and the more they move, the faster they recover," Crovetti said.
For Hawkins, a retired IGT executive and consultant on slot machines, the bigger surprise would come a couple hours later when he was walking the hall of the recovery suites aided by a ceiling-mounted stabilization device. Patients can walk soon after the effects of the anesthesia clear with the device secured around their upper torso.
First and foremost, Hawkins sought the best outcome possible, but he said the way he was treated at Coronado was a bonus.
"Not being lost in a big hospital and the overall experience leave me very, very pleased," he said.
Patients stay overnight in the recovery suites where care is offered around the clock until they are ready for discharge.
According to the U.S. Agency for Healthcare Research and Quality, the number of surgeries performed annually at U.S. hospitals has risen to 26.8 million, with 17.3 million, or 65 percent, done on an outpatient basis. In 2011, more than 5,300 surgery centers in the United States performed 23 million procedures, according to the Ambulatory Surgery Center Association based in Alexandria, Va.
ROADBLOCKS GIVE WAY
Dr. David Steinberg, managing partner of Steinberg Diagnostic Medical Imaging, knows firsthand how the medical establishment can hinder competition from outpatient facilities. In 1988, he and his father, Dr. Leon Steinberg, opened the first of what soon will be seven centers in the Las Vegas Valley.
"There was a lot of resistance," Steinberg said as a 15,000-pound magnet was being installed to enable magnetic resonance imaging at the firm's newest center being developed in the Las Vegas Medical District. Steinberg's newest clinic is on track for the first patients this summer.
The Steinberg clinics offer a prime example of how outpatient services can deliver optimal patient outcomes at lower costs. Leon Steinberg helped Sunrise Hospital establish the first radiology center in Southern Nevada in 1958. Thirty years later, Steinberg and son David opened their first clinic next to Sunrise. At the time, the area between the two facilities was clear.
"One day I came in, and there was a fence separating us," David Steinberg said. "Years later, I asked a Sunrise administrator why they built the fence, and he said, 'I wish I could have built a higher fence.'"
The Steinberg clinics also illustrate how the outpatient model has evolved over the years, moving beyond simply providing services. Radiologists come to Las Vegas to train at the Steinberg clinics because some of the equipment available is among the most advanced in the world, said Dr. Mark Winkler, a partner in the firm. Medical students and doctors in residency spend rotations working in the clinics.
"We're not only a service hub," Winkler said, "but we're a research and technology hub."
Advances in technology and technique will make more surgeries appropriate for outpatient settings, experts say, and Las Vegas is ripe for expansion. Larry Staples, an architect with In2it Architecture who led the effort to remodel the new Steinberg facility, said most development of outpatient facilities involves the remodeling of a building to meet a new tenant's intentions.
"There's availability in the market for almost anything anybody wants to do," Staples said.
The list of surgeries available in an outpatient setting already fills more than a computer screen, and Crovetti said the options will grow as techniques in ambulatory surgical care advance.
"Many spine surgeries could be taken out of the hospitals and placed in the same environment that we're in now," he said. "I believe gynecological procedures such as hysterectomies could be performed outside of the hospital. The same for many urological procedures.
"The concept could apply to any procedure where early mobilization and minimal blood loss can be achieved in an outpatient setting."
Advances in robotic surgeries, which allow doctors great precision during remote-controlled, minimally invasive procedures, have great potential but also present a big challenge. Such technology offers shorter stays, less pain and fewer infections, but cost of developing such a practice can be excessive, even prohibitive, Crovetti said.
"Robotic surgery fits right in with what we're doing in the outpatient centers," he said. "You're going to see hospitals that can make those big capital expenditures open robotic surgical centers to perform those procedures and get more efficient."
Contact Steven Moore at smoore@reviewjournal.com or 702-380-4563.