UMC faces financial blow if Congress erases state Medicaid expansion
Updated June 29, 2017 - 7:42 pm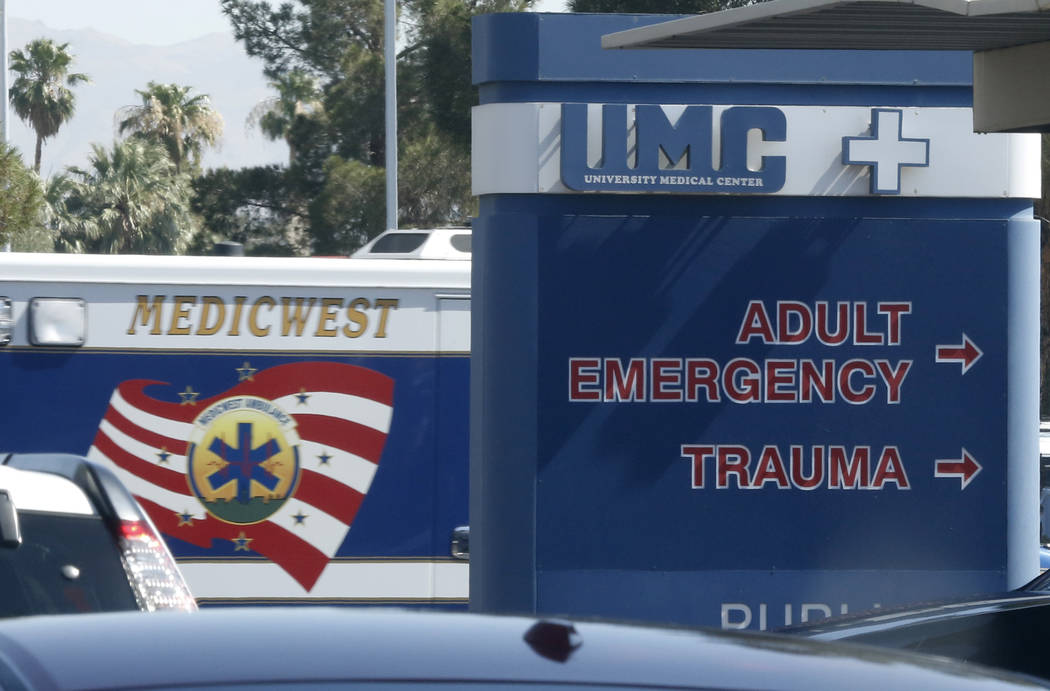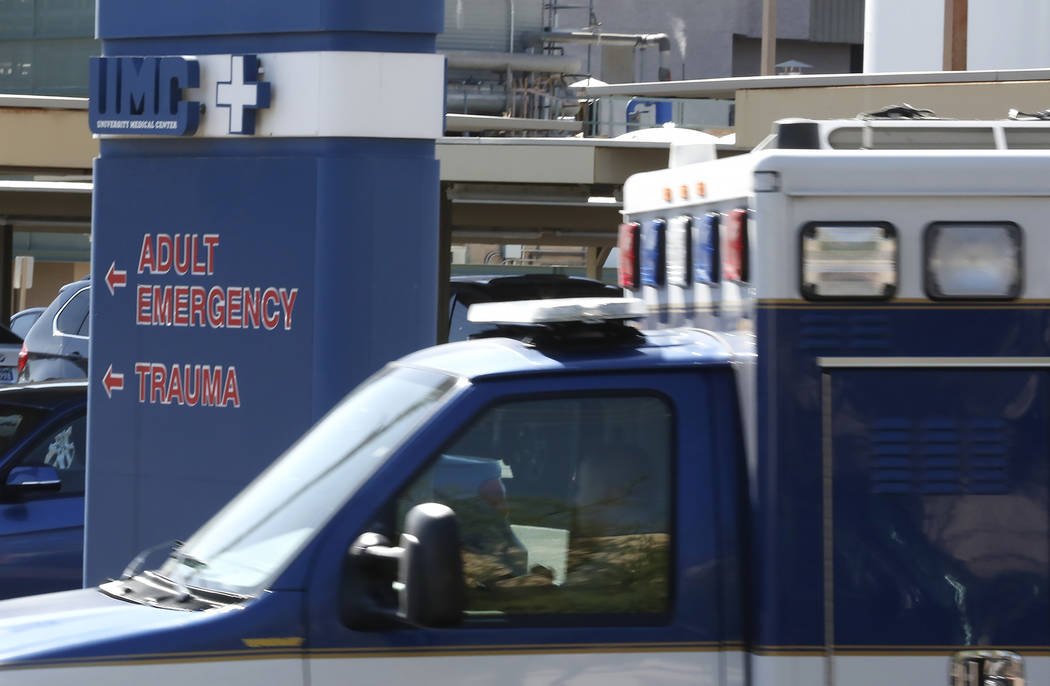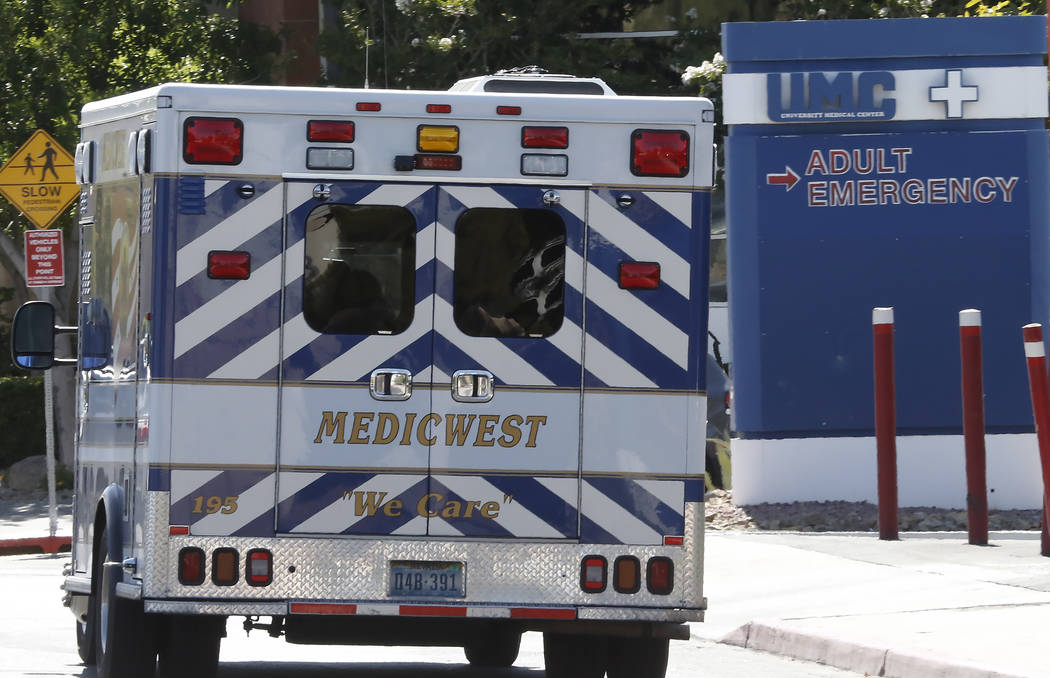 University Medical Center CEO Mason VanHouweling knows that efforts in Congress to replace the Affordable Care Act would hurt the taxpayer-supported hospital in Las Vegas.
What he doesn't know is how much.
"I hope we don't take a big step backward," he said.
VanHouweling, who has been nervously watching the health care tug-of-war in Washington, has a fair idea what life might be like if congressional Republicans succeed in replacing the law popularly known as Obamacare.
Before the ACA, UMC routinely faced losses of up to $100 million a year and threats of closure. Less than four years ago, it had to take out $45 million in emergency loans just to make payroll.
The problem was that uninsured patients often waited until they became very sick before seeking treatment, which meant they were often treated in the emergency room and ran up huge bills they could never pay.
Passage of the ACA in 2010, and Gov. Brian Sandoval's subsequent decision to become the first Republican governor to expand Medicaid under the law, dramatically changed the hospital's financial equation, VanHouweling said.
That translated to coverage for approximately 210,000 additional state residents, which meant that far more of the low-income patients that UMC treats had insurance.
From peril to profit
As a result, UMC's uncompensated care rate dropped from 40 percent to 11 percent, and the hospital's bottom line turned from red to black, enabling the hospital to chalk up profits of around $58 million over the last two years.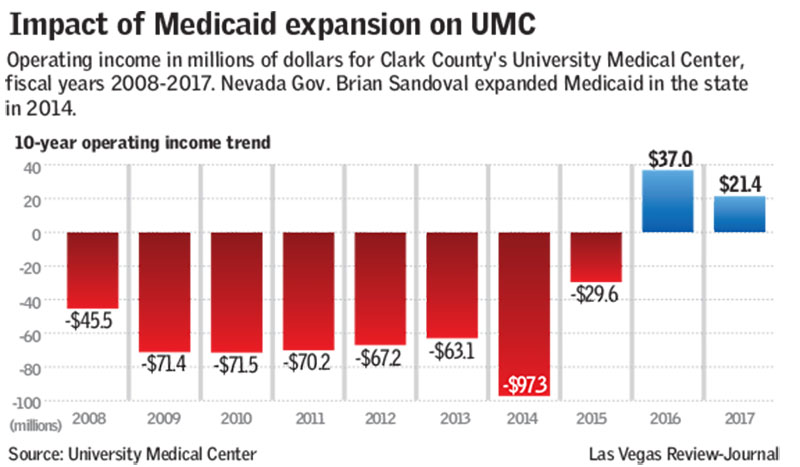 If the health care legislation currently before Congress passes, the state would have to pick up at least some of the tens of millions of dollars in lost federal Medicaid funding for UMC to continue its upward trajectory, VanHouweling said.
Whether that is realistic, however, is far from certain.
A report this week by the Guinn Center for Policy Priorities, a bipartisan nonprofit focused on critical Nevada policy issues, said the state would be one of the hardest hit if Congress eliminates funding for the Medicaid expansion.
"Nevada would be faced with two choices," it said. "It could allow the new federal law to stand, meaning that the Medicaid expansion would be rolled back. Or, it could preserve the Medicaid expansion but would have less federal matching money for newly eligible individuals."
That explains why, during a Friday press conference in Las Vegas with Sen. Dean Heller, R-Nev., Sandoval predicted that UMC would again suffer financially if the Senate health care plan is adopted.
Rural Nevada hospitals, which have a high percentage of Medicaid patients, will also be hit hard under the Senate plan, according to Amy Shogren of the Nevada Hospital Association.
"Expected cuts to the program could adversely affect facilities —perhaps to the point of closure," she said..
State can't foot federal bill
If the state tried to foot the bill for the Medicaid expansion itself, Sandoval said, the $121 million it now costs to cover the additional 210,000 Nevadans would jump to more than $400 million a year by 2024, as the federal portion was phased out. Both Sandoval and Heller said it was virtually impossible for the state to make up the nearly $280 million shortfall.
They didn't estimate how much the state might be able to absorb, if any.
Without increased state or federal funding, most of those who gained health insurance under the ACA would lose it.
And UMC, and other hospitals that have benefited from the growth in the insured pool, would be hurt.
Clark County Commissioner Chris Giunchigliani said a decrease in federal Medicaid funding could mean UMC starts to go "back to where we were." She was referring to the bleak outlook that UMC faced in 2011, when Commissioner Steve Sisolak warned the hospital might have to be closed after it posted three straight years of operating losses exceeding $70 million.
Eileen Raney, who had a long career as an executive at Deloitte and Touche and serves on UMC's advisory board, has a more upbeat view of the hospital's future.
While acknowledging that UMC would require a subsidy if its rate of insured patients again dropped to the 60 percent range, she said better hospital management under VanHouweling's leadership — he became CEO at the end of 2014 —will help it weather such a blow.
Some positive indicators
She noted that with VanHouweling at the helm — he trimmed costs by eliminating a few hundred positions and closing some underperforming Quick Care clinics — the hospital has increased market share by 4.7 percent and generated a nearly $5 million increase in net revenue in the third quarter 2016, compared with the same period in 2015.
And she said the upcoming close relationship between UMC and UNLV's new medical school could increase the number of private insured admissions at the hospital.
She said faculty members at the new medical school also will admit more patients at UMC, which has invested in the latest surgical and medical technology — a move that already has doctors using UMC more.
Heart procedures jumped from 130 to 230 over the last year. And there was a record 78 kidney transplants performed, a 28 percent increase. Surgical volumes increased from nine starts to more than 18 daily.
Raney and VanHouweling note that new agreements with insurance providers increased the rate of reimbursement for procedures at UMC to match that of other hospitals while aggressive supply chain initiatives held costs down.
Hospital occupancy also rose from 78 percent to 90 percent partly as a result of a new patient satisfaction program.
While VanHouweling remains concerned about the hospital's financial outlook given the uncertainty surrounding the federal lawmaking, he and Raney see things headed in the right direction.
"I think UMC is far better off today than it was three years ago," she said. "And I think its relationship with the new medical school is going to have a far more important effect than most people realize."
Contact Paul Harasim at pharasim@reviewjournal.com or 702 387-5273. Follow Follow @paulharasim on Twitter.
Hospital association urges 'no' vote
UMC is not in a unique situation.
Last week the American Hospital Association, which represents nearly 5,000 hospitals, wrote a letter to senators saying the proposed health care plan unveiled by the Republican leadership could bring "serious negative consequences" to hospitals and communities.
It urged senators to reject the bill, "including its elimination of Medicaid expansion, untenable cuts to the Medicaid program, dilution of consumer protections, and inadequate tax credits for individuals purchasing coverage on the exchanges."