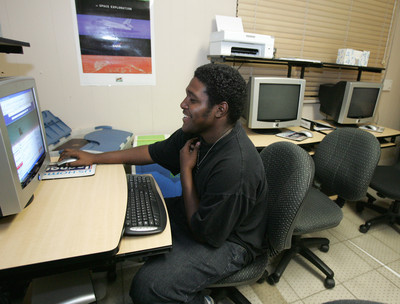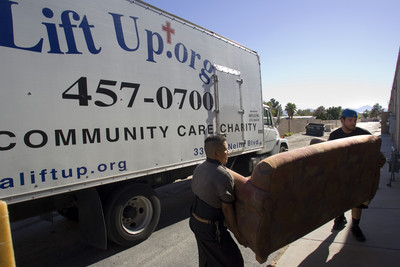 Right about now, people are starting to get into the spirit of the season, looking for a way to make a difference in their communities.
The Review-Journal asked five valley nonprofit charitable organizations for their holiday wish lists and discovered that there are plenty of ways for locals to donate their time, money or goods.
A LIFT UP
Agency assists people recovering from homelessness or trauma by furnishing their homes. (3310 S. Nellis Blvd., Suite 28; 457-0700)
A Lift Up's needs are simple, says founder Frank Petrasek: furniture and household goods. No toys, or turkeys or Christmas trees. Just anything and everything that goes into making a home, he says.
The organization needs beds, couches, dressers, dining tables and household items such as linens, pots, pans, dishes and towels. Wall hangings, lamps, pillows and other similar items are needed, as well.
Since the organization started focusing exclusively on furniture and household items a year ago, A Lift Up has served about 300 families. He expects to serve another 25 during December alone.
Furniture often is taken for granted or not considered a basic need, Petrasek says. But it's a vital part of helping people recover from disaster or homelessness.
"Over 5,000 children in Las Vegas are going to sleep on the floor tonight," Petrasek says. "It just makes it hard to get the proper rest, especially for a schoolchild. You can't have a proper family meal without a dining table. Furniture just makes it nicer."
If you have furniture to donate, A Lift Up will pick it up, Petrasek says. Volunteers for the delivery truck also are needed, as are people to help prepare the furniture for distribution.
AID FOR AIDS OF NEVADA
Agency provides support for adults and children living with or affected by HIV/AIDS. (2300 S. Rancho Drive, Suite 211; 382-2326)
Even in the spirit of giving, donors often forget the teenagers, says Caroline Ciocca, executive director of AFAN.
Every December, AFAN hosts a holiday party for the children affected by HIV/AIDS; Ciocca expects 200 kids to attend Dec. 20.
"They're not necessarily kids infected but kids affected, which is just as important," Ciocca says.
Their parents may be struggling with the illness, the cost of medications, medical care and other issues. Through the party, AFAN ensures that they will have some gifts for the holiday, Ciocca says.
"The most difficult age group that we tend to struggle with are the teenagers," Ciocca says. "Everybody wants to buy toys and things like that for young kids. That's why we appreciate any support for the teenage group: gift cards to music stores, Target, things like that. Clothing is always important to them, too."
The holidays tend to be the best time for charities, because people are more aware of giving to the needy, she says.
"I feel like the holiday is really the one time of year you're not struggling," Ciocca says. "It's probably my favorite time of year to fundraise and garner support because the energy and spirit of giving is very high."
She adds that she likes to welcome new volunteers during the holidays because it's a good way to introduce people to the group and its mission.
Volunteers are needed to help with gift-wrapping sessions and setup and cleanup for the party. AFAN also needs materials for the parties, such as wrapping paper, tape, bows, and other party and gift items.
There's also a need for volunteers to pick up and deliver the donations, Ciocca says.
HELP OF SOUTHERN NEVADA
Agency assists locals in becoming self-sufficient through services and training. (1640 E. Flamingo Road, Suite 100; 369-4357)
This year, HELP will distribute thousands of toys to needy children, says spokeswoman Fuilala Riley.
But there's a disconnect when it comes to providing toys and gifts for teenagers.
"We're very fortunate to have the support of the community with our toy drives," Riley says. "But close to the end when we're distributing the toys, we usually say, 'Oh my gosh, do we have enough for the teens?' Oftentimes, we don't."
That's why Riley is asking for donations of gift cards and cash, in addition to toys.
Last year, 11,798 kids received toys, either directly from HELP or one of the dozens of smaller nonprofits that receive assistance from HELP. Riley expects to surpass that number this year.
Donors can adopt a family and receive their ages and wish lists. That enables them to shop directly for that family, Riley says. Three hundred families are served through that program.
The majority of toys are distributed to families through a "toy store." HELP volunteers walk through a warehouse stocked with donated toys as parents "shop" for their children. They can choose a couple of gifts per child, says Riley, who expects to serve about 3,000 families with the toy store.
In addition to gifts and cash donations, HELP needs volunteers to serve as personal shoppers Dec. 17 through Dec. 20 from 7:30 a.m. to 4 p.m. If you're interested in volunteering, contact Riley by Dec. 7 via e-mail at friley@helpsonv.org or at 369-4357. Those who want to donate toys should do so by Dec. 10. For information on drop locations, call Riley.
THE SHADE TREE SHELTER
Agency is a shelter for homeless and abused women and children. (1 W. Owens Ave.; 385-0072)
Donors often get so caught up in the holiday spirit that they bypass average things in favor of iPods or other big-ticket items, says Shade Tree spokeswoman Mary Grego-Smith.
Of course, they're appreciated and needed but it's the boring items — toothbrushes, deodorant, towels — that the 300-plus residents and their children need most.
"Usually people and groups are very generous with holiday decorating items, food and toys," Grego-Smith says. "So what happens during the holidays is our standard wish list is forgotten."
The items most needed right now include trash bags of all sizes; latex disposable gloves; toothpaste; deodorant; new women's underwear; toilet paper; disinfectant wipes; cleansers; bath towels; paper towels; and postage stamps. A detailed wish list is available online at theshadetree.org.
Donors can give items that are more holiday-oriented if they prefer, Grego-Smith says. Gift cards are the most appreciated item, because staff can purchase specific gifts that the women and children request, she adds.
"If we see a need, gift cards allow us to go out and get what we need at the last minute," she says.
The shelter always welcomes those who can afford to give more of their time than money. Noah's Animal House, the on-site animal shelter that houses residents' pets, needs volunteers who can clean cages, feed and water the pets, and groom them, Grego-Smith says.
They also can use items donated for the pets' care, she adds. That includes kitty litter, litter pans, cardboard pet carriers, Kong toys for the dogs, and pet food for dogs and cats. The animals are fed dry and canned Science Diet and Iams.
STREET TEENS
Agency provides assistance to homeless and abandoned youth ages 12 to 21. (215-4171)
Standing out among a crowd of juggernaut charities is always tough, says Lisa Preston, director of Street Teens. It's even harder during the holidays.
"A lot of people donating to the larger charities don't even realize we exist," Preston says. "That's one of the problems we've run into being a small, grass-roots charity."
The organization buys holiday gifts for about 100 teens, so their biggest need is gift cards, Preston says. For the teens' safety, the location of the organization's sanctuary is undisclosed.
They used to take donations, but one year, a boy received a brand new PlayStation 2 and 10 games while another received used clothing. With gift cards, staff can ensure each child receives something of good quality and equal value, she says.
The kids they help are homeless either because they've been abandoned or decided that living on the streets is safer than living at home. They may have an abusive or addicted parent, Preston says. Volunteers walk Las Vegas streets, handing out cards and care packages to kids they suspect are homeless. It's hard to get an accurate number of how many teens in the valley are living on the streets, but estimates range from 300 to 3,000, Preston adds. Street Teens has served 1,200 individual teens since 2001.
Teens can visit a sanctuary each night, where they can eat, shower and hang out. Staff and volunteers help them get back into school, find a job and regular shelter. That can be something as simple as a tent and sleeping bag. The idea is to prevent them from becoming homeless adults, Preston says.
In addition to gift cards, Street Teens needs basic items for the teens, such as sleeping bags, tents, hooded sweat shirts, jackets and other cold-weather gear. Items also are needed for outreach kits, including cotton swabs, lotion, feminine products, first aid products, toothpaste, hygiene items, clothing and food.
The organization needs volunteers to either work in the sanctuary or on the streets.
Contact reporter Sonya Padgett at spadgett@reviewjournal.com or (702) 380-4564.