Henderson Police captains work hard to find balance between cop and Dad modes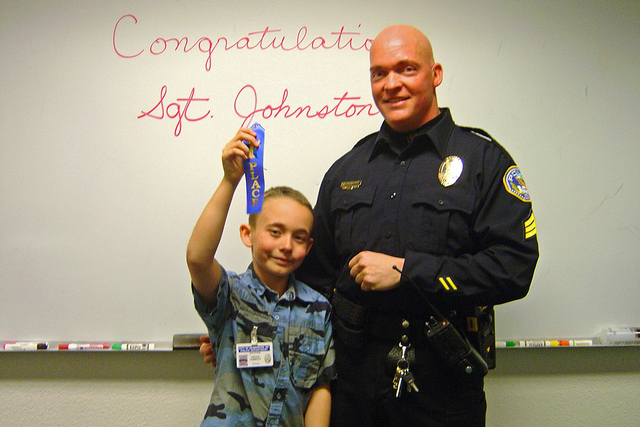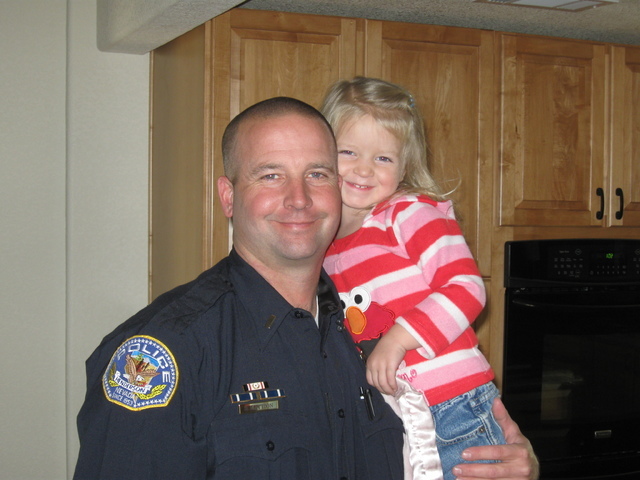 By day, Dane Mattoon and Michael Johnston are captains with the Henderson Police Department, helping to make the city safe. But by night, they take on an even more important role: Dad.
"I am proud of the work we do and can truly say I've made a difference in this city," Johnston said.
In their years of being in law enforcement, the officers said they have worked to find the balance between their professional and home lives.
"In our household, I don't like to bring work home," Johnston said. "I try to leave it at the door."
Johnston, born and raised in Nebraska, graduated from the University of Nebraska-Lincoln after studying criminal justice. He then joined the local law enforcement agency.
When his then-girlfriend — now his wife — received a job offer in Las Vegas, he decided to move here and join the Henderson Police Department.
Mattoon, born and raised in Idaho, went to college to study political science. After graduating, he knew he wanted to become an officer, just not in Idaho. He turned his attention to Henderson.
Both men worked their way through the ranks until being promoted to captain. Also along that time, they both had families.
Johnston had a son, while Mattoon raised three children — two sons and a daughter.
Both captains said their children grew up with a fascination with law enforcement since they got an inside look.
"From the time my oldest son could walk and talk, he would see me in a police officer's uniform," Mattoon said.
Johnston's son, Shiloh, grew up going to police community events and seeing awards ceremonies for his father.
"He wanted to wear the uniform and hear about my cases," Johnston said.
Coming home at night, both said their children would always ask about their days.
"They are always interested in hearing if we caught the bad guy," Mattoon said.
As far as talking to their children about some of the harder cases, both said they would share a little bit more as their children got older.
Mattoon has been involved in one officer-involved shooting. While his sons have asked him about using his gun, it wasn't until they were older that Mattoon was more open about the incident.
When officer uniforms were replaced with suits and ties as Mattoon and Johnston were promoted or worked in other departments such as community relations, their children would always express curiosity about other aspects of law enforcement.
"They only want to hear about the interesting stuff," Mattoon said. "And most of the stuff we do isn't blog-worthy."
Though their children always had questions, when they walk through the front doors of their homes after a long day, both captains said they switch off cop mode and turn on family mode. But every once in a while when they get phone calls about cases or see issues in the neighborhood, they can't help but respond.
"My wife tells me she can see the change when I switch to cop mode," Mattoon said. "It's like flipping a switch."
And that works both ways. When going to work, they focus on the task at hand.
Though Mattoon and Johnston might face dangerous assignments, they said they can't think about the "what ifs?"
"I don't think you can focus on that part of the job," Johnston said.
Now that they have more experience, Mattoon and Johnston are happy to share their experiences with their fellow officers who have become new parents.
"We talk to them about the importance of going home and unplugging from the job," Johnston said. "They need to have a balance."
As it turns out, both parents aren't just raising children but also a next generation in law enforcement.
Mattoon said his two sons — one in high school and another in middle school — have talked about becoming police officers. He encourages them to go to college first as he did.
Johnston's son is now a criminal justice major at UNLV and plans to become an officer after he graduates. He has had Johnston come into his criminal justice classes to talk about law enforcement.
"So now he comes to me with questions about search and seizure or topics they are discussing in class," Johnston said. "Now, he asks me questions not because I'm his dad but because we are both professionals."
To reach Henderson View reporter Michael Lyle, email mlyle@viewnews.com or call 702-387-5201. Find him on Twitter: @mjlyle