Henderson woman launches valentine campaign for dying little girl
February 10, 2015 - 12:40 pm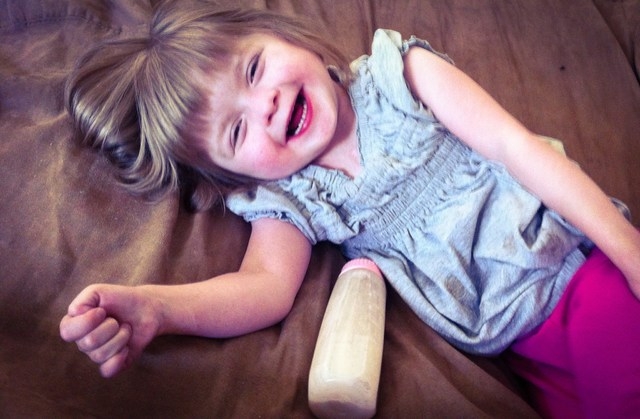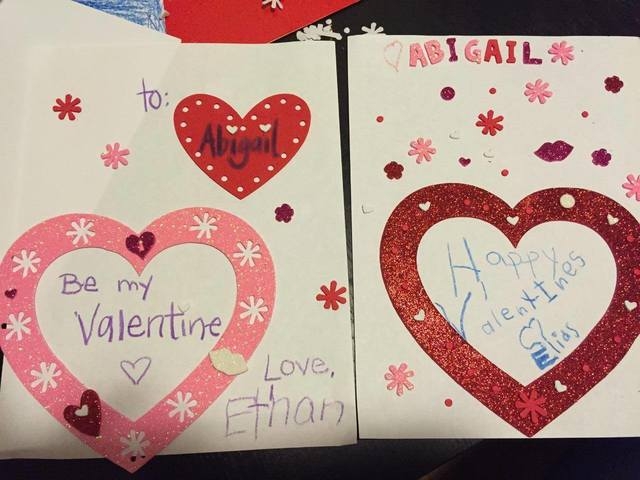 The lyrics are those of a mother who knows she must soon feel the indescribable pain of burying a child.
"Special hearts don't make it in this life
"I'm sure heaven is nice or something
"I know you deserve better than this world
"But I still don't want you to go."
The song, posted on Rachel Faul's blog as her 5-year-old daugher's heart condition continues to worsen, is a glimpse into a situation that is impossible to comprehend if you haven't experienced it yourself.
Abigail Faul was first supposed to die two years ago, after four open-heart surgeries failed to treat her hypoplastic right heart syndrome. The loving, happy 3-year-old was given a couple months to live. Instead, she's given her family two more years with her and counting.
Abigail has autism and can't speak because of a nicked vocal cord during one of her surgeries. She isn't strong enough to walk or sit up on her own. But her smile tells the story of a sweet soul in a beat-up body, touching the lives of anyone who gets to know her.
One of those lives was Henderson resident Carly Gourley, who wanted to show Rachel, her childhood friend, that she has an army of support around her as she supports Abigail, her two other children, each of whom have autism, and her husband, who battles depression.
"It's hard to understand what to do sometimes for someone," Gourley said. "They don't even know what to ask for or what to allow people to do. We knew they needed financial help, and we knew they needed some kind of help, comfort and renewal of faith."
So she and another friend, Kripa Sijapati, set up a GoFundMe page to help pay for medical bills. Of the $25,000 goal, more than $10,000 had been raised as of Tuesday morning. Most donations were anonymous. Many left messages of support and encouragement: "I've been there," "stay strong," "our prayers are with you." Each gets passed on to the Faul family.
Gourley is hoping for more, though. She's reached out to friends in Wisconsin, where she and Rachel grew up together; in Provo, where the Faul's now live; and in Las Vegas, hoping that on the one day of the year devoted to unconditional love, Abigail can get some valentines.
"It might seem like a valentine is a silly thing, but I think it's huge. I think that letter of encouragement goes a long way," Gourley said. "There is no possible way she can get too much support or too much love. I just want her to have enough valentines that there are people out there that really care about what happens with her."
Most of the valentines so far have come from children and teenagers — students of Faul's childhood friends who are now teachers. Entire schools in Wisconsin are getting students involved in the project.
Closer to home, members of Gourley's church have planned activities around making valentines for Abigail, and word about the service project is spreading.
"These are strangers who have never met this family, but they take the time to write a nice note or make a donation," Gourley said. "It's an amazing thing to see — it really makes you rethink the way people are. People do want to help."
For as much as she knows her friend gets out of the messages of support, Gourley knows those who send them gain just as much.
"I think that's the great thing about service in general: You develop this empathy and you can understand how it feels to some extent," she said. "I'm trying to give people some small glimpse into that life so they can appreciate how wonderful their life is — so they can use what they have to brighten hers and help that family along."
She tells stories of card-making clubs excited for the opportunity to serve, of high schoolers who have given up their lunch hours to talk their friends into making valentines, of young women excited to drum up as much support for the project as possible.
"You get past all the things in your own little world, and the world opens up and you improve," Gourley said.
The final verse of Rachel Faul's song is one of melancholy acceptance, the kind of ambivalent thinking that is at once singular to her pain but common to the human experience. Gourley hopes the valentines, and hopefully letters in the future, will help the Faul family know they're not alone in their thoughts:
"I don't want you to be unhappy
"I don't want you to be uncomfortable
"But I don't want you to go
"Not yet, baby girl, just another little bit before I
"Have to say goodbye."