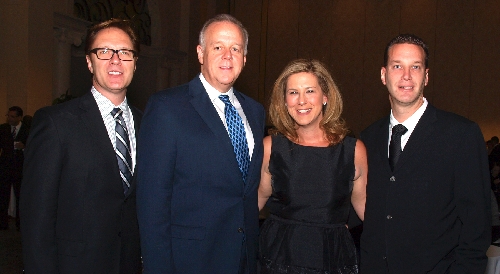 The Dr. Miriam and Sheldon G. Adelson Educational Campus honored Holocaust survivor Elie Wiesel at the eighth annual Pursuit of Excellence gala Nov. 17 at The Venetian.
Wiesel received the award for his literature and activism in human rights. He is considered to be one of our time's most influential writers and a voice of the Jewish people. He has written more than 50 books of fiction and nonfiction, which have been translated into more than 30 languages.
He has received numerous awards including the Nobel Peace Prize, the Presidential Medal of Freedom, Congressional Gold Medal, Grand Cross in the French Legion of Honor and the United Kingdom Honorary Knighthood, to name a few.
The event, which attracted more than 750 guests, began with a silent auction of more than 155 must-have items. Later, a live auction was conducted by Eric Nelson.
Guests included Congressman Joe Heck and Lisa Heck, Nevada Supreme Court Chief Justice Michael Cherry, District Judge Kathleen Delaney, District Judge Joanna Kishner, Toni Chaltiel, Pia Zadora, Lori and Sig Rogich, Janice and Jim Beckmann, Michele Tell and James Woodrow, Sharon Karp, Fran Fine, Hilary Scheele, Matt Morris, Faye Steinberg, Lori Posin and Chris Morton.
The dinner program began with the orchestra playing the national anthems of the United States and Israel followed by the breaking of the bread.
Victor Chaltiel, chairman of the Adelson Educational Campus Board of Trustees, spoke about the accomplishments of the Adelson Campus and introduced the head of the school, Paul Schiffman, and Schiffman's wife, Sandy, as well as Elliot Karp, president and CEO of the Jewish Federation of Las Vegas.
Miriam and Sheldon Adelson came to the podium to speak about the event's honoree before presenting Wiesel with the Pursuit of Excellence Award.
Other guests enjoying the educational evening were Carol and Michael Harter, Jerry Engel, Whitney Rushburg, Jay Steinberg, Sheryl Kogan, Doug Anger and Steve Haberkom.
Gala committee chairwomen were Tiffany Weisbein, Dominique Weiner and Mala Zheleznyak.