Fire features become popular amenities for outdoor living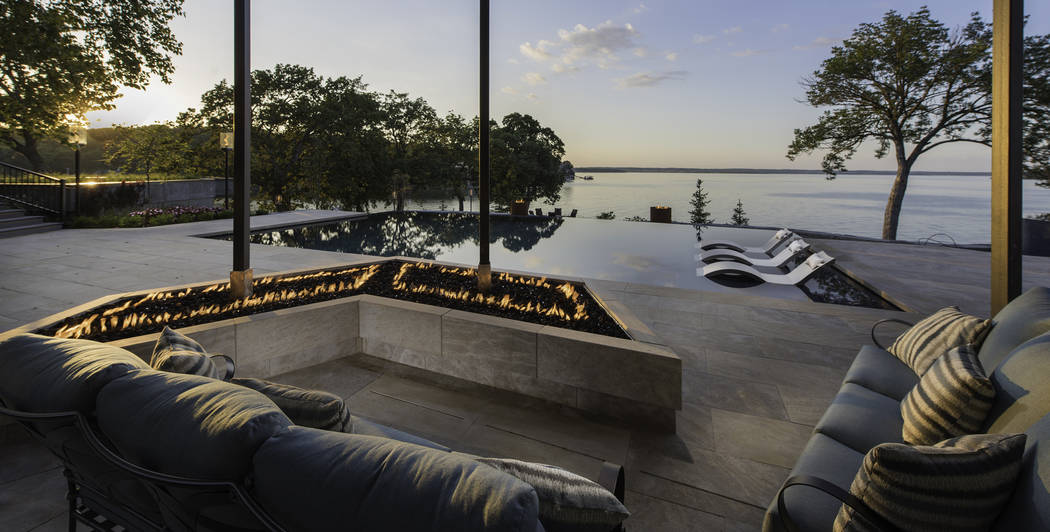 Fire features are outdoor amenities that can be enjoyed all year long. Whether it's the focal point of the setting or an accent, fire features are among the most sought-after trends in outdoor design.
The vast array of fire-centric amenities makes it easy for anyone with any size space to add a dramatic touch to their outdoor area. From compact tabletop oil lamps to precast portable fireplaces, fire pits and tables, as well as custom built-in units, homeowners can find a fire feature to meet their budget, space and desired outcome.
"Fire features are a unique design element for an outdoor living environment where the style can either complement the current architectural vernacular of one's home or provide a sense of personality that reflects their trendy lifestyle," said Kurt Kraisinger, president of Lorax Design Group in Overland Park, Kansas. "Often the goal is to match the 'theme' of the overall project, thus detailing and material/finish selections is very important. Depending on the style of the project, a fire feature may be clad with wood, tile, concrete, stone or steel. The possibilities are limitless."
Lorax Design Group specializes in custom exterior designs. According to Kraisinger, there are many ways to incorporate fire into a design, whether it is for comfort, aesthetics or simple functionality.
"Often our clients are looking for something one-off — custom yet a design that complements the other portions of the project. Lorax Design Group likes custom features as it gives them an opportunity to design something that will personalize the space for their clients," he said. "It also allows for an opportunity to incorporate a new material to a project that needs a point of interest.
"Knowing how a client plans to entertain is always key when our team designs an outdoor environment that utilizes fire. Is the fire a focal point or used for warmth? Does it need to sit four people or 12?"
Budget is another criterion Kraisinger verifies before designing a master plan for a client's outdoor living area. "If the budget warrants, we would design a custom fire feature with costs ranging between $8,000 to $20,000-plus. For clients with a lighter budget, we provide information about the many off-the-shelf manufactured fire feature units that are more readily available in the marketplace."
Kraisinger explained that the off-the-shelf units have been pre-engineered and assembled with budget in mind. The ready-to-install units typically include all the necessary elements required for a working feature: enclosure, fire tray, burner, igniter and fire media.
Some options to consider when selecting a fire unit are fuel, operating systems and fire media. The most important is the choice of fuel. Will you be utilizing natural gas, propane, wood or lamp oil (tiki torch fuel)? Each method has its advantages, depending on the intent of the fire unit and the resources readily available in your outdoor space.
"Wood-burning units are less upfront cost yet requires ongoing maintenance and upkeep," Kraisinger said, "whereas plumbed gas-burning features cost more upfront yet provide flexibility for families that desire less maintenance and immediate satisfaction at the push of a button."
The next option to consider is manual controls or automation.
"The hottest feature in fire is automation," said Bob Roman, founder and president of Fire by Design, a Las Vegas-based developer and manufacturer of automated fire for the outdoors. "Automated units allow homeowners the ability to turn on their fire from a smart device or computer."
A former commercial pilot with a degree in aeronautical engineering, Roman turned fire "guru" in 2008. An installer of fire features in residential and commercial applications, he became frustrated with the components currently in the market.
"We had challenges with wind and rain interfering with the flame, causing flameouts," Roman said. "The gas would continue to flow, creating a safety hazard."
Seeking a solution, he worked with an engineer to develop a more sustainable component. The result is an automated system that is patent pending and meets American National Standards Institute and CSA Group (formerly the Canadian Standards Association) standards.
The automated units continuously monitor the presence of a flame. If the fire blows out due to weather or other interference, the system will shut off the gas and reignite itself.
"We are constantly innovating the technical and mechanical elements, redesigning systems to make them more compact, efficient and safer," Roman said.
The third option is the fire medium. Outside of the wood-burning fire element, the fire medium is a decorative substance used to fill the container and hide the fire ring/bar.
Fire media come in various materials. The most popular are lava rocks, tempered fire glass and ceramic logs. Within each of these categories, you'll find a vast selection of shapes, colors and sizes.
Trends in fire features have evolved dramatically, Kraisinger said. "It used to be that a fire feature was nothing more than a 4-foot diameter wood-burning fire pit made from cinder block and stone veneer. Today the fire features we design are one-of-a-kind design elements, all ranging in size and shape while being constructed of unique, hard-to-find materials such as custom riveted copper."
He also sees a big trend in treating fire features as furniture. "Many of the features we design act as a coffee table or a low dining table for clients to entertain with family or friends."
Another company offering fire features is Zodiac Pool Systems. It recently expanded its product line with the acquisition of Grand Effects, a company that specializes in custom fire and water features for pools and spas.
Grand Effects' products are compatible with propane or natural gas and offer manual operation or automation via a home or pool operating system such as Zodiacs' Jandy iAqualink. One of Grand Effects' unique fire elements is the Helix Torch that incorporates "venturi technology" to create a spiraling flame.
Fire by Design and Zodiac-Grand Effects products are available through distributors and licensed contractors such as pool builders, landscape architects and custom homebuilders.
Joseph M. Vassallo is an internationally acclaimed and award-winning pool designer. President of Paragon Pools, Vassallo has co-authored five pool design books and is currently a featured designer on HGTV.com. He can be reached at 702-400-0679.