Hiring a professional designer can be worth the cost
January 22, 2016 - 5:02 pm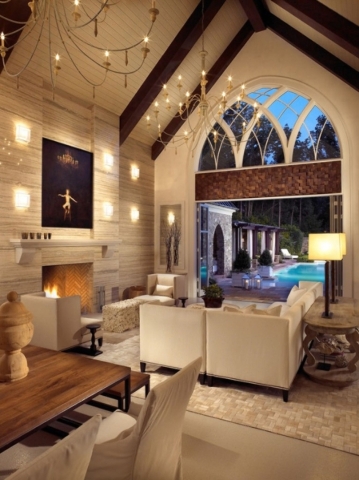 Before too long, the bare trees will again show signs of life as new buds begin their irrepressible march to the surface, gardening tools will again be on display and homeowners will begin to take a look around and do some hard thinking about home improvement projects and decorating ideas that had long been put on hold.
Some will decide that they can do it themselves and will jump headlong into the fray. Others will realize the best way to proceed with their project(s) is to find and hire a professional interior designer to help bring their dreams to fruition.
Either way, it's a big step. But with all things considered, what could possibly be more fundamental as well as cost-effective than to have a professional on board to guide you toward making the best choices for furniture designs, fabrics, backgrounds and a host of other decisions?
No doubt the design process can be overwhelming for those who attempt to go it alone and we've all heard stories from friends and relatives who wound up making costly mistakes and paying two and even three times for something that was never right in the first place and never will be.
How to go about deciding who you should hire to virtually live and work in your home for a number of months is not a subject to be taken lightly. Friends and business associates will no doubt refer you to designers that they've used or they know to be good or, even more importantly, steer you away from those who aren't.
Having made the decision to hire a professional designer to help you realize the type of home you've always dreamed of, and then going through the interview process with several qualified candidates, you'll certainly see for yourself that designers have unique ways of working as well as different personalities and business methods. Some specialize in one type of design more than another; for example, traditional over contemporary, or kitchen and bath over living spaces, etc. It goes without saying that experience with your type of project will go far in influencing your decision.
You'll interview these prospective candidates and give it your best shot. And you'll discover that designers not only have different ways of working but just as many ways of charging for their services. You'll come to find out there's no such thing as a typical fee, but that's really no cause for panic because there isn't any great mystery to the way in which designers work or charge for their efforts.
Money, budgets and timetables all will come into play, and there are any number of factors that will influence what your chosen designer may charge for services rendered. Most residential designers will use one of the following methods, or a combination of these, to determine charges:
* Fixed fee (of flat fee). The designer will supply the client with a specific fee that will cover most, if not all, costs involved with his scope of services, not including reimbursement for expenses. This fee will not include furniture or materials and is often based on the square footage of the project. This charge will cover the first stage of conceptual design through all layouts and specifications to the final installation.
* Hourly fee. The designer will charge this fee based on the actual time spent on the project or a specific service. These fees generally range from $75 to $200 an hour.
* Cost plus. The designer will specify and purchase all furnishings and materials at the "net" or designer cost (which, by the way, can be as much as 40 percent lower than retail pricing) and then resell these items to the client at the price paid by the designer with an additional markup or percentage previously agreed to by the client. This fee will compensate the designer for his time and effort and is often in the 35 percent range.
Once you get past the hiring and initial designer's fee, there are still other costs to consider. And when it comes to deciding what a reasonable budget for your project is, let me remind you that no one knows better than you. So I urge you to discuss your budgetary concerns with your designer, keeping the dialogue open while always remaining realistic.
The more research and planning you can do for yourself, before you ever start, the more successful you'll be in helping to control costs during your project. And as part of that initial planning — whether you've got some kind of a plan but need a little help tying all the pieces of the puzzle together or you just don't know where to start — the American Society of Interior Designers holds the key to helping your vision come to life.
As past president of the Central California/Nevada Chapter it's my pleasure to make you aware of a great opportunity to participate in "Date With a Designer" being offered to the public on Feb. 10 at the World Market. It's a chance to schedule a no-strings-attached consultation with a professional ASID designer to discuss any design dilemma you might have.
The program will provide attendees with access to a designer at an affordable rate ($45 for 45 minutes) with your design questions answered on the spot, information on the latest and greatest products, and an action plan so that you will know what to do next. Anyone with a design question is encouraged to attend and benefit from an interior designer's expertise and experience and leave with actionable ideas that can be used right away.
To RSVP or for further information on this event, contact Sandi Allan at the ASID office at 702-678-6797.
— Stephen Leon is a licensed interior designer and president of Soleil Design (www.soleildezine.com); he has been designing and manufacturing custom furniture and cabinetry for more than 25 years. He is past president of the Central California/Nevada Chapter of the American Society of Interior Designers and is a certified professional in green residential design. Questions can be sent to soleildesign@cox.net.