Make your kitchen 'heart' of home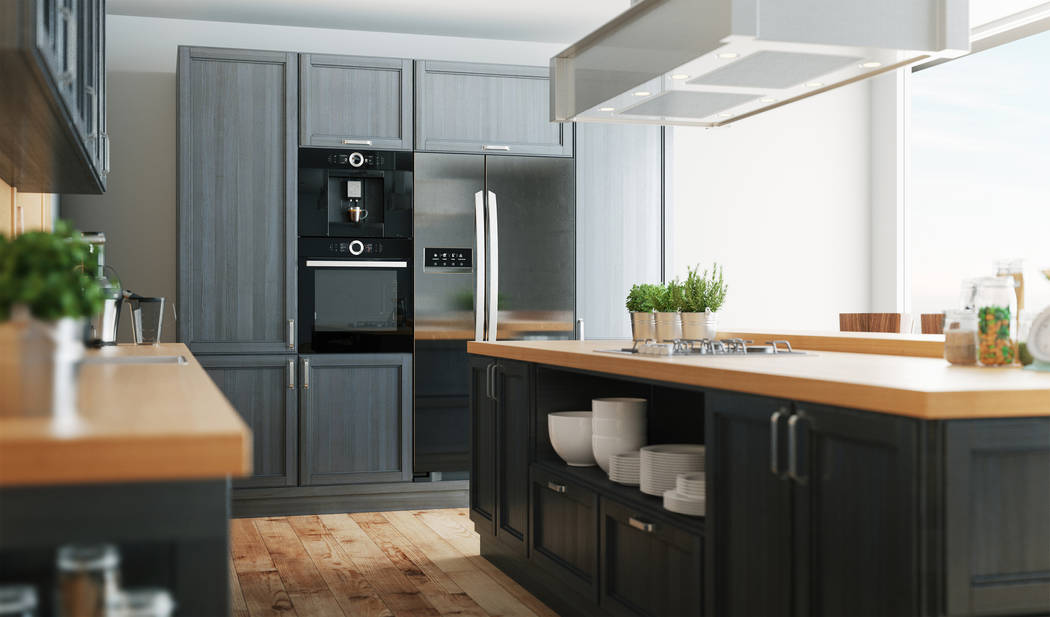 "The extent and condition of our property, and our choice of style in dwelling, create a powerful emblem of our identity and status." — Deborah Tall (1951-2006), American writer and poet, "Dwelling," "From Where We Stand" (1993)
Kitchens are truly the heart of the home, whether you are a foodie, gourmet cook or just like to hang out with friends and family. They have also become laboratories for modern design, with every sleek solid surface, finish and modern appliance imaginable.
Since we just celebrated a big eating holiday, chances are most of you and your guests ended up in the kitchen. Because kitchens are so popular, their design and effectiveness are important.
While a lot of us enjoy the sterile, clean lines of the contemporary kitchen, others miss the cozy, comforting kitchen they knew as a child. More than likely it's the smell of freshly baked cookies or whatever aroma you remember from your childhood that you are missing.
I'm sure it's not the old standalone stoves, the sink in a cabinet or cracked linoleum floors that you miss. Everybody wants the modern appliances and trimmings that make cooking and working in the kitchen a joy.
Kitchens are just like every other room in your home. The decor can be made up of mixed patterns, finishes and materials. One style or one trend doesn't have to dominate.
And I think most designers will agree that the kitchen concept is often the most important to clients. I've experienced it with clients who may love the rest of the home but want to change the kitchen, whether they're shopping for a new home or renewing their current one.
In a recent column, I mentioned how a lot of us now use our kitchens not only for cooking, eating and gathering but also for pop up offices, and kids definitely use them for doing homework while Moms do dinner or snacks.
Several facts about the kitchen. It is more than likely the most used space in your home. Kitchens are the spaces that homebuyers go to first and seem to have more concerns about than any other room in the home. And if your home goes on the market, renovated kitchens add more to your selling price than any other space.
When some homeowners renovate their kitchens, they keep all of those things in mind, particularly the money ones. But a lot of folks I know say, "This is my home and I want it to be for me. I don't really plan to sell and don't need to worry about that." So, however you choose to think about your kitchen, there are so many options to make it a happening place.
In the world of modern kitchens, it is so easy to choose a cabinet collection or decorative finish that turns out to be a short-lived passing fancy fad and not the investment you envisioned.
But when it comes to creating a fashionable yet modern kitchen that boasts high-quality, progressive technology and seamless design, there are many choices.
Traditional raised panel doors on kitchen cabinetry will complement concrete countertops. Stainless appliances complement any style. Stainless and leather bar stools look grand with any countertop material, from solid surfaces to butcher block. And sleek, clean-lined cabinetry can be softened by wicker or upholstered bar stools pulled up to granite counters.
Hardware is another key to diversity in the kitchen. Traditional cabinet doors can be updated and made to look more contemporary with stainless, clean-lined handles.
Lighting will also mix in any design scheme. Tracks and pendants look great in a modern or more traditional room, but you can also soften up a totally contemporary kitchen with a beautiful chandelier over the island.
The kitchen is like any other room in your home in that it's yours, so make it what you want it to be. You know that your family and friends will gravitate to it and usually spend more time in there than other public spaces. So you want it to be welcoming to all of those folks who live with you or come to visit.
The choices are endless. There are also great variations in prices so, whatever your budget, you can usually find what you're looking for. Look in design magazines, wholesale showrooms and retail businesses or prowl around online.
In addition, the Las Vegas Market has opened a Kitchen and Bath Resource Center, and you can go in and take a look. It's a great experience and new to the market.
However you choose to do your kitchen, just make it something you love and want to be in. And remember Deborah Tall's words: it will "create a powerful emblem of our identity and status." And you can certainly interpret that any way you wish.
Carolyn Muse Grant is a design consultant and creator of beautiful spaces. Questions can be sent to her at creativemuse@cox.net.