'Property Brothers' showcase furniture line in Las Vegas
Updated March 6, 2018 - 8:05 am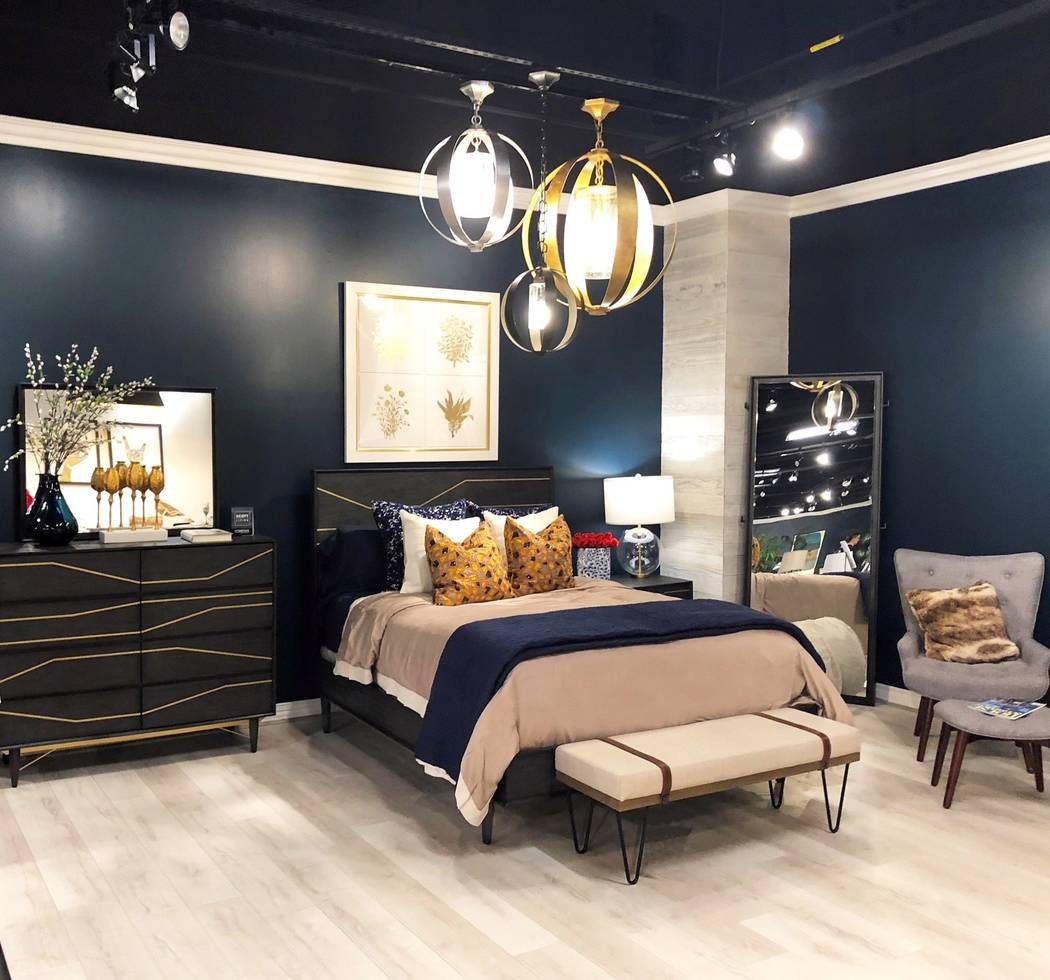 From the fringe on the pillows to the spring in the mattress, there is no detail overlooked by the meticulous vision of Drew and Jonathan Scott.
"The thing that people love with us and what we do with our brand, we take the job seriously," Drew Scott said of the brothers' success. "We are about helping families, creating quality products. We take that very seriously, but we don't take ourselves seriously, and you see that on the show."
"And with Drew doing 'Dancing with the Stars,' I'm just planning to ride his coattails into retirement," Jonathan Scott said jokingly.
The squeaky-clean, and rather tall, twins moved to Las Vegas for different reasons just as the recession was taking hold in their homeland of Canada and adopted home of America. Jonathan arrived in 2008 with his wife in tow to renovate homes. Drew followed a few years later to share in the wealth of flipping houses.
"There was a lot of opportunity to find houses and fix them up and, at the same time, I'm a magician and I have a lot of friends in Vegas who were performers, so it was a perfect storm," Jonathan Scott said. "The real estate was phenomenal (in Vegas). It took off for us. Then 'Property Brothers' took off shortly after that."
Their hit 2011 debut home renovation show "Property Brothers" on HGTV spawned more shows, including "Property Brothers Buying + Selling" and "Property Brothers at Home," built around the renovation of their shared Las Vegas residence. They soon added Scott Living to their roster of accomplishments, coordinated collections that address both indoor and outdoor furniture as well as home decor and accessories.
During downtime from their shows, multiple TV appearances, the publication of their biography "It Takes Two," finishing a children's book and animated series and planning Drew's upcoming wedding to longtime girlfriend and creative director Linda Phan, they are creating and flogging their growing furniture lines.
They recently attended the Las Vegas Market to showcase their latest products, including a Restonic mattress line with 18 models.
"On any space we are developing, we concentrate on how families, real families, will use the spaces," Jonathan Scott said. "We try to balance everything with clever details and quality that is going to last."
While the look is an important component, price point is key to the brothers' appeal, said Drew Scott.
"What we are known for on our shows is how to stretch a budget," he said. "We know how to get people a higher level of quality and get that dream look that they want in certain spaces in their home in a cost-effective way. With Scott Living, we are giving them all of that."
Color is back in a huge way, they both say, and that has stirred some excitement among many designers. The brothers introduced beautiful oranges and greens into the details of their classic pieces.
"Some people can't go too far out of their comfort zone, but maybe they can try one piece that is a key piece," Jonathan Scott said.
For someone tempted by the latest industrial style, they can dip into it with a simple piece by Scott Living that will ride out the trend.
"A metal rack that we have, it's just this simple, raw piece that you would expect to see at an old restaurant or in an industrial space," Jonathan Scott said. "But it's a cool little rack that you can hang clothes, hang boots on, put in a mud room that is totally unexpected."
They have nearly 1,000 pieces in their successful Scott Living line, along with a few favorites.
"What I love the most is the stitching we've put in," Jonathan Scott said. "You'll see some raw orange stitching, some great detail."
His twin prefers the Tastemaker collections.
"What I love is giving people this transitional feel where you have certain rustic elements that Jonathan is talking about and certain traditional components that people love but it doesn't make the pieces feel dated," he said. "But it is also functional. Everything we do is about function. We have our modular sofa set sectionals. They have been flying off the shelves, and we've been adding on to that. It's an ever-growing collection."
Buyers are snapping up Scott Living because of the quality and popularity among repeat customers.
"Our customers love it and come back for it years later," said Richard Salazar, owner of Affordable Home Furniture in Oregon. "They come back because they know it lasts and it looks good."
In 2016, Cornerstone Furniture, 3111 S. Valley View Blvd., began selling Scott Living pieces based on their design and resilience, something their clients count on. The dining sets and accent chairs are top sellers in the Scott Living line.
"We decided to carry Scott Living because their line offers a unique balance of styles that reflects today's trends, modern industrial, with interesting materials, textures, finishes and colors," said Cornerstone owner Roger Briceno. "Customers are very happy with the fresh design and unique selections, affordable prices."
The furniture line is available at a number of local stores, including Walker Furniture, Bed Bath & Beyond and Lowe's.
The brothers are not resting on their laurels, adding 400 new pieces to their existing collection with more in the planning stages.
"With Scott Living, we are giving them more stylish designer options that they thought they could never afford but that they might see on our shows or in a magazine," Drew Scott said. "We want a family to love all the spaces in their home."