Select patio furnishings that withstand desert sun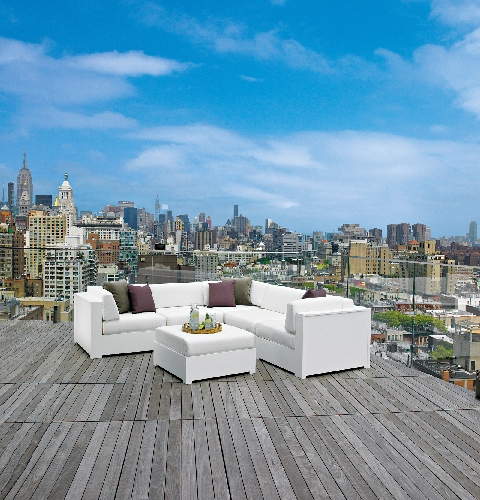 DEAR DESIGNER: I am new to desert living and wonder what types of patio furniture do well in the desert. – Keith
DEAR KEITH: There is more to consider than style alone when selecting outdoor furniture for the desert patio. Concerns about fabrics fading, metal being too hot to touch, splitting wood and how much to pay, to name a few. While doing research, I was fortunate to have a conversation with William Thomas, owner of Desert Patio, located in Rancho Mirage, Calif., and San Juan Capistrano, Calif.
Thomas' highest recommendation is to consider the quality of the product you are buying. There are many technological advances that enable us to use beautiful fabrics and other materials in the direct sunlight. Making sure the products you choose are of the highest quality can make a huge difference in how much wear and tear you get on your outdoor furniture.
"The featured sectional is made from marine grade polymer and is long lasting and almost maintenance free, even in the harsh desert climate," Thomas said.
Marine grade polymer feels a little like a very strong plastic but in reality, it is much more complex. Simple plastic will melt in the desert heat, but MGP holds up beautifully in all climates. Because the color is extruded into the fibers during the manufacturing process, there is no worry about fading in the sun. There are many styles of MGP chairs and sectionals on the market today. For a more traditional patio, look for basket weave and wicker patterns made out of MGP.
Cushions made for outdoor use have come a long way, too. If you've ever had a cushioned patio chair sit in the Las Vegas sun for one summer, you know what I am talking about.
"The sun is harsher than any slot machine. Sometimes you win at a slot machine, but the sun always wins in the desert," Thomas said.
Although the sun will ultimately win out, making informed choices will increase the odds that your furniture will last a long time. Be sure the fabric on your furniture cushions is made for the outdoors. Sunbrella is the most well-known name for durable outdoor fabrics. Its fabrics have been around for decades and are exclusively made to withstand harsh outdoor and pool conditions. Its vast line of patterns gives you a variety of styles and colors to choose from.
If you are looking for a high-class and timeless look, consider teak furniture. Teak wood is made from the Tectona grandis tree, mostly grown in Burma, India, Thailand and Indonesia. You may have known that teak is good for boats and fine furniture, but its stable factors make it a great wood to use in the desert heat. Teak's natural rubber and oil content make it resistant to rot and termites. If not treated, teak will create a natural patina of silver. If you want to keep its natural color, it will need to be treated with oil from time to time. When using teak in the desert, be sure to select pieces that have limited metal in areas that you might touch.
Another popular choice for your desert patio is the sling chair or chaise. A mesh fabric is stretched across powder-coated steel or aluminum frames to make an easy-to-clean and comfortable seat. Once again, quality is key when purchasing the sling-style furniture. If you choose a cheap mesh, the sun will surely bake it until it looks like a piece of burnt toast. After that, don't sit in it because you will get little flakes of burnt plastic on your clothes.
But I digress - Sunbrella also has an acrylic mesh fabric that tolerates the sun remarkably well. There are others on the market and some just as good. However, stay away from inexpensive vinyl mesh or PVC mesh for use in our desert heat. They generally lose their shape at 150 degrees Fahrenheit. Thank goodness our temperatures aren't that high, but with direct sun on a product day in and day out, your fabric will have a short life expectancy. The acrylic mesh also is a polymer fabric, but it has other chemicals that make it more stable.
Whatever fabrics you choose for your outdoor patio, Thomas recommends that you make sure they are treated with ultraviolet inhibitors. Many outdoor fabrics already have these built in, but if they do not, you can have your furniture sprayed with after-market products.
As with any purchasing experience, the cheapest choice is not always the best value.
Cindy Payne is a certified interior designer with more than 25 years of experience, a member of the American Society of Interior Designers, as well as a licensed contractor. Email questions to her at deardesigner@
projectdesigninteriors.com or send them to her at Project Design Interiors, 2620 S. Maryland Parkway, Suite 189, Las Vegas, NV 89109. She can be reached online at www.projectdesigninteriors.com.